Rhode Island outlasts Young, Oklahoma 83-78 in overtime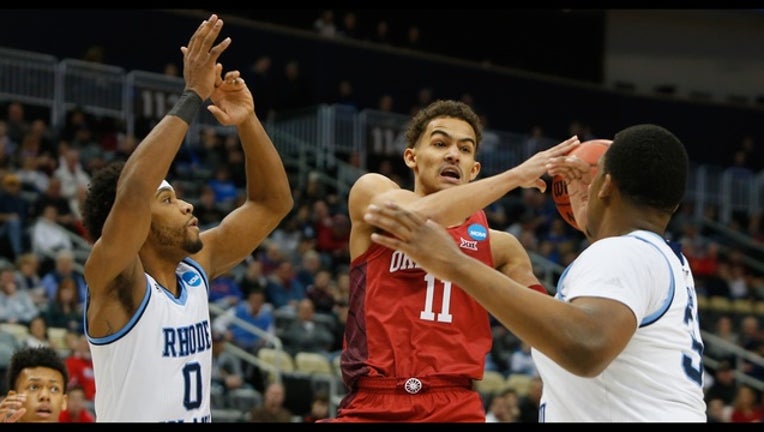 article
PITTSBURGH (AP) - Here's the skinny on a Philly guard called Fatts: The player with the best nickname in the tournament given because he was a chunky baby turned in the stout performance Rhode Island required to win.
Fatts Russell hit three 3s and showed that - for this game, at least - he was the best freshman guard around as he pressured Oklahoma's dynamic scorer Trae Young right out of the NCAA Tournament.
E.C. Matthews hit the go-ahead 3-pointer in overtime and one more that sealed it to help Rhode Island hold off Young and beat Oklahoma 83-78 Thursday in the Midwest Region.
The seventh-seeded Rams (26-7) won a game in the tournament for the second straight season and will play second-seeded Duke on Saturday.
Young is likely one-and-done at OU.
Fatts Russell plays on.
"I told him when I recruited him: The only point guard I saw better than him at the Peach Jam last year was Trae Young, and he told me I was wrong about that and he was going to prove me wrong today," Rhode Island coach Dan Hurley said. "And he put on a show."
The Sooners needed more of a show out of Young.
Young had cooled a bit as the 10th-seeded Sooners (18-14) ended the season on a 2-8 stretch headed into the tournament. Still, the phenomenal freshman led the nation with averages of 27.4 points and 8.8 assists.
He needed a late-game surge just to hit 28 points on 9 of 18 shooting. But he also committed six turnovers and took a pair of ill-advised shots in OT.
"Sometimes you've got to live with those shots because he's been making them all year," Sooners guard Christian James said. "Sometimes you take those shots and they didn't fall this time."
Young shook off an early second-half funk and scored 11 straight points for the Sooners to close regulation and made two free throws to open OT.
Matthews, who scored 16 points, hit a 3 in OT for a 74-72 lead with 1:54 left and one more with 28 seconds to go for a five-point lead. Hurley ended the win with a big embrace with Russell. Russell (whose first name is Daron) scored 15 points.
Rhode Island stood on the court and pointed toward the scoreboard as their logo advanced on the video bracket.
"We didn't want to change our style of play and not be aggressive against him just because of who he is," Russell said of Young. "We just tried to contain him and it worked."
Young said he will sit down with his family later this week to discuss whether he will return to school or not. Many projections have the 6-foot-2 star who has drawn comparisons to Stephen Curry going in the first round of this year's NBA draft if he decides to leave.
"It's tough after a loss to think of anything else besides that," Young said.
The Sooners needed so much more out of Young early in the second half as they quickly gave up a four-point halftime lead.
He finally hit a 3 off a turnover with 2:05 left and then sank two free throws with 14.5 seconds to go that tied the game 69-all and sent it to overtime.
Rhode Island's buzzer-beater follow shot for the win rolled off the rim.
Matthews and Russell helped turn the game for Rhode Island.
Matthews hit a 3, Russell stripped Young and connected on his own 3-pointer for a 55-50 lead that sent the pro-URI crowd into a frenzy.
There was anticipation this would turn into the Trae Young Show in a hurry much like in the four games this season he scored at least 40 points. Young took some time to warm up. He did sink a pair of 3s and made all four shots for 10 points in the first half but sat for a spell when he picked up two offensive fouls. Young did not try and create his own shots for easy looks at the rim and he had three turnovers in just 14 minutes.
He didn't pick up another foul the rest of the game.
Hurley was a spastic bundle of energy on the bench, pumping his fists, stomping down the sideline and exhorting a nice turnout of URI fans - that included "Frog Man" - to get louder. Hurley was issued a warning in the second half for straying too far outside the box. His energy rubbed off on the players, including one who lay on his back and waved his arms on a Rhode Island 3.
But when the potential winner rolled out in regulation, Hurley was the picture of cool.
"His demeanor, what he was saying in timeout, was calm," Matthews said. "We got the message, so we were calm."
BIG PICTURE
Rhode Island: Cyril Langevine scored 14 points and Jared Terrell had 13 as part of a balanced Rams team.
Oklahoma: Jamuni McNeace scored 14 points but no other Sooner hit double digits. The Sooners missed a whopping 16 of 20 3-point shots and - with Young struggling until late - could never put together enough of a run to put away the Rams.
NOTHING'S FREE
Rhode Island survived despite making 12 of 20 free throws. OU wasn't much better at 16 of 24.
UP NEXT: The Rams play Duke. The Blue Devils rolled by Iona 89-67 on Thursday.
___
More AP college basketball: https://collegebasketball.ap.org; https://twitter.com/AP_Top25 and https://www.podcastone.com/ap-sports-special-events