Reports: SMU offer to Sonny Dykes would make him one of top paid Group of 5 coaches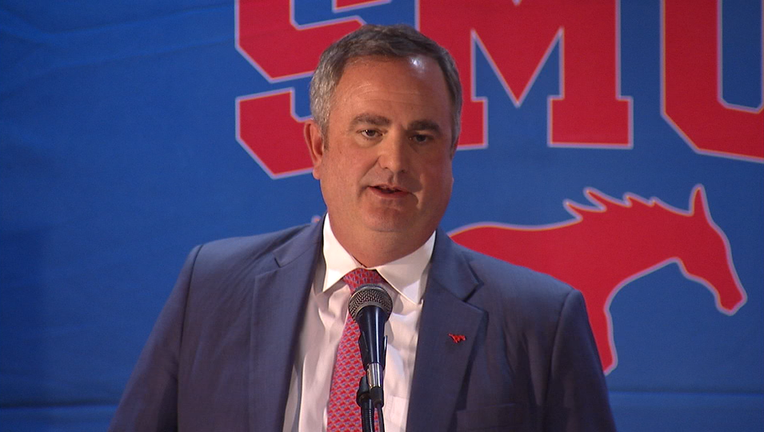 DALLAS - SMU has offered head coach Sonny Dykes a contract extension potentially worth as much as $4 million annually in an effort to keep him on the Hilltop, according to multiple reports.
Multiple outlets, including 247 Sports, Sports Illustrated and The Dallas Morning News, cite sources close to the negotiations that SMU is willing to pay an unprecedented amount to lock up Dykes for at least the next five years.
Dykes has done what no coach since the Death Penalty has accomplished at SMU, getting the Mustangs ranked in the Associated Press Top 25 for three straight seasons. SMU has started the last three seasons 8-0, 5-0 and 7-0, respectively. Dykes has a 29-15 record since being hired at the end of the 2017 season.
Dykes is reportedly getting pretty much everything on his wish list in the new contract offer from SMU: a higher salary with an extension of at least five years, a larger pool of money for assistant coaches and a commitment from SMU to build a new football-only facility for coaches and players.
MORE: SMU Mustangs coverage
There's no timeframe on when Dykes is expected to respond to SMU's deal. Dykes was previously given a contract extension after the 2019 season, but details were not publicly revealed.
SMU assembled its offer as other Texas schools got rid of their coaches midseason, including Matt Wells at Texas Tech and Gary Patterson at TCU. Dykes has links to both universities, but is believed to be mulling a move to the rival Horned Frogs. 
TCU let Patterson go on Sunday and the school's athletic director said a search is underway for a new coach while an interim finishes the season. Other names linked to the TCU opening include Dallas Cowboys offensive coordinator Kellen Moore, Nevada head coach Jay Norvell, Clemson offensive coordinator Tony Elliott and Jackson State head coach and ex-Cowboys player Deion Sanders.
No. 23 SMU (7-1) will visit Memphis (4-4) on Saturday as the Mustangs hope to keep their chances alive for a first-ever American Athletic Conference title game appearance.
RELATED:
TCU looking for new head football coach to replace Gary Patterson
AP Top 25: OU stays at No. 4; SMU drops to No. 23 after loss