Rebounding critical in Texas A&M-UNC game in West 2nd round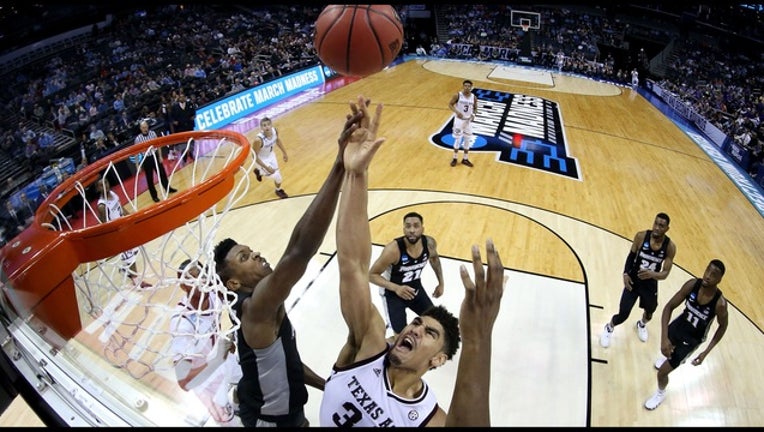 CHARLOTTE, N.C. (AP) - North Carolina coach Roy Williams hammers his team so much about rebounding that he has frequently quipped about the existence of an 11th commandment: thou shalt box out.
"I think it's the most critical factor in the game, the way we play," Williams said.
And yet, the reigning national champions will be challenged to rely on a traditional strength in a second-round game Sunday against Texas A&M in the NCAA Tournament's West Region. The Tar Heels have leaned on an un-Carolina-like small-ball lineup, while the Aggies have a pair of 6-foot-10 voracious rebounders that helped make them one of the nation's best on the boards.
"I knew we would be a real good rebounding team, because if they didn't rebound and didn't box out, they weren't going to play," Williams said Saturday. "I'd find five guys that would.
"Now you watch Texas A&M and ... maybe the biggest team I've ever looked at. And so we've got to try to do it at a higher level now than anybody else that we've played."
The second-seeded Tar Heels (26-10) meet the seventh-seeded Aggies (21-12) in Charlotte as one of two Sunday second-round matchups in the West. The other comes in Nashville, Tennessee, where top-seeded Xavier (29-5) meets ninth-seeded Florida State (21-11).
The winners advance to next week's Sweet 16 in Los Angeles.
The Aggies could make things difficult on the Tar Heels with Tyler Davis and Robert Williams inside. They single-handedly out-rebounded undersized Providence in Friday's first round (29 combined rebounds to the Friars' team total of 26).
Texas A&M is 19th nationally in rebound margin (plus-6.3).
"I feel like we always have the advantage on the inside, but their bigs are really talented," Davis said. "It's going to be a different way to guard them. Going to be tough to guard, but I feel like we have the versatility to guard any position."
UNC has long rebounded through its Hall of Fame coach's preferred two-post style, but this year relies on stretch-4 Luke Maye as the defacto big man surrounded by perimeter players with plenty of length. Yet the Tar Heels rank second nationally in rebounding margin (plus-10.2) by getting on the offensive glass. They rank third in KenPom's offensive rebounding percentage - a measure of possible offensive rebounds collected - at 38.2 percent.
"All we need to do is go - I think that's the biggest thing for us," said UNC senior wing Theo Pinson, who averages 6.5 rebounds. "Just keep attacking the boards. Nobody wants to box out all game, if somebody says that they're lying to you."
Here are things to watch in the West bracket Sunday:
REMATCH: The roles are reversed between Xavier and Florida State in Nashville when the Musketeers seeded No. 11 pulled off the big upset of the then-No. 3 seeded Seminoles on their way to the Elite Eight last year.
Xavier is coming off its highest-scoring NCAA game ever after a 102-83 win over Texas Southern. FSU, which beat Missouri , will counter with balanced scoring even after losing its top three scorers from a year ago.
"I think it's a much better sum of its parts team than maybe a year ago," Xavier coach Chris Mack said. "That's no disrespect to the guys that were on the team a year ago, but that's sort of what happens when guys start to climb up the draft boards and they feel like they're auditioning in March a little bit."
INJURY LIST: Xavier freshman forward Naji Marshall didn't practice Saturday with a sore back that limited him in the Musketeers' opening victory. Mack said he hopes Marshall will feel well enough to play against Florida State after starting 17 games this season.
The Seminoles have their own injury worries. Guard Terance Mann, their second-leading scorer with 12.8 points a game, slipped on the court and aggravated a groin muscle during the Missouri win. Coach Leonard Hamilton said Mann was sore Friday night, then had an MRI exam and visited with a doctor Saturday.
"We'll have to wait and see," Hamilton said.
HOME COMFORT: The Tar Heels are 34-1 in NCAA games played in their home state. That includes 12-0 in Charlotte, about 2½ hours southwest of the Chapel Hill campus, after Friday's win against Lipscomb.
STILL BUZZING: UMBC's historic upset of No. 1 overall seed Virginia a night earlier still reverberated around the Charlotte arena Saturday and was a frequent topic of conversation for the four teams still alive Saturday in the West and South brackets.
"It's incredible what they did," Davis said. "It really just reassures you, lets you know like, 'This is really anyone's game.'"
___
AP sports writer Teresa M. Walker in Nashville, Tennessee, contributed to this report.
___
More AP college basketball: https://collegebasketball.ap.org; https://twitter.com/AP_Top25 and https://www.podcastone.com/ap-sports-special-events
___
Follow Aaron Beard on Twitter at http://www.twitter.com/aaronbeardap