Rangers rally again, magic number 3 after beating Angels 3-2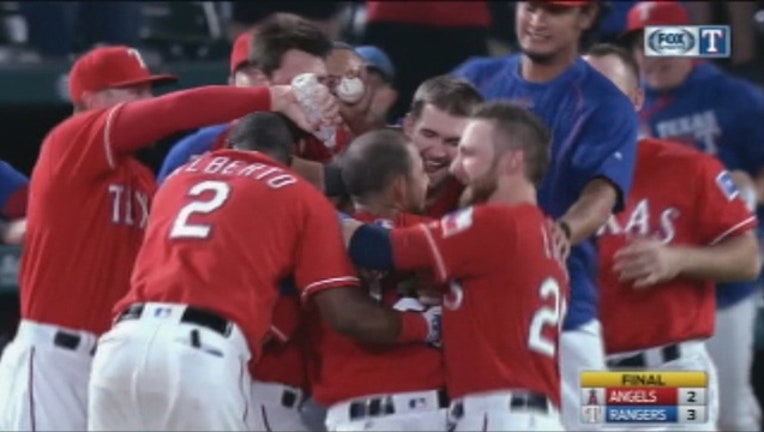 article
ARLINGTON, Texas (AP) — Elvis Andrus and the Texas Rangers always believe they're going to win. Now they're getting ever closer to another AL West title.
Andrus scored the winning run on All-Star center fielder Ian Desmond's RBI single with no outs in the ninth inning as the Rangers beat the last-place Los Angeles Angels 3-2 on Monday night for their MLB-best 46th come-from-behind victory.
"That has been our DNA this year. We didn't give up until the last out, until the last pitch, and it's contagious," said Andrus, who also had a tying solo homer in the seventh.
Andrus led off the ninth with a sharp single to left off Jose Alvarez (1-3) before Carlos Gomez turned an attempted sacrifice into a bunt single. Desmond's single gave the Rangers (89-62) their 20th last at-bat victory and they improved to 35-10 in one-run games.
Nomar Mazara also homered for the Rangers, whose magic number is three to win their second consecutive division title. After Seattle lost and Houston won later Monday, the Mariners and Astros were tied for second place, 9 1/2 games behind Texas in the AL West.
"Play it straight, just trying to play the same way we've been playing all year," Desmond said about being close to clinching. "It's been working. No need to change it now."
Closer Sam Dyson (3-2) worked a scoreless ninth for the victory after starter Martin Perez went seven innings and Matt Bush worked a perfect eighth.
Alvarez, the sixth Angels pitcher, had gotten out of a bases-loaded jam in the eighth following a 38-minute rain delay, two innings after Rangers manager Jeff Banister was ejected for arguing when a replay challenge overturned an out and led to an Angels run.
Yunel Escobar was thrown out by several feet trying to stretch his hit into a triple in the sixth, then motioned toward the outfield. Manager Mike Scioscia challenged the ball had become lodged underneath the padding on the wall in right-center field and should have been ruled dead, as per the ground rules for the Rangers ballpark.
"We thought that someone put their hands up like it was out of play. I think that's what (Escobar) saw," Scioscia said. "He kind of stutter-stepped and slowed down."
Banister was ejected when he came out to get an explanation and kept questioning crew chief and second base umpire Joe West after Escobar was put at second base. The replay showed right fielder Mazara played the ball and never indicated it was wedged under the padding.
"From the infield you can't tell if it's stuck. ... But when we went to replay, they said it stuck. So it's plain and simple a ground-rule double," West told a pool reporter after the game.
"I had an outfielder who felt like the ball was not lodged. If you look at the video, the ball was still spinning," Banister said. "In my estimation, that is not a lodged baseball. But that's not my call."
Mike Trout followed with a triple into the right-field corner to tie the game 1-1. The Angels then went ahead in the seventh when Jefry Marte was hit by a pitch and scored on a two-out double by Carlos Perez.
Texas got even on Andrus' sixth homer, a two-out solo shot in the seventh that just cleared the 8-foot wall in center.
ANOTHER EJECTION
Rangers 1B Mitch Moreland was ejected after taking a called third strike to end the fourth inning, on a pitch that appeared to be well outside. While he had some words with home plate umpire Kerwin Danley as he walked back to the dugout, there were no demonstrative actions by Moreland before his first ejection in his 764 career games.
SHORT HOPS
Rangers 3B Adrian Beltre had two hits, giving him 2,931 for his career. He passed Rogers Hornsby for 37th on the career list, and is one behind Willie Keeler. ... Mazara's 19 homers are the most by a Rangers rookie since 2003.
RANGERS ROTATION
Derek Holland will pitch Wednesday for the Rangers, and Cole Hamels and Yu Darvish will both get extra rest before pitching this weekend in Oakland after an off day Thursday. That also lines them up to start the first two postseason games for Texas.
TRAINER'S ROOM
Angels: Starting pitcher Jhouyls Chacin was struck on the left shin by a hard comebacker in the fourth. The ball ricocheted to first baseman C.J. Cron for the second out in the inning. Chacin remained on the ground for several minutes, then made a few warmup tosses before staying in the game. Chacin allowed one run over five innings while throwing 91 pitches, 29 after getting hit.
Rangers: Andrus was struck directly on his right (throwing) elbow by Chacin's pickoff attempt when diving back into second while a baserunner in the third inning.
UP NEXT
Angels: Rookie right-hander Daniel Wright (0-3, 7.04 ERA) is still seeking his first MLB victory. He made his MLB debut with Cincinnati earlier this season.
Rangers: Texas has won seven of the last 10 games started by A.J. Griffin (7-4, 4.78 ERA). The right-hander's Texas debut was a win at the Angels on April 8.