Rangers' Odor suspended eight games for brawl with Bautista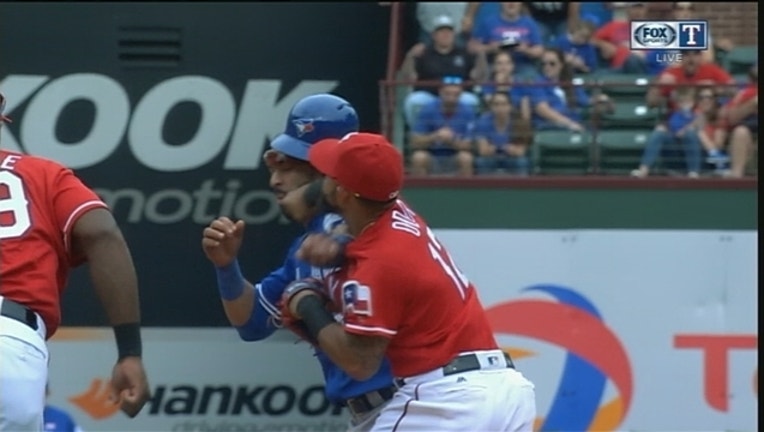 article
Rangers infielder Rougned Odor has been suspended for eight games after punching Toronto's Jose Batista during Sunday's game in Arlington.
Jon Heyman, an MLB Network reporter, was the first to report the news. Heyman said Odor planned to appeal the suspension.
Bautista got just a one game suspension for his part in the basebrawl. He also plans to appeal.
Texas shortstop Elvis Andrus was suspended for one game and he will sit out of Tuesday night's game in Oakland.
Toronto manager John Gibbons and pitcher Jesse Chavez both got three game suspensions.
Odor told reporters before Monday night's game in Oakland that he doesn't regret the brawl. Images and video of the fight went viral online and quickly turned Odor into a Rangers fan favorite.
Odor said he took exception to what he considered a hard slide at second base. It escalated to punches, with Odor connecting with Bautista's left jaw, knocking his sunglasses off.
"I think you see what happened," Odor said. "For me I think it was a pretty hard slide. You see what happened. I know he's going to come hard. I can tell when somebody's coming hard to second base."
Odor said the fight was just part of the game and did not regret it.
"I think I just play the game how I play. I just play the game to win games," Odor said. "I know I'm going to be suspended for a couple games. I'm just going to keep doing what I do."
Odor said he respects Bautista for the way he plays and does not hold a grudge.
"I just play for my team," Odor said. "I just try to be a good teammate, to do the best I can to win games."
The Associated Press contributed to this report.