Rangers bullpen falters in 9th as Red Sox rally for 8-7 win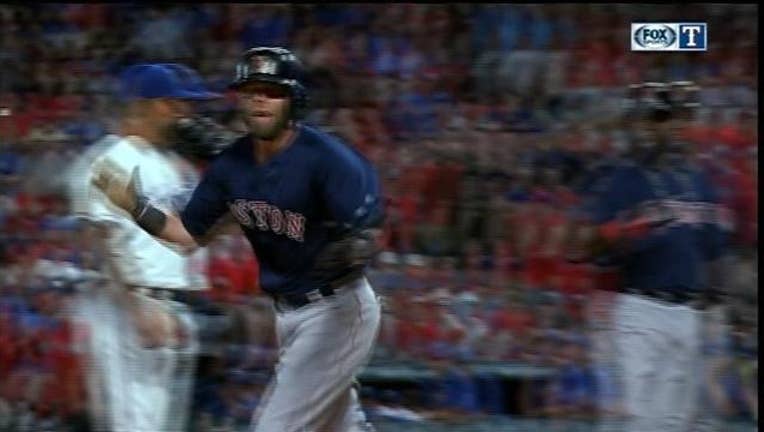 article
ARLINGTON, Texas (AP) — Manager Jeff Banister had already decided to give his workhorse closer some extended rest following an off day for the Texas Rangers.
Sam Dyson didn't pitch the ninth inning in a save situation Friday night, and the Rangers didn't win.
Boston rallied for four runs in the ninth off Jake Diekman and hard-throwing rookie Matt Bush, with the Red Sox scoring the go-ahead run on a wild pitch in an 8-7 win over the Rangers on Friday night.
"We've got to monitor, make sure and take care of," Banister said of Dyson, who entered Friday leading the majors with 39 appearances. "We've got to have other guys out there to be able to pitch in those type of situations. ... Didn't happen tonight. Tough inning."
The loss came on a night when the Rangers jumped ahead 6-0 with 12 hits to chase former AL Cy Young Award winner David Price after 2 1/3 innings.
After Tony Barnette threw two scoreless innings in relief of starter Nick Martinez, Diekman took over in the ninth and allowed a leadoff walk to Jackie Bradley Jr. There were two outs when pinch-hitter Sandy Leon hit an RBI double on the 11th pitch of his at-bat against the left-hander.
Mookie Betts then greeted Bush by hitting a 1-1 fastball into the center-field seats for a tying two-run homer, his 15th of the season.
"Started him off with some sliders away, and the fastball out of my hand felt like I hit the outside corner. ... The ball got a little too much plate," Bush said. "It was a good game for us, we scored a bunch of runs, and it's just really tough to give it up like that."
Dustin Pedroia then walked, went to third on Xander Bogaerts' single and scored on a wild pitch with David Ortiz at the plate.
Heath Hembree (4-0) worked a scoreless eighth before Koji Uehara struck out the side in the ninth for his second save.
Prince Fielder hit his sixth homer for Texas, a solo shot in the fourth off reliever Matt Barnes.
Shin-Soo Choo hit a leadoff homer against Price, and the first four Texas batters reached, including a two-run single on the first of Elvis Andrus' three hits.
Ian Desmond also had three hits for Texas, including an RBI single in the second after Bobby Wilson snapped an 0-for-15 slump with a double. An inning later, Wilson had a two-run single to chase Price with the Rangers up 6-0.
Price had gone at least eight innings in his previous three starts, and had a 2.47 ERA over his last eight starts for the Red Sox. The left-hander has given up more hits only once in his 234 career games, when the Kansas City Royals had 13 hits in 6 1/3 innings while he pitched for Detroit last season.
His ERA in seven regular season starts at Texas is now 7.68 — by far his worst at any opposing stadium.
"I'm definitely comfortable here, I just haven't thrown the baseball (good)," Price said. "I've just got to come out and throw the baseball better against these guys."
DEEP AGAIN
Choo hit his 17th career leadoff homer after also going deep in his last at-bat in the previous game Wednesday. It was his third homer of the season.
ANOTHER TOUGH OUTING
Diekman had pitched 14 2/3 scoreless innings before giving up a three-run homer Wednesday against Cincinnati, which brought Dyson on for his 15th save — and 13th in a row since becoming the Texas closer on May 18. "It's like two bad games. I'm not panicking," Diekman said. "I just have to execute better."
TRAINER'S ROOM
Rangers: C Robinson Chirinos got an extra day off because of his sore right wrist, which is still bothering him after getting hit by a pitch. He played in both games against Cincinnati on Tuesday and Wednesday.
UP NEXT
Red Sox: Right-hander Steven Wright (8-4), the AL leader with a 2.01 ERA, is 3-0 in four starts in June. The knuckleballer's only no-decision in that span was Monday, when he allowed one unearned run in nine innings before Boston lost 3-1 in 10 innings to the Chicago White Sox.
Rangers: A.J. Griffin was 3-0 with a 2.94 ERA his first six starts before going on the disabled list May 8 with right shoulder stiffness. The Rangers will activate him from the DL to face the Red Sox for the first time since 2013.