Potential expansion candidates for the Big 12, BYU to Tulane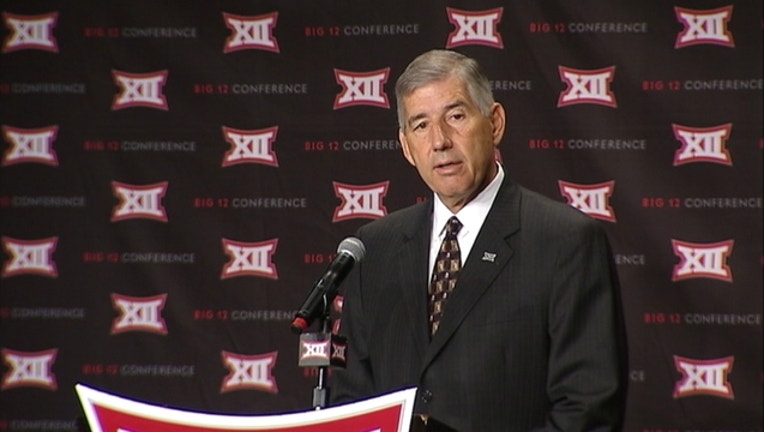 article
Commissioner Bob Bowlsby has referred to what the Big 12 is about to step into as it moves toward expansion as a seller's market.
The conference is selling salvation for two to four schools that are clamoring for a spot in the Power Five and all the amenities (mostly lots of money) that goes with moving up in the world.
Through open records requests to Big 12 schools, the reporting of other news organizations and statements released Wednesday by several obvious suits, here are the candidates (alphabetical order):
BYU — The Cougars have a huge national following, a history of competing at a high level and an affiliation with the Church of Latter Day Saints that prohibits the Provo, Utah-school's teams from competing on Sundays. This is not a small inconvenience. Nor will it keep BYU from possibly getting strong consideration. And as a football independent with its other sports in the West Coast Conference, BYU doesn't need to be coy and maybe could cut a football-only deal.
"BYU is known for its academic excellence and I believe we have an exceptional athletic program," athletic director Tom Holmoe said in a statement. "As I have stated before, I would like to see our student-athletes compete at the highest level."
Boise State — The Broncos bring a top-notch football program, and an improving athletic program in general.
Central Florida — It has enormous enrollment (60,767) and is located in a recruiting hot bed, with a growing population in Orlando. The football was awesome a few years ago (BCS win against Baylor) and terrible last year (0-12).
Cincinnati — The school has just expanded and upgraded old Nippert Stadium, which now seats about 40,000. The football team has become a steady winner and moving into Ohio would not only give the Big 12 an eastern bridge to West Virginia but maybe open up some solid recruiting territory. The Big 12 is very Texas dependent when it comes to recruiting.
South Florida — Kind of like American Athletic Conference rival UCF, but not as big (48,973 enrollment) and not as much recent football success. However, right now, USF football is trending up. Wednesday was probably not the best day to announce the NCAA was investigating the athletic program.
Connecticut — Perhaps no school suffered more from conference realignment than UConn, a longtime Big East member that was shoved from college sports' main stage. Sure the football was always so-so, but UConn basketball was a power and a powerful brand. With the Big 12 no longer talking about a conference network, that foot in the New York and Boston television markets might not be as appealing.
Colorado State — The school has been doing what you do when you want to get noticed. Expanding stadiums, investing in facilities and coaches. Big 12 schools have lots of alumni in Colorado, especially the Denver area. Fort Collins is about 65 miles straight north, pretty and growing. Maybe the Rams can replace what the Big 12 lost in Colorado?
Memphis — The Tigers have a notable sponsor in FedEx CEO Fred Smith, an alum who has promised his company's sponsorship to the Big 12. The football has been mostly irrelevant but is coming off a couple of excellent seasons. Basketball is top-shelf and so is the FedEx Forum where the team plays. School officials are quick to note how the university's academic profile is on the upswing.
"The University is prepared to take action when opportunities to increase the level of positive attention and exposure for our city, campus and Athletic Department are presented," athletic director Tom Bowen said in a statement. "The University of Memphis continues to gain national recognition for its advancements in research, teaching and student accomplishments, and the Athletic Department is one part of that winning combination."
Houston — A new on-campus stadium is sweet, and the Cougars picked an excellent time to be coming off a 13-1 season and a Peach Bowl victory under everybody's dream coach, Tom Herman. But will Herman be here longterm? If Houston is in the Big 12, that helps the cause a lot. Being in Texas is either a deal-breaker for a conference that already thinks Houston is Big 12 country, or a good way to lock up a part of the state that has been infiltrated heavily by the SEC since Texas A&M joined.
"At the University of Houston we are certainly honored to be mentioned as a progressive institution that places a competitive emphasis on both academics and athletics," athletic director Hunter Yuracheck said. "As a Tier One research institution and Phi Beta Kappa member, Houston has seen a reinvigorated spirit in Athletics. We have returned our proud University to the national spotlight and we aim to compete on the highest levels as we build Champions for Life. Our mission will not change."
San Diego State — Getting the Texas-centric conference into Southern California makes some sense from a recruiting standpoint.
Tulane — Sounds a little crazy considering recent athletic success. The American thought it was buying low in Tulane and it still hasn't turned around. The Big 12 provides a lot more benefits (i.e. money) and the Big 12 likes New Orleans, where it plays in the Sugar Bowl.