Post-draft Cowboys moving on without Bryant, maybe Witten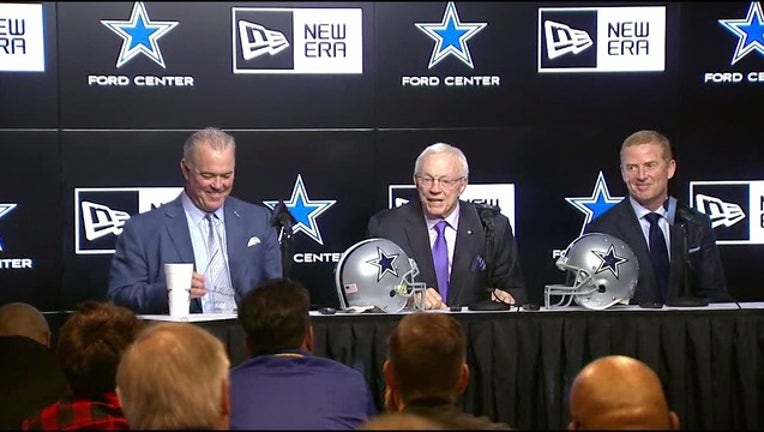 FRISCO, Texas (AP) - The Dallas Cowboys kept talking up the receivers they already had going into the NFL draft after dumping Dez Bryant in a cost-cutting move.
They ended up having to tout their tight ends as well when ESPN reported on the draft's second day that Jason Witten was planning to retire after 15 seasons to join the "Monday Night Football" crew as lead analyst.
Even with all the talk, Dallas still addressed a pair of positions that figure to look dramatically different after years of Bryant and Witten at or near the top of the club's list of receiving leaders.
A day after drafting receiver Michael Gallup in the third round, the Cowboys traded one of their three picks in the sixth Saturday to the Los Angeles Rams for receiver Tavon Austin, the eighth overall pick in 2013 when the franchise was still in St. Louis.
The Cowboys took a tight end with the second of two picks in the fourth round in Stanford's Dalton Schultz. Their first pick in that round was defensive end Dorance Armstrong from Kansas.
"I think we're better because I think we've got a great read on where we were as we sort through Dez, as we sort through the what ifs of Witten," owner and general manager Jerry Jones said. "I think we've got more clarity now than we did when we started the draft."
As for those players on the roster before the draft, the Cowboys don't expect a No. 1 receiver to emerge because they don't think their offense will be structured that way without Bryant.
Dallas wants quarterback Dak Prescott to feed off the run with 2016 rushing leader Ezekiel Elliott, so free-agent pickup Allen Hurns could be the top receiver without numbers similar to what Bryant posted during his best run from 2012-14.
The Cowboys also signed journeyman Deonte Thompson to go with incumbents Terrance Williams and Cole Beasley. Dallas took a receiver out of the equation Saturday by sending Ryan Switzer to Oakland for defensive lineman Jihad Ward.
"When you lose a player like Dez and what he's brought to the table throughout his career, we're remaking our receiving room," executive vice president Stephen Jones said. "I do think we wanted to do things that, as Jerry has said, that's Dak-friendly."
ESPN reported Friday that Witten was planning to retire to join the network, but Jerry Jones said the franchise leader in games, catches and yards receiving hadn't made a decision and wanted the weekend to think about it.
Without Witten, the Cowboys currently have nine career catches from the tight ends on their roster - all by fourth-year player Geoff Swaim.
Dallas is high on Blake Jarwin and hopeful that former Baylor basketball player Rico Gathers can develop. Gathers hasn't played a regular-season game and missed all of his second season after sustaining a concussion in training camp last year.
DON'T FORGET ABOUT NO. 1: Because of all the talk about Bryant and Witten, first-round pick Leighton Vander Esch was overshadowed. The linebacker from Boise State, taken 19th overall, could be a walk-in starter. Jerry Jones likes to compare him to Rolando McClain, a key man in the middle when the Cowboys won the NFC East in 2014. Dallas took another linebacker in the sixth round (Indiana's Chris Covington).
PLAN FOR AUSTIN: Rams coach Sean McVay used Austin as more of a hybrid, with some wildcat and other change-of-pace looks as a runner in the last of five disappointing seasons for the speedy receiver. The Cowboys have similar plans for him, and high hopes for more production than Austin had while the Rams surged to the NFC West title in the first year under McVay after 10 straight losing seasons.
TILTED TOWARD OFFENSE: Six of the nine picks were offensive players. The third-day choices were Schultz, quarterback Mike White of Western Kentucky (fifth round), receiver Cedrick Wilson of Boise State (sixth) and Alabama running back Bo Scarbrough (seventh).
STILL NEED: The Cowboys didn't draft a safety despite moving one of last season's starters, Byron Jones, back to cornerback. At the moment, the starters appear to be Jeff Heath and Xavier Woods, a sixth-round pick last year.
___
More AP NFL: http://www.pro32.ap.org and http://www.twitter.com/AP_NFL