Orlando Brown Jr. seeks to carve out niche at NFL combine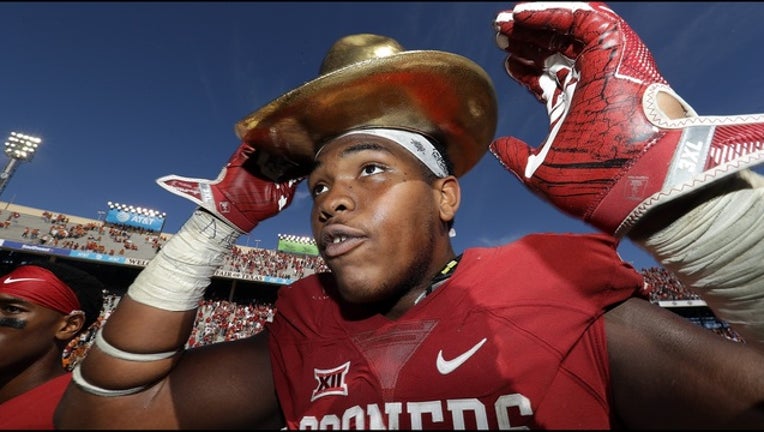 INDIANAPOLIS (AP) - Orlando Brown Jr. grew up in his father's world.
He hung out in NFL locker rooms. He learned the mentality required of a successful offensive lineman. He even began to value the college diploma his father never earned.
Now the massive Oklahoma tackle is about to enter a different universe, one in which he will be poked and prodded, measured and compared. And he will no doubt hear a litany of questions about his late, great, dear old dad.
"I don't necessarily model my game after him," Brown said Thursday at the NFL's annual scouting combine in Indianapolis. "I can't really study dad because it's a different game. So much has changed between 1993 and now."
Make no mistake, the same traits Orlando "Zeus" Brown used to carve out a more than decade-long career with the Cleveland Browns and Baltimore Ravens still work.
He was known as a tough, physical blocker who could steamroll anyone in his way.
The second-generation star still relies on power but understands he must be leaner and more athletic to succeed in today's up-tempo, no-huddle track meets.
Still, he was born into the family business.
"I've been fat my whole life," he said when asked if ever didn't want to play on the line. "I wish I was fast. If I was 6-foot-2, I'd probably be playing DB. But God blessed me."
With dad's genes.
Brown fins himself in good company this weekend. There are plenty of family ties around Indy.
Some, like Brown and running back Chris Warren III, are now playing their fathers' positions.
Others have more recent ties - especially among the linemen.
The brother of Michigan State's Brian Allen, Jack, has played the last two seasons with the New Orleans Saint The brother of UCLA's Scott Quessenberry, David, suited up for the Houston Texans last December after waging a long battle with non-Hodgkins lymphoma.
Notre Dame offensive lineman Mike McGlinchey even claimed to try catching passes from cousin Matt Ryan of the Atlanta Falcons.
"We went out and he started throwing passes to me and the balls were going over my head every time," said McGlinchey, a high school tight end at the time. "I said 'What are you doing? He said 'That's where Julio (Jones) usually is. I told him, 'Ok, I'm not that guy.'"
Nobody has a bigger legacy to fulfill than Brown.
He described his play that first season in Norman, Oklahoma, as "really bad."
Since then, there have been few complaints.
Brown started 40 consecutive games for the Sooners and was twice named an All-American. He insisted he wouldn't leave school until he had a first-round projection.
At 6-8, 360 pounds, Brown could be one of the biggest players chosen in this class.
The problem: He did only 14 reps of 225 pounds on the bench press, the lowest total of any lineman who has lifted at the combine.
Brown knows it's a problem that must be corrected at his pro day and the stigma could stick with him through the end of April.
"I didn't stick to my breathing routine," he said. "That's the lowest number I've done."
But Brown has repeatedly demonstrated his strength on and off the field.
When his father died from diabetic ketoacidosis in September 2011, the grieving son's academics suffered.
Things deteriorated so much the University of Tennessee pulled a scholarship offer.
Then, Brown woke up.
"I made up my mind to not ever let academics be a problem again," he said.
It hasn't been.
Yet with so much at stake over the next three months, Brown must show that he's more than just a big, passionate player who enjoys studying the game and the history of it.
He must carve out his own identity in this new football world.
"I think my biggest asset is my football I.Q. I understand the game, I understand the NFL, I understand what it takes," Brown said. "I've always loved football and the personnel part and I learned a lot by growing up around it."
Note: Army offensive lineman Brett Toth said he has applied for a waiver to enter the NFL but has not yet been given any assurance it will be granted by draft weekend. "I hear occasionally they've been talking about it. But they have other things far more important than me. They've got to worry about the whole Middle East."
___
More AP NFL: https://pro32.ap.org and https://twitter.com/AP_NFL