Oklahoma State pulls out comeback win over Texas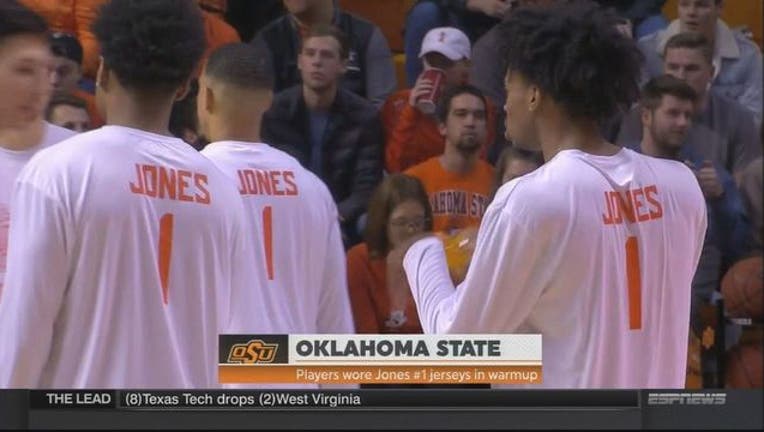 article
STILLWATER, Okla. (AP) - Following what he considered an uninspired performance in an 86-82 loss at Kansas State on Wednesday, Oklahoma State coach Mike Boynton called his team out for "gutless" play.
That was no issue on Saturday.
Tavarius Shine's rebound tip-in with six seconds remaining lifted Oklahoma State to a dramatic 65-64 comeback victory over Texas.
Oklahoma State outscored Texas 15-2 over the final 5:39 to pull out the unlikely triumph.
"Our team was full of guts tonight," Boynton said. "They played with an unbelievable amount of energy and emotion and toughness. I think our guys just kept fighting . just kept believing. They competed with the type of fight that you have to in this league every single night."
Jeffrey Carroll scored 17 points and Brandon Averette had 11 points in his first start of the season for the Cowboys (12-5, 2-3 Big 12).
It was clear the OSU players got the message and weren't offended by Boynton's words.
"I use everything he says as motivation," said Shine, who finished with five points, all in the second half, and four rebounds. "I don't take it to heart or let it hurt my feelings or anything. I think we took it well and came out gunning."
After Carroll drove the lane but missed a layup with 13 seconds left, the ball bounced around as both Shine and teammate Yankuba Sima jostled with Texas' Dylan Osetowski for the ball at the rim.
"I'm going to take half credit," Shine said of the basket, which was originally credited to Sima. "I know I touched the ball, but Yankuba is (6-foot-11) and he said he touched the ball, so I'm just going to take half credit."
Eric Davis Jr. scored 18 points, while Osetowski had 12 points and nine rebounds for Texas (11-6, 2-3).
"We obviously lost a level of poise that our guys showed for the majority of the game," Texas coach Shaka Smart said of the final six minutes. "We just got a little frantic, had some turnovers that were certainly hurtful, and on some of the plays that we did make offensively, we didn't finish them off. We had a couple of wide open shots we didn't make. And then down the stretch, we didn't defend nearly as well."
Texas appeared to be in control of the game throughout the second half, maintaining a double-digit lead for most of it until the late Oklahoma State surge.
The Longhorns went up 62-50 when Matt Coleman knocked down a free throw with 5:55 remaining, but the Cowboys responded with a crucial 13-0 run over the next three minutes. When Shine sank a long jump shot from the right baseline with 3:12 to go, it put OSU ahead 63-62, their first lead since early in the first half.
Osetowski's layup with 1:50 to go put Texas back on top until Shine's late game-winning bucket.
Jacob Young then had a final shot for the win for Texas with two seconds left, but his 3-point attempt clanked off the rim.
BIG PICTURE
Texas: It seemed like Oklahoma State did whatever it could to limit the effectiveness of star forward Mohamed Bamba, who entered the day averaging 11.8 points and 10.5 rebounds per game. Bamba shot 0 for 4 and had zero points and just three boards in the first half, although he bounced back to shoot 5 of 6 in the second half, ending up with 11 points and 10 rebounds. But even when Bamba was shut down, plenty of other Longhorns stepped up to pick up the offensive slack, including Davis, Osetowski and Coleman, who had nine. Texas appears to be a deep, versatile team.
Oklahoma State: Following an inspirational 96-87 overtime victory over Iowa State on Jan. 6, the Cowboys appeared ready to drop their second in a row to teams not among the Big 12's elite. But they displayed impressive resilience in battling back late, and even though they might not be the most talented team, Oklahoma State proved it can be relied upon to put forth a gritty effort.
DRAINING WEEK
The difficult loss caps off an emotional week for Texas, which featured the announcement last Tuesday that sophomore guard Andrew Jones was diagnosed with leukemia. The Longhorns also managed to pull out an impressive 99-98 double overtime victory over No. 16 TCU on Wednesday. "It's been a tough week, both physically and mentally," Bamba said.
TIP-INS
Texas outrebounded Oklahoma State 41-28, including a 20-12 edge in the second half. . The Longhorns committed eight turnovers in the second half for a game total of 15, while Oklahoma State turned the ball over just once after halftime. . Bamba recorded one blocked shot, his lowest total of the season. He had at least four in 14 of 15 previous games this season. . Oklahoma State won its 15th straight home game against unranked opponents.
UP NEXT
Texas: The Longhorns return home to face No. 8 Texas Tech on Wednesday.
Oklahoma State: The Cowboys quickly head out on the road, traveling down to Waco, Texas, to take on Baylor on Monday night.