Oklahoma QB Baker Mayfield won't miss games after arrest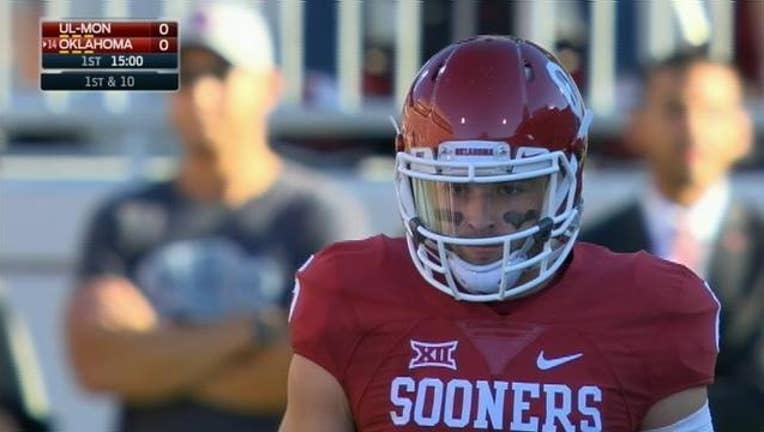 Oklahoma quarterback Baker Mayfield won't miss any game time after his arrest in February.
The school will require Mayfield, a Heisman Trophy finalist last season, to do 35 hours of community service and participate in an alcohol education program. He will be eligible to play in the opener at home Sept. 2 against UTEP. The school made the announcement Thursday.
Police video shows Mayfield walking, then trying to run away from police before being tackled by an officer following an altercation in Fayetteville, Arkansas. He was charged with disorderly conduct, public intoxication and resisting arrest after the Feb. 25 incident.
Mayfield pleaded not guilty in April. Fayetteville District Court records show the case was scheduled for a plea bargain session Wednesday, but no disposition had been filed in the case as of midday Thursday. Fayetteville City Prosecutor Brian Thomas was out of the office and unavailable for comment.
Mayfield transferred to Oklahoma from Texas Tech in 2014, then sat out a year before winning the starting job over incumbent Trevor Knight in 2015. That season, he led the Sooners to a spot in the College Football Playoff and finished fourth in the Heisman balloting. Last season, set an NCAA record for passer efficiency rating, finished third in the Heisman balloting and led the Sooners to a Sugar Bowl win over Auburn.
Two days after his arrest, Mayfield issued a lengthy public apology via social media. Mayfield said in March at the start of spring practice that he felt he had let those around him down. He apologized again in a statement Thursday.
"As I stated earlier, I could not be more disappointed in my actions and the embarrassment they caused for my university and team," he said. "I am anxious to fulfill the responsibilities that have been set and am continuing to dedicate myself to the high standard that everyone rightfully expects from someone in my position."
It was the first discipline issue for new head coach Lincoln Riley, who took over last week after Bob Stoops retired.
"Baker has expressed regret for his actions and backed up his apology by being a model leader in our program," Riley said in a statement. "He has learned from his mistake and will continue to grow from it. The coaching staff and team has every confidence in him going forward."
___
More AP college football: http://collegefootball.ap.org and https://twitter.com/AP_Top25
___
Follow Cliff Brunt on Twitter: www.twitter.com/CliffBruntAP