No. 18 West Virginia tops No. 14 Texas Tech 66-63 in Big 12 semi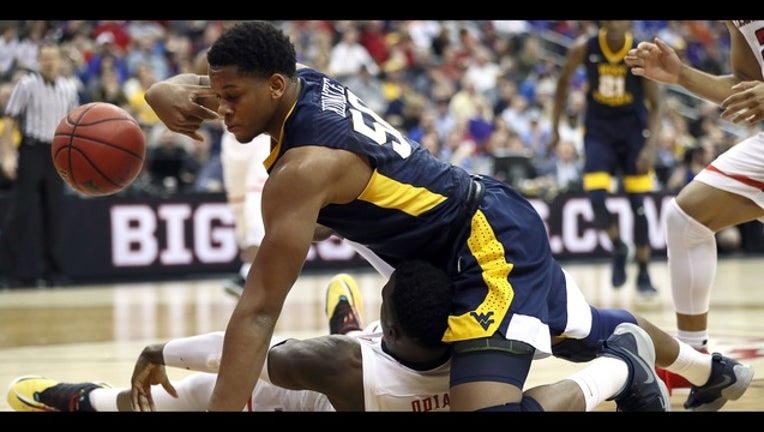 article
KANSAS CITY, Mo. (AP) - Daxter Miles Jr. had 22 points for West Virginia, and Niem Stevenson's half-court heave at the buzzer bounced harmlessly off the iron, giving the No. 18 Mountaineers a 66-63 win over No. 14 Texas Tech in the Big 12 Tournament semifinals on Friday night.
Jevon Carter added 17 points and Sagaba Konate had 11 for the third-seeded Mountaineers (24-9), who advance to their third straight title game. They'll face No. 9 Kansas on Saturday night.
Miles had a chance to clinch the game from the foul line with 6 seconds left, but he only made the first of two free throws. Texas Tech (24-9) corralled the rebound but struggled to get the ball up court, and Stevenson resorted to a half-court shot that would have tied the game.
Jarrett Culver had 16 points for the Red Raiders, who led 57-56 with 4 minutes to go but were unable to hang on. Keenan Evans added 13 points, but their star guard was just 5 of 14 from the field, and missed two crucial free throws and a tightly contested 3-pointer in the final 90 seconds.
West Virginia fell to the Jayhawks in the Big 12 title game two years ago and lost to Iowa State in last year's edition. The Mountaineers haven't won a postseason conference title since 2010, when they were still members of the Big East.
Their semifinal game was precisely the defensive slobber-knocker everyone expected.
West Virginia leaned on its frenetic, full-court press to cause problems and create turnovers, just like the Mountaineers did in their quarterfinal win over Baylor. Texas Tech leaned on its gritty, in-your-face half-court defense to force West Virginia into a bushel of misses.
The Mountaineers led 27-26 at halftime.
At that point, it was a wonder anybody in Sprint Center was still awake.
The reality is many fans had left after Kansas beat Kansas State in the earlier semifinal. But those that remained were treated to a game that slowly built in intensity, especially as West Virginia and Texas Tech remained unable to create separation until midway through the second half.
That's when Miles and Carter, the veteran guards who have been such stalwarts for West Virginia over the years, began playing H-O-R-S-E against each other from beyond the 3-point line.
Their barrage allowed the Mountaineers to slowly build a 54-48 lead at the under-8 timeout.
Texas Tech roared back with nine straight points to swipe the lead away, setting up a frantic push to the finish - and eventually, a wild celebration on the West Virginia bench.
BIG PICTURE
West Virginia was beaten on the boards, committed 21 fouls and struggled for long periods of the game. But the Mountaineers were careful with the ball, showed some of coach Bob Huggins' trademark toughness and managed to make the plays that mattered.
Texas Tech had plenty of chances to regain the lead in the final minutes, but four missed free throws and poor execution in crunch time spoiled what had been a solid defensive performance.
UP NEXT
West Virginia prepares for the Big 12 title game against Kansas.
Texas Tech heads back to Lubbock to await Selection Sunday.
___
More AP college basketball: https://collegebasketball.ap.org and https://twitter.com/AP_Top25