No. 16 UMBC etches name in sports lore, routs No. 1 Virginia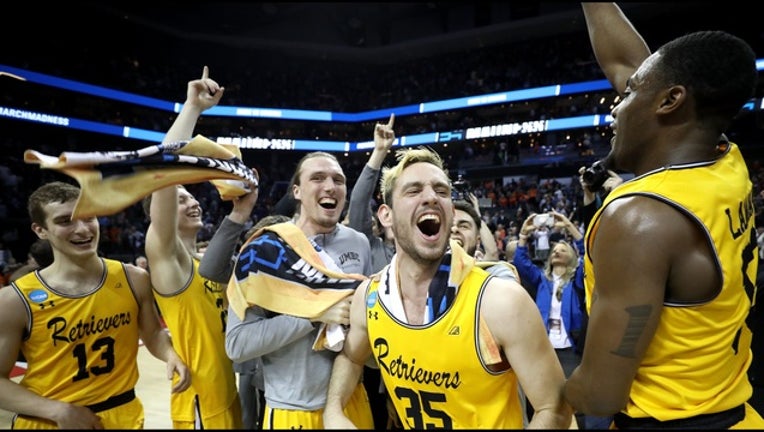 article
CHARLOTTE, N.C. (AP) - Jairus Lyles couldn't suppress a smile, knowing that a school known more for chess than hoops had finally made it happen - a 16 ousting a 1 in March Madness.
The University of Maryland-Baltimore County stunned the sports world by pulling off the most surprising upset in college basketball history, trouncing Virginia 74-54 on Friday night to become the first No. 16 seed ever to beat a No. 1 seed in the men's NCAA Tournament.
The Retrievers secured their underdog legacy in sports lore, alongside Buster Douglas, the 1980 United States Olympic hockey team and Joe Namath's Jets.
Virginia entered the NCAA Tournament as the No. 1 overall seed after going 31-2 in the regular season, including 20-1 in ACC competition.
Frankly, the question wasn't whether the Cavaliers would win this game, but if they'd get to the Final Four and win it all.
But UMBC - an afterthought for fans who filled out brackets - didn't just beat Virginia, it dominated throughout the second half, dismantling the 20 1/2-point favorites by 20 points. UMBC scored 53 points in the second half - 1 point shy of how many Virginia scored in the entire game.
Lyles scored 28, the Retrievers cruised and then raced off the floor together in their yellow-and-black uniforms, fingers pointed toward the ceiling to celebrate the victory.
"These are the moments that you dream of," Lyles said. "It's always exciting to make history."
In a chaotic UMBC locker room after the game, players shouted: "All brackets gone! No perfect brackets! Put that in the news!"
Others talked about the need for a 30 for 30 special.
UMBC's Jourdan Grant said it was hard to put his emotions into words.
"It felt like my soul left my body, man," Grant said. "When I walked over to the sideline and up in front of the sea of yellow of our fan section, they were going crazy with us. And to look back and see my teammates going crazy, too, man it's unbelievable."
A 77-72 stunner by NAIA team Chaminade over Ralph Sampson and No. 1-ranked Virginia in 1982 in Hawaii was generally considered the most remarkable upset in college basketball. But that was the regular season and almost nobody watched it as it actually played out.
This came when it mattered the most - in the NCAA Tournament.
No. 1 seeds in the NCAA Tournament were 135-0.
"Unbelievable - it's really all you can say," said UMBC coach Ryan Odom, who grew up in Charlottesville, Virginia, and whose father Dave Odom was a former assistant coach at UVA.
Before Friday night, UMBC was better known for making runs at a different Final Four - in college chess.
Its powerhouse program gives scholarships to players from around the world and competed in the President's Cup, informally known as the Final Four of chess, for 15 straight years before the streak ended in 2016.
On the other side of the floor, there were tears as some Cavaliers players walked off with their jerseys over their eyes.
Virginia's Ty Jerome, when asked if he knew that a No. 16 seed had never beaten a No. 1 before in men's play, said: "I think everyone is aware of that."
"Thanks for bringing that up again, but I was aware of it," he said.
Virginia, playing without ACC sixth man of the year De'Andre Hunter, couldn't get anything generated on offense and the nation's top-ranked defense - allowing only 53.4 points per game coming in - couldn't contain the American East Conference champions who won their conference tournament at the buzzer.
The 74 points were the most Virginia had allowed this year - and they had played powerhouses like Duke and North Carolina.
But UMBC shredded it.
The Retrievers shot 67.9 percent from the field in the second half and held Virginia to 42 percent after intermission.
"We got thoroughly outplayed and that's the reality of it," Virginia coach Tony Bennett said.
Lyles was the catalyst.
He diced up Virginia's defense in the second half, getting to the hole easily six different times to convert layups. He also knocked down a pair of 3-pointers as UMBC built a 16-point lead.
"I always let him play," Odom said. "I never hold him back. When he gets going like that if breeds confidence in other guys."
The game was tied at halftime, but the Retrievers came out confident and motivated in the second half and built a double-digit lead that Virginia could never erase.
Joe Sherburne, who had 14 points, was huge early in the second half and made believers out of everyone. He scored on an and-1 drive and then knocked down a 3-pointer from the top of the key after a behind-the-back pass from KJ Maura. After Virginia made a foul shot, the shifty 5-foot-8, 140-pound Maura drove the lane for uncontested layup.
A Tony Bennett timeout couldn't stop the bleeding, as Lyles hit two more 3's and Sherburne hit one more to extend UMBC's lead to 14 with about 15 minutes left.
And when Arkel Lamer made a 3-pointer from the corner with 3 1/2 minutes left to put UMBC up by 17 and backpedaled down the court with his tongue hanging out, you knew history was inevitable.
"We all wanted to be in the 'One Shining Moment' video," Sherburne said.
It was yet another early exit for the Cavaliers in a season that seemed to hold so much promise. This was the fourth time in the last five seasons the Cavaliers have been either the No. 1 or 2 seed, but failed to reach the Final Four under Bennett.
Bennett said the Cavaliers had a historic season and then "a historic loss. That's life."
Instead of trying to chip away at the lead and pound the ball inside against the smaller Retrievers, Virginia repeatedly shot 3-pointers. Virginia missed 13 of its first 14 before getting hot for a brief stretch late in the game.
"Once we got down 8 or 10 we tried to make home run plays," Virginia's Kyle Guy said.
ONE OTHER TIME
In 1998, the No. 16 seed Harvard women beat top-seeded Stanford on the Cardinal's home floor.
UP NEXT
UMBC: Will face No. 9 seed Kansas State on Sunday in the second round.
___
More AP college basketball: https://collegebasketball.ap.org ; https://twitter.com/AP_Top25 and https://www.podcastone.com/ap-sports-special-events