No. 14 West Virginia ousts Baylor 78-65 in Big 12 tourney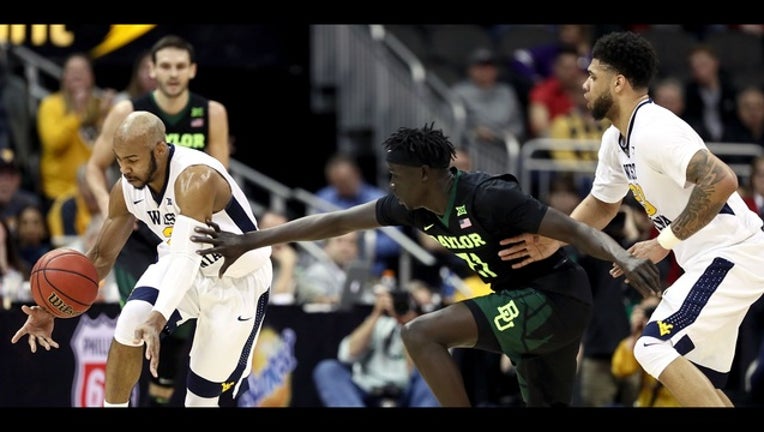 article
KANSAS CITY, Mo. (AP) - Esa Ahmad had 21 points, Daxter Miles Jr. added 19 and No. 18 West Virginia cruised to a 78-65 victory over Baylor on Thursday night to advance to the semifinals of the Big 12 Tournament.
Jevon Carter also had 18 points and 11 assists for the third-seeded Mountaineers (23-9), who swept the Bears (18-14) during the regular season and have won six of the last seven in the series.
West Virginia will play No. 14 Texas Tech, the tournament's second seed, on Friday night for a spot in the championship game. The Mountaineers have been to the last two finals, but still have not won a conference tournament since capturing the Big East crown in 2010.
Manu Lecomte led the No. 6 seed Bears with 27 points, but he didn't get much help from a lineup that had a miserable night dealing with West Virginia's stingy defense. Baylor shot 42 percent from the field but just 6 of 20 from beyond the arc, and committed a ghastly 22 turnovers.
Nuni Omot and King McClure combined for 12 of them.
The Bears actually controlled the tempo much of the first half, relying on their zone defense to keep West Virginia from running. They led 18-9 with 8 1/2 minutes left, and still led when Jake Lindsey made a pair of free throws as the 5-minute mark slipped by.
Press Virginia was starting to get cranked up, though.
The Mountaineers began forcing turnovers with their frenetic full-court press, and that keyed a 16-2 run that gave them the lead. And when Tristan Clark scored just before the break, Carter answered with a half-court heave that hit nothing but net for a 29-23 advantage.
Baylor scored the first couple baskets of the second half, but Ahmad scored inside and Miles hit three 3-pointers in the span of a minute to get the Mountaineers back on track.
The rest of the game amounted to a sloppy foul-fest, neither team ever able to get into much of a rhythm. As usual, that played to the advantage of the poised and veteran Mountaineers, who have earned a reputation for an uncanny ability to make the ugliest of games turn out the sweetest of ways.
BIG PICTURE
Baylor was trying to reach 19 wins for the sixth straight season. Instead, a lopsided loss means the Bears' chances of making a fifth straight NCAA Tournament appearance appear in jeopardy.
West Virginia and Texas Tech tied for second place in the league race, and the teams split in the regular season. But the Mountaineers should feel confident after getting the better of the Red Raiders the last time they played, an 84-74 victory in Morgantown late last month.
UP NEXT
Baylor sweats until Selection Sunday.
West Virginia gets ready for the Red Raiders.
___
More AP college basketball: https://collegebasketball.ap.org and https://twitter.com/AP_top25