NFL Draft: Defensive player primer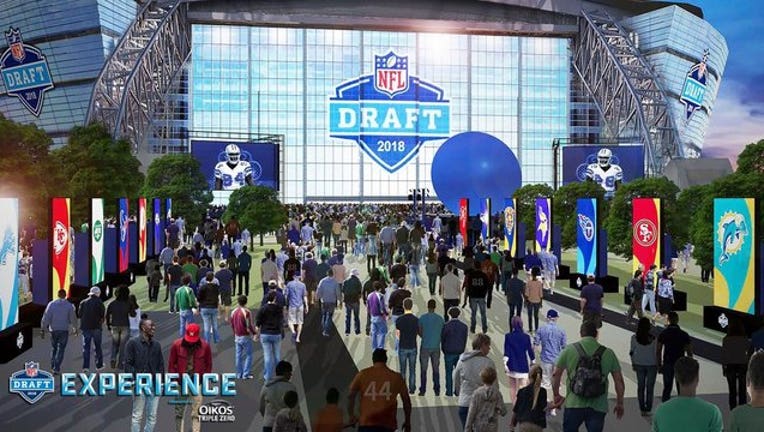 A look at some of the top prospects available at each position in the upcoming NFL draft (x-denotes early entrant):
DEFENSE
EDGE RUSHERS/ENDS
Position outlook: Beyond Bradley Chubb, most of the best potential pass rushers have question marks that could keep them out of the first round.
Bradley Chubb, 6-foot-4, 269 pounds, North Carolina State
Strengths: Rushes with a good combination of power and speed, and varied moves. Holds his ground well against the run.
Weaknesses: Not quite the elite athleticism of a player such as Myles Garrett, which could limit his upside.
Fact: Wore No. 9 at N.C. State the last two seasons for former Wolfpack defensive end and No. 1 overall pick Mario Williams.
Gone by: Pick No. 5 or 6.
Marcus Davenport, 6-6, 264, UTSA
Strengths: Long, fast and explosive athlete with maybe even more upside than Chubb.
Weaknesses: Instincts and reaction are a work in progress, limiting his speed and quickness.
Fact: Former high school sprinter who gained 30 pounds during his college career.
Gone by: Pass rush potential like this generally doesn't last past top 15.
Harold Landry, 6-3, 252, Boston College
Strengths: Long arms, fast hands and nicely developed pass-rush moves.
Weaknesses: Needs to play stouter against run and could be limited to 3-4 outside linebacker.
Fact: Limited to nine games last season by an ankle injury.
Gone by: Top 35.
x-Arden Key, 6-6, 238, LSU
Strengths: Big-time pass-rush potential, combining size, range and agility.
Weaknesses: Production comes and goes, and he did not show much last season after returning from a shoulder injury.
Fact: Set LSU single-season record with 12 sacks in 2016.
Gone by: Day 2 though first round is definitely possible.
Sam Hubbard, 6-5, 265, Ohio State
Strengths: Strength and technique allow him to get rid of blockers effectively.
Weaknesses: Lacks fast first step.
Fact: Elite lacrosse player in high school who had a scholarship offer to Notre Dame.
Gone by: Top 45.
Others to watch: Lorenzo Carter, Georgia; Uchenna Nwosu, USC; x-Rasheem Green, USC; Kemoko Turay, Rutgers.
DEFENSIVE TACKLES
Position outlook: Could be no defensive tackles taken in the first 15 or 20 picks, but a handful or more between 20 and 45.
x-Da'Ron Payne, 6-2, 311, Alabama
Strengths: Massive and powerful with quick hands. Run stuffer.
Weaknesses: His pass rush is almost all power.
Fact: Caught a touchdown pass against Clemson in a College Football Playoff victory last year.
Gone by: Middle of second round.
x-Vita Vea, 6-4, 347, Washington
Strengths: Athleticism and quickness for his size outstanding.
Weaknesses: Production and playmaking inconsistent.
Fact: Played some wildcat quarterback as a 270-pound high schooler in San Jose, California.
Gone by: Top 20.
x-Taven Bryan, 6-4, 291, Florida
Strengths: Explodes off the ball and can make plays up and down the line.
Weaknesses: Holding point of attack. Could end up sliding outside.
Fact: Son of a U.S. Navy Seal.
Gone by: Early second round.
Maurice Hurst, 6-2, 282, Michigan
Strengths: Relentless and quick off the ball and into the backfield.
Weaknesses: Undersized for an interior lineman, which could relegate him to certain schemes.
Fact: Diagnosis of a heart condition kept him out of the combine, but has been cleared since.
Gone by: Middle of second round.
Harrison Phillips, 6-4, 307, Stanford
Strengths: Broad, active and highly productive.
Weaknesses: Odd build. Top-heavy for an interior defensive lineman.
Fact: Led Stanford in tackles last season with 103.
Gone by: End of second round.
Others to watch: x-Tim Settle, Virginia Tech; Derrick Nnadi, Florida State; x-B.J. Hill, North Carolina State.
LINEBACKERS
x-Roquan Smith, 6-1, 236, Georgia
Strengths: Excellent recognition, sideline-to-sideline range and athleticism, with coverage skills to keep him on the field on passing downs.
Weaknesses: A bit undersized and can get engulfed by big blockers - if they can get to him.
Fact: Won the Butkus Award as best linebacker in college football in 2017.
Gone by: Top 15.
x-Tremaine Edmunds, 6-5, 253, Virginia Tech
Strengths: Tremendous size and speed combination. Solid tackler.
Weaknesses: Needs some work on shedding blocks and his pass rush is more potential than well-developed skill.
Fact: Father was NFL tight end Ferrell Edmunds and two of his brothers also played for Virginia Tech.
Gone by: Top 15.
Rashaan Evans, 6-3, 234, Alabama
Strengths: Punishing hitter. Versatile linebacker, with speed to become an effective edge rusher.
Weaknesses: Aggressiveness can lead to missed tackles.
Fact: Grew up in Auburn, Alabama.
Gone by: Top 25.
x-Leighton Vander Esch, 6-4, 256, Boise State
Strengths: Long and rangy, and seemed to be in on every tackle for the Broncos.
Weaknesses: More power would be helpful, and some patience to cut down on over-pursuing.
Fact: In first year as a full-time starter was Mountain West defensive player of the year in 2017.
Gone by: Middle of second round.
Shaquem Griffin, 6-1, 227, UCF
Strengths: Has 4.4 speed that could lead to a move to safety, but was also a terror as a pass rusher.
Weaknesses: Griffin lost his left hand to amputation when he was young. It has proved to be no limitation throughout a stellar college career, but it could influence where he fits in an NFL defense.
Fact: His twin brother, Shaquill, plays for the Minnesota Vikings.
Gone by: Total wild card, but it would be surprising if he is not drafted at all.
Others to watch: x-Malik Jefferson, Texas; Jerome Baker, Ohio State; Josey Jewell, Iowa; Fred Warner, BYU.
CORNERBACKS
Position outlook: NFL teams draft lots of cornerbacks and there are about seven with a chance to squeeze into the first round, or provide good value in the second, depending upon taste.
x-Denzel Ward, 5-10, 196, Ohio State
Strengths: Blazing speed, physical for his size, and gets his hands on a lot of passes.
Weaknesses: Any issues stem from size and strength, neither of which is optimal but have hardly held him back.
Fact: Sat out Ohio State's Cotton Bowl game against USC, a decision he made late into game preparation.
Gone by: Consensus first cornerback off the board, probably top 10 or so.
x-Josh Jackson, 6-1, 192, Iowa
Strengths: Long arms, good instincts and big-time playmaker last season.
Weaknesses: Make-up speed is questionable and tackling could use some work.
Fact: One season as a starter at Iowa - but what a season! Led the country with eight interceptions, including two returned for touchdowns.
Gone by: End of first round.
x-Carlton Davis, 6-1, 203, Auburn
Strengths: Big and strong, with lots of experience.
Weaknesses: Penalty prone.
Fact: Worked his way into the starting lineup as a freshman.
Gone by: Top 45 pick.
x-Jaire Alexander, 5-11, 192, Louisville
Strengths: Quick and aggressive, with good instincts.
Weaknesses: Not much power in his game.
Fact: Leg and hand injuries limited him to playing about half of last season.
Gone by: Early second round.
x-Mike Hughes, 5-10, 189, UCF
Strengths: More quick than fast, and strength that allows him to play bigger than he is listed. Dangerous kick returner.
Weaknesses: Needs technique work and consistency throughout his game.
Fact: Signed with North Carolina out of high school, but transferred to UCF after his freshmen year - which included a suspension for an altercation at a party.
Gone by: End of second round.
x-Donte Jackson, 5-11, 175, LSU
Strengths: Speed. Lots of speed.
Weaknesses: Light and lacks strength.
Fact: Louisiana state high school champion in 100 and 200 meters.
Gone by: End of second round.
x-Isaiah Oliver, 6-1, 190, Colorado
Strengths: Steady and sound press coverage cornerback.
Weaknesses: Not a physical tackler and change of direction is a bit stiff.
Fact: Both his father and uncle played college football.
Gone by: End of second round.
Others to watch: Anthony Averett, Alabama; Duke Dawson, Florida; Parry Nickerson, Tulane.
SAFETIES
Position outlook: Two top-10 talents and then several players who will be more scheme-fit picks.
x-Minkah Fitzpatrick, 6-1, 201, Alabama
Strengths: Versatility, intelligence, instincts, leadership and smooth athleticism.
Weaknesses: The nits to pick: He is not an explosive hitter and maybe he could use a few extra pounds.
Fact: Returned four interceptions for touchdowns in his first two seasons at Alabama.
Gone by: Only the NFL's love affair with quarterbacks keeps him around past top five.
x-Derwin James, 6-3, 211, Florida State
Strengths: A little more explosive athleticism, but not quite as much polish as Fitzpatrick.
Weaknesses: Anticipation and diagnosis of plays need some work.
Fact: Missed almost all of the 2016 season to a knee injury.
Gone by: No. 8 or so.
x-Ronnie Harrison, 6-2, 207, Alabama
Strengths: Tough in run support and nasty on receivers in the middle of the field.
Weaknesses: More of a hitter than tackler and not as effective in coverage.
Fact: Went to high school in Tallahassee, Florida, before choosing the Crimson Tide over the Seminoles.
Gone by: Top 50.
x-Justin Reid, 6-1, 204, Stanford
Strengths: Good range as a center fielder, plus solid in run support.
Weaknesses: Had issues when forced into coverage.
Fact: Brother of NFL safety Eric Reid.
Gone by: End of second day.
Others to watch: x-Jessie Bates, Wake Forest; Kyzir White, West Virginia; Marcus Allen, Penn State.
SPECIALISTS
Position outlook: As usual, not many punters and kickers will have their names called during the draft. Though one punter stands out.
PUNTERS
x-Michael Dickson, Texas
JK Scott, Alabama
Johnny Townsend, Florida
Joseph Davidson, Bowling Green
KICKERS
Daniel Carlson, Auburn
x-Eddy Piniero, Florida
___
For more NFL coverage: www.pro32.ap.org and www.twitter.com/AP_NFL