Nelson finale on course where Masters champs played as teens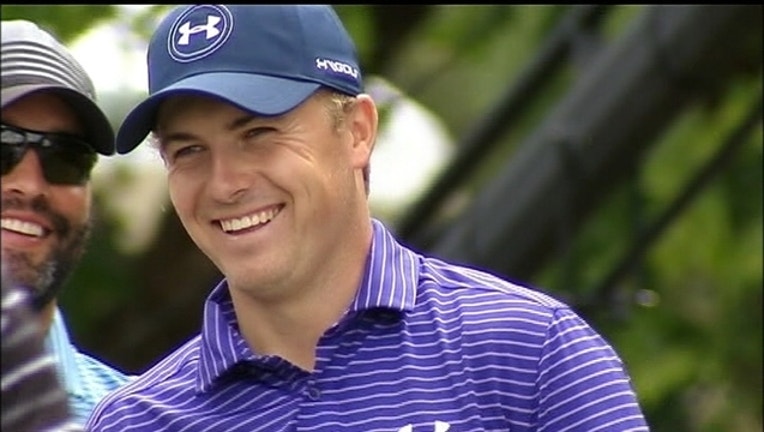 IRVING, Texas (AP) - Sergio Garcia and Jordan Spieth were teenagers playing at Byron Nelson's tournament before they became Masters champions.
Garcia, now the reigning Masters winner and defending Nelson champ, was only 19 when he shot a 62 in his first round as a pro at the 1999 Nelson. Spieth was a baby-faced 16-year-old high school junior when he teed off as an amateur in 2010. He wound up tied for 16th in the hometown PGA Tour event he had regularly attended with his dad.
"My first tee shot that I hit out here is tough to beat," said Spieth, now the sixth-ranked player in the world.
This week's Nelson will be the last at TPC Four Seasons, ending the tournament's 35-year run in Irving, Texas. The new links-style Trinity Forest Golf Club south of downtown Dallas becomes the Nelson's host next year.
"Obviously I'm going to be sad to leave here," Garcia said. "A little piece of heart is always going to stay here no matter where we go."
Garcia beat Brooks Koepka in a playoff last year to become the first two-time winner since Irving became the Nelson's home in 1983. Spieth's best finish is still his debut in 2010, two years before turning pro.
Before Nelson died in 2006 at age 94, he was a constant presence at the tournament with a seat at the 18th green, there to greet players finishing their rounds.
"My heart will always be here, and Byron's too," Nelson's widow, Peggy, said during an opening ceremony this week in the shadow of his statue near the first tee.
The tournament's namesake saw Garcia tie for third in 1999, and five years later helped present the trophy after Garcia won there the first time.
The tournament's roots go back to 1944 as the Texas Victory Open, when Nelson won at Lakewood Country Club, a year before his mesmerizing streak of winning 11 PGA tournaments in a row. Sam Snead won the Dallas event in 1945, and Ben Hogan won in 1946.
In 1968, the tournament became the first named after a PGA Tour player and has since become the tour's biggest charity fundraiser. About $150 million has been raised through the years for an organization that annually serves 6,000 children and family members through education and mental health programs. Peggy Nelson said the highlight for her husband each year was to watch "the boys" play. She said it was difficult to think about the tournament not being played there.
The tournament used two courses from 1993-2007. All weekend rounds were on the TPC course after players had one of their first two rounds across the street. The Cottonwood Valley course with a Texas-shaped first green was where Garcia shot that memorable 62.
Tiger Woods won the 1997 Nelson in his first tournament after winning his first major at the Masters a month earlier. He arrived at the TPC Four Seasons in 2001 as the reigning champion of all four majors - the U.S. Open, the British Open, the PGA Championship and the Masters. In 2005, the last time Woods played the Nelson, he missed the cut to end his record of 142 consecutive cuts made over seven years. He missed a 15-foot par putt on the 18th hole at Cottonwood Valley.
Spieth, still only 23, has nine career victories, including the 2015 Masters and U.S. Open. Now he has only one more chance to win on the course where he first played a PGA Tour event, and where he was when he missed his high school graduation ceremony in 2011 after making the cut again.
"Obviously fantastic memories and looking forward to creating new ones this week, and hopefully the best ones yet," Spieth said. "I'd really like to get my name there by Byron's statue after coming out and looking at all those names for so many years."
___
More AP golf: https://apnews.com/tag/apf-Golf