Mitchell scores 26, Jazz beat Mavericks 119-112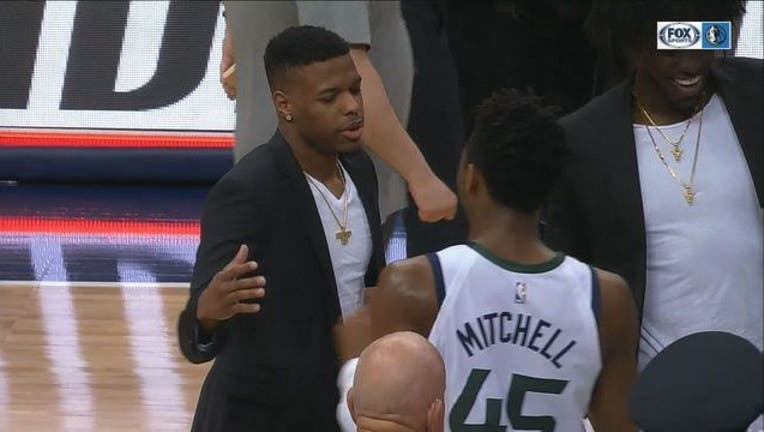 DALLAS (AP) - Donovan Mitchell scored 26 points and the Utah Jazz got back on the winning track by beating the Dallas Mavericks 119-112 on Thursday night.
Two nights after a loss to Atlanta ended a nine-game winning streak, Utah moved into a tie with Minnesota for seventh place in the Western Conference playoff race. The Jazz have won 22 of their last 25 games.
Mitchell is the only NBA rookie averaging 20 points.
All five Utah starters scored in double figures.
Joe Ingles had 18 points and 10 assists, equaling his career high. Ricky Rubio scored 22 points, Derrick Favors had 19 and Rudy Gobert added 11.
J.J. Barea had a season-high 23 points for the Mavericks with 20 in the first half. Harrison Barnes added 21 points and Yogi Ferrell scored 20 in a reserve role.
A three-point play by Mitchell gave Utah a 37-34 lead after one quarter. The Jazz then scored the first six points in the second quarter and extended their margin to 52-37.
Dallas' first field goal in the second quarter came with 7:15 left on a slam dunk by Dwight Powell. That started the Mavericks' 11-0 run, with the last seven points by Barea, to pull to 52-48.
Utah pulled away for a 65-58 halftime lead and extended it to 96-81 after three quarters.
TIP-INS
Jazz: Utah shot 68 percent (15 for 22) from the field in the first quarter. . Ingles had seven assists in the first quarter. His first career double-double had come just 15 days earlier against Indiana.
Mavericks: They made 65 percent (13 for 20) of their first-quarter field goal attempts. . Dallas signed former Charlotte Hornet Aaron Harrison to a 10-day contract. He scored six points. . Dirk Nowitzki passed Kevin Garnett for third place in minutes played in NBA history. Nowitzki's 25 minutes increased his career total to 50,437. . Barea was in his 567th game for the Mavericks, breaking a tie with Mark Aguirre for the eighth-most in team history.
UP NEXT
Jazz: Visit San Antonio on Friday.
Mavericks: Host Charlotte on Saturday.