Mavs blow 26-point lead, fall to Hawks 111-104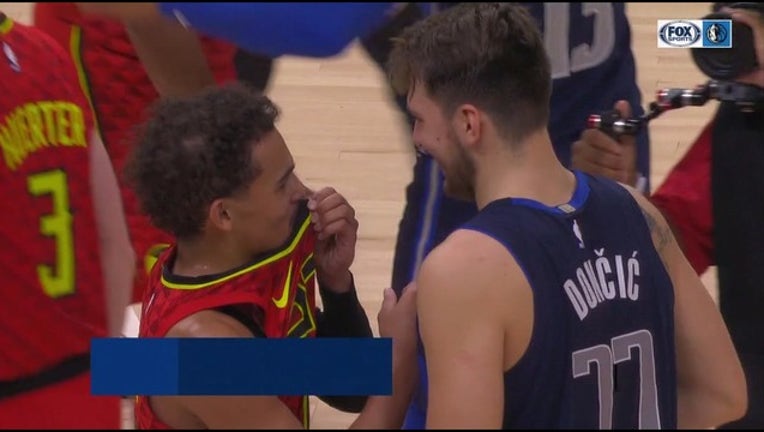 article
ATLANTA (AP) - Kent Bazemore scored 32 points, including a thunderous slam with just over a minute to go, and the Atlanta Hawks rallied from a 26-point deficit in the first half to stun the Dallas Mavericks 111-104 on Wednesday night.
Trae Young added 17 points on a tough shooting night, bouncing back in the fourth quarter to help the youthful Hawks complete their comeback in a rookie showdown with Luca Doncic of the Mavericks.
Doncic finished with 21 points, but hit only 3 of 10 shots over the final two quarters.
The Hawks made it a night to remember at newly rechristened State Farm Arena, which hosted its first game after a $192.5 million renovation that was largely completed over the last two offseasons. The crowd spent much of the first half enjoying the amenities, including a barber shop overlooking the court, but really got into the game as the home team kept creeping closer and closer to Dallas.
"Thank you Atlanta," Young told the fans after the game. "This is just the beginning."
Coming off a 35-point, 11-assist performance in a victory at Cleveland, Young struggled with his shot and kept turning the ball over to help Dallas race to a 51-25 lead only 4 minutes into the second quarter. But the Hawks turned things around before halftime, closing to 58-48 at the break, and they finally passed the Mavs when Young was fouled on a 3-point attempt with 5:13 remaining. He made all three free throws, putting Atlanta up 96-95.
Bazemore finished with a flourish , spotting an opening down the middle of the lane and jamming it through with the left hand to make it 105-101 with 1:06 remaining.
Young and Doncic are two of the NBA's most touted rookies, and they figure to be linked together for the rest of their careers.
The Hawks selected the 19-year-old Slovenian with the No. 3 overall pick, only to deal him to the Mavericks in exchange for Young, who was chosen at No. 5. Atlanta also picked up 2019 first-round selection in the deal.
TIP-INS
Mavericks: Coach Rick Carlisle was asked before the game how his team could improve its defense against the 3-pointer. "Get closer to them," he quipped. Dallas took his jab to heart, limiting the Hawks to 39.5 percent on 15-of-38 shooting beyond the arc. Coming into the game, the Mavericks were giving up nearly 55 percent from 3-point range. ... Wesley Matthews led the way with 23 points.
Hawks: Taurean Prince had 24 points, while DeAndre' Bembry grabbed 16 rebounds in just 29 minutes of playing time. ... F Alex Poythress left the game in the first half with an injured knee and did not return.
UP NEXT
Mavericks: Travel to Toronto on Friday to take on the Raptors.
Hawks: Host Chicago on Saturday before going back on the road for two games.
___
Follow Paul Newberry on Twitter at www.twitter.com/pnewberry1963 . His work can be found at https://apnews.com/search/paul%20newberry
___
More AP NBA: https://apnews.com/tag/NBA and https://twitter.com/AP_Sports