Mariners use 7-run 7th inning to beat Rangers 8-2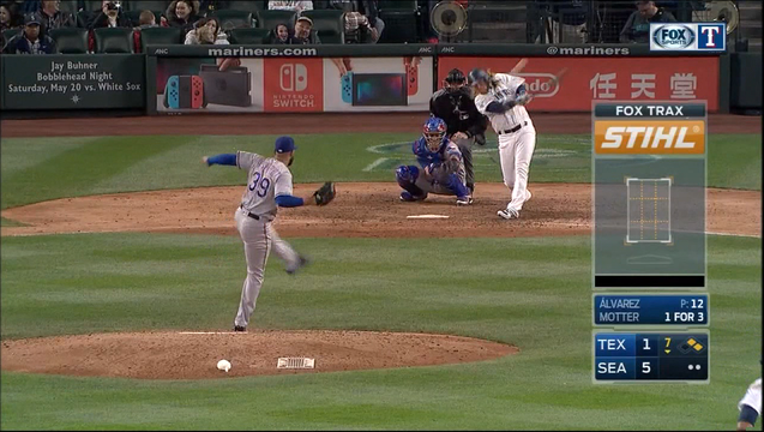 SEATTLE (AP) - Danny Valencia finally got the Mariners a hit with a runner in scoring position, and Seattle rolled over the Texas Rangers from there.
Valencia drove in two during Seattle's seven-run seventh inning and the Mariners beat the Rangers 8-2 on Saturday night.
Seattle was 0 for 12 with runners in scoring position Friday in a 3-1, 13-inning loss to Texas, and 0 for 6 on Saturday before Valencia's knock.
"The best thing is we know our job," said Taylor Motter, who followed Valencia with an RBI double. "We need to get on and let those guys (in the middle order) do their job. If we take a walk, hit by pitch, base hit, double, whatever it is to do what we're supposed to do."
The Mariners sent 11 batters to the plate during their biggest inning of the season, getting five hits, a walk and a hit by pitch. Valencia's single came off reliever Dario Alvarez, who then allowed Motter's double and a two-run single to Ben Gamel. The inning started with Gamel's single off Martin Perez (1-5).
Keone Kela also pitched in the seventh, giving up an infield single and hitting Guillermo Heredia with a bases-loaded pitch before giving way to Alvarez.
"It was a situation, once we got past kind of a run-scoring situation, I wasn't willing to go to three pitchers in that inning and chase," Rangers manager Jeff Banister said. "Three pitchers in one inning on a strapped bullpen is probably not what we want to do. That's probably more preservation for tomorrow than anything else."
Texas got solo home runs from Joey Gallo in the second inning and Mike Napoli in the ninth. Gallo's 10th homer matched Oakland's Khris Davis for second most in the AL.
James Pazos (1-1) worked one inning in relief following rookie starter Chase DeJong for Seattle.
DeJong made his third start in place of injured Felix Hernandez. He pitched a career-high six innings, allowing a run and four hits. He struck out three with no walks and said his goal was to eat innings to help Seattle's tired bullpen.
"We didn't have the luxury to miss bats. We had to go right after guys," DeJong said. "We had to be efficient, get early contact."
Jean Segura had three of the Mariners' 14 hits.
Cruz's sixth-inning single to center extended his hitting streak to 15 games. He is hitting .439 during his streak with five doubles, five home runs and 20 RBIs.
PERRY RETURNS 35 YEARS AFTER 300
As part of the Mariners' summer-long 40th anniversary celebrations, the club brought in Hall of Famer Gaylord Perry to toss the first pitch. Perry played just two of his 22 seasons (1982-83) with Seattle, going 13-22. But he won his 300th game here on May 6, 1982, a 7-3 complete game against the New York Yankees. Perry, now 78, tossed an underarm strike to the plate.
TRAINER'S ROOM
Rangers: LH Cole Hamels, on the DL with strained right oblique, will be out at least eight weeks. "This (length) is kind of new to me,'" said Hamels, addressing the media for the first time since his injury. "This is kind of a different scale, being out for as long as this one requires."
Mariners: Seattle added another pitcher to the 10-day DL, RH Evan Marshall, who came out of Friday's game with a right hamstring strain. "He's going to be out a while," manager Scott Servais said. RH Emilio Pagan was optioned to Triple-A Tacoma, and RHs Dan Altavilla and Rob Whalen were called up from the Rainiers. ... RH Jean Machi also exited Friday's game with a nerve issue in his right thumb but is recovered and was available. The Mariners have used 22 pitchers this season.
UP NEXT
Rangers: Andrew Cashner (0-3, 2.95 ERA) is getting 0.84 run support, lowest among the big league starters. He also is tied with the longest road winless streak (16 games), going 0-8 with a 7.23 ERA. He is 0-3 with a 4.05 ERA in five career appearances against Seattle.
Mariners: The Mariners hadn't announced a starter for Sunday, but the club is leaning toward LH Dillon Overton (0-0, 6.14). It would be Overton's first start in five appearances this season.
___
More AP baseball: https://apnews.com/tag/MLBbaseball