Mariners unravel in 11th inning, lose 11-3 to Rangers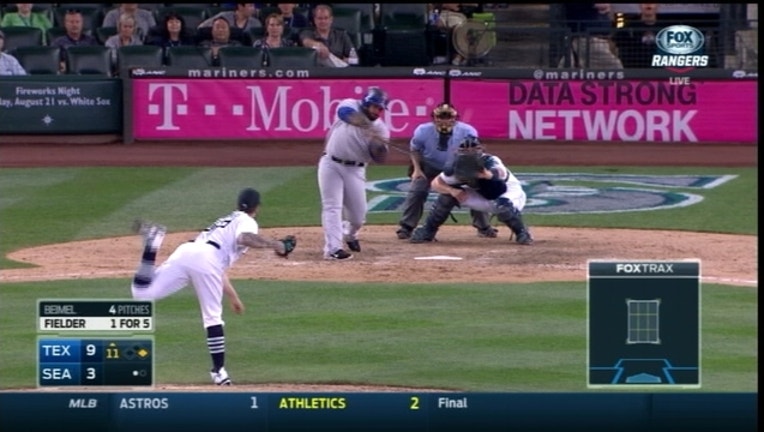 article
SEATTLE (AP) — In the bottom of the 10th, the Seattle Mariners were in prime position to pull off their ninth extra-inning win of the season. One inning later they found themselves on the wrong side of a lopsided score.
Jesus Montero struck out with the bases loaded to end the 10th inning, and the Texas Rangers scored eight runs in the 11th for an 11-3 victory Saturday.
Seth Smith led off the bottom of the 10th with a deep fly to left field that Ryan Strausborger misplayed for a two-base error. Shawn Tolleson (4-2) struck out Mike Zunino and Kyle Seager, then intentionally walked Nelson Cruz and Robinson Cano to load the bases for Montero.
"That obviously proved to be the game," Seager said. "You get a guy on second with no outs and have three shots at them, and we weren't able to come through."
Texas opened the 11th with seven straight hits, the first six off Rob Rasmussen (1-1). Five of the six hits came with two strikes.
"I needed to pick us up and I just flat-out didn't execute," Rasmussen said. "I felt like it was fairly easy to get to two strikes against them, but tougher to get that third one."
Prince Fielder capped the outburst with a two-run homer for the eighth hit of the frame. It marked the third time this year the Mariners have given up eight runs in an inning.
"It just goes to show you this is a game of results," Seattle manager Lloyd McClendon said. "They walk the bases loaded and get away with it. That's the way it goes."
Texas has won five of six and snapped a six-game losing streak against the Mariners.
The Rangers scored three times in the fourth on a run-scoring double by Fielder, an RBI single by Josh Hamilton and a bases-loaded walk to Chris Gimenez.
Seattle starter Mike Montgomery got out of the inning but was replaced by David Rollins in the fifth. Montgomery gave up five hits, walked four and struck out four.
"Just a bad outing," McClendon said. "I'm very disappointed."
The Mariners tied it 3-all in the fourth. Cruz led off with a double, extending his hitting streak to 18 games — and eight games with an extra-base hit. He scored on Montero's single, and Seattle also got runs on Mark Trumbo's sacrifice fly and Brad Miller's RBI single.
Rangers starter Martin Perez gave up three runs — two earned — and seven hits in six innings.
Mike Napoli started at first base for the Rangers, a day after Texas reacquired him in a trade with the Red Sox. Napoli was 0 for 2 with a walk before being replaced by pinch-hitter Mitch Moreland in the eighth.
Texas lost a run after a replay review in the third. With Gimenez on second and two outs, Delino DeShields hit a grounder up the middle. Cano's throw from behind second base was too late to get DeShields at first. Gimenez headed for home, and plate umpire Dan Iassogna initially ruled Gimenez beat the tag, but the call was overturned on replay.
TRAINER'S ROOM
Mariners OF Franklin Gutierrez has the flu, McClendon said. Gutierrez was out of the lineup for the second straight game.
FURTHER REVIEW
Seattle was on the winning side of two replay challenges in the first three innings. In addition to Gimenez being called out in the third, Adrian Beltre was ruled out in the second on a pickoff attempt.
EXTRA BASES
Cruz's streak of eight consecutive games with an extra-base hit is the second-longest in team history. Ken Griffey Jr. had a 10-game run in July 1993.
HONORED
Jamie Moyer was inducted as the ninth member of the Mariners Hall of Fame before the game. Moyer's 145 wins with Seattle are the most in team history. "Today means that forever I am a Seattle Mariner," he said.
UP NEXT
Rangers: RHP Colby Lewis (12-4, 4.68 ERA) has won four straight starts and is two wins shy of his career high.
Mariners: RHP Felix Hernandez (13-6, 3.13) goes into Sunday's game tied for the American League lead in wins. In 44 career starts against Texas, he is 14-21 with a 3.92 ERA.