Mariners rout Rangers 13-0, await final word on elimination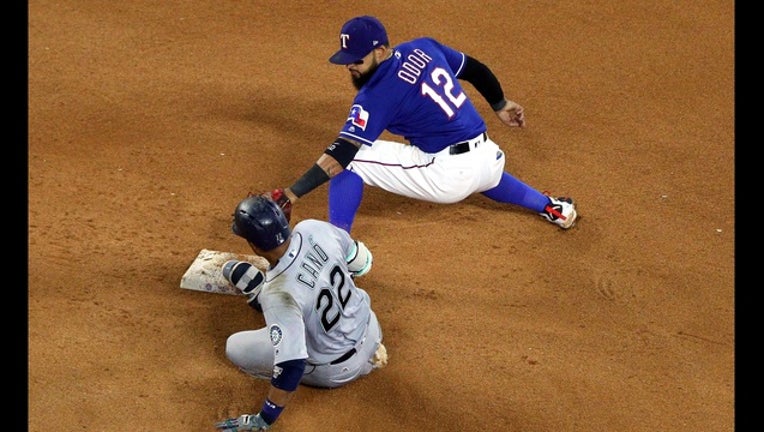 ARLINGTON, Texas (AP) - Robinson Cano broke a scoreless tie with a three-run homer in the fifth inning while Marco Gonzales allowed one hit over six innings, but the Seattle Mariners were eliminated from postseason contention despite a 13-0 rout of the Texas Rangers on Saturday night.
The longest playoff drought among the four major pro sports was extended to 17 years when Oakland beat Minnesota 3-2 about an hour after the Seattle win, eliminating the Mariners from the AL wild-card race.
Seattle, which was in contention well into August, inherited the longest postseason absence last December when Buffalo made the NFL playoffs.
Gonzales (13-9) faced one batter over the minimum while allowing his fewest hits in 42 career starts for his first win since July 29. The left-hander walked one and got a double play grounder from Jurickson Profar right after allowing a single to Delino DeShields.
Mike Zunino connected for his 20th homer , a solo shot in the sixth as the Mariners topped their previous season high of 12 runs. Cano, who added an RBI double and had three hits, has nine homers - five since returning from an 80-game drug suspension Aug. 14.
Dee Gordon connected for his third homer, a two-run shot in the eighth off Bartolo Colon in the 45-year-old's fourth relief appearance to go with 24 starts. Mitch Haniger extended his hitting streak to 11 games with three hits and scored three runs.
Mike Minor (12-8) allowed six hits and three runs in 4 2/3 innings with three walks and four strikeouts for the last-place Rangers, who matched their largest losing margin in their 11th loss in 15 games.
TRAINER'S ROOM
Mariners: LHP James Paxton, who is battling pneumonia and flu, threw a bullpen session. Manager Scott Servais said Paxton is hoping to start Monday at home against Oakland. The Mariners finish the season with seven games in Seattle.
UP NEXT
Mariners LHP Wade LeBlanc (8-4, 3.49 ERA) opposes fellow lefty Martin Perez (2-6, 6.33) in the Rangers' home finale. LeBlanc is 38-39 in his 10-year career. Perez is making his first start since getting demoted to the bullpen Aug. 29. He had a 2.45 ERA in six relief appearances after the move. Perez's last three outings were scoreless.
___
More AP MLB: https://apnews.com/tag/MLB and https://twitter.com/AP_Sports