Mariners' Paxton gets scoreless streak to 21 IP, beats Texas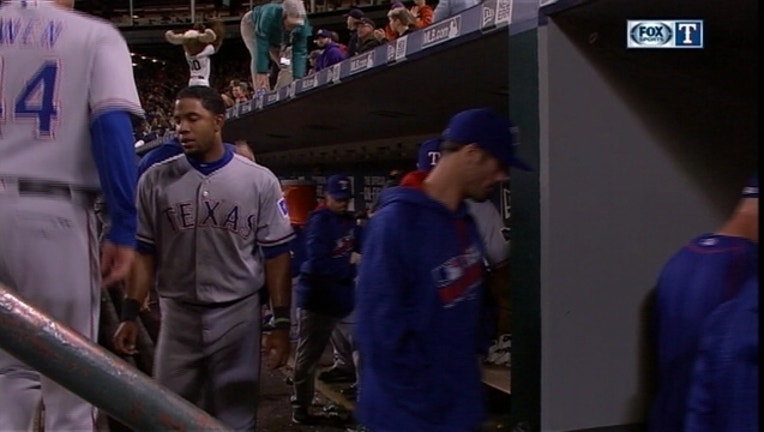 article
SEATTLE (AP) - James Paxton is off to a record-setting start for the Seattle Mariners.
The left-hander extended his season-opening scoreless streak to 21 innings, shutting down the Texas Rangers with eight innings of two-hit ball in Seattle's 5-0 win Saturday night.
Paxton (2-0) struck out nine and his only walk was to the first batter he faced. He hasn't allowed a run yet in three starts this year, and his scoreless stretch is a team record to open a season. He's the 10th pitcher in the majors ever to open a season with three scoreless starts of at least six innings.
"Can't say enough about Paxton tonight and the start he's off to this year," Seattle manager Scott Servais said. "The confidence - he's fearless. That's the mentality you have to have."
Paxton finished last season strong after pitching inconsistently early in his career. He attributed his success then and now to a change in mindset he made around last year's All-Star break.
"Just being really aggressive," Paxton said. "I've got the power stuff and I need to be aggressive and go after guys."
The game was scoreless until the sixth inning, when Seattle got a two-run single from Kyle Seager and Taylor Motter's three-run homer. That was more than enough to give the Mariners their first back-to-back wins of the season.
"The way Paxton was throwing, you feel like if you get a run, we're going to be in good shape," Seager said. "A run would have felt like three there. Paxton was phenomenal all night and he's been phenomenal all season. The way the ball's coming out of his hand, it's been really fun to play behind."
Paxton walked Carlos Gomez to lead off the game, but he followed by getting Elvis Andrus to ground into a double play. That was the last baserunner Paxton allowed until Joey Gallo doubled with one out in the sixth inning. Gallo advanced to third on a wild pitch but was stranded when Gomez popped up a bunt to end the inning.
"We needed it right there," Paxton said. "At that point the game was still at 0-0. That was a big run to keep off the board, and it kind of got our boys going."
Andrew Cashner (0-1) made his first start for Texas and pitched into the sixth inning, giving up four runs and five hits. Cashner missed most of spring training and the start of the season with soreness in his right bicep. He was activated from the disabled list before the game and made his first start since signing as a free agent this winter.
Cashner held Seattle scoreless through the first five innings, but the Mariners broke through in the sixth with the help of an error. With one out and a runner on first, Robinson Cano hit a grounder to short that looked like a double-play ball, but Andrus bobbled it and rushed an off-target flip to second. Cashner then walked the bases loaded before Seager's two-run single.
"The last inning was probably the most stressful, but I'd like to in the future get out of that," Cashner said. "I thought I was in a good situation. I made a good pitch and he made a good swing."
Motter followed with his second home run of the season, a shot to right field off reliever Mike Hauschild to put Seattle five runs ahead.
HOT START
Mariners OF Mitch Haniger singled twice, extending his hitting streak to nine games. Haniger also scored to give him 11 runs in Seattle's first 12 games, and he has reached base safely in each game.
RANGERS MOVES
In addition to activating Cashner, before the game Texas optioned right-hander Nick Martinez to Triple-A Round Rock and also activated Tanner Scheppers and assigned him to Round Rock.
UP NEXT
Rangers: LHP Cole Hamels (0-0) will make his third start. In his previous outing, he allowed one run and four hits over seven innings against Oakland.
Mariners: RHP Hisashi Iwakuma (0-1) will start in the series finale against Texas. In his last start, against the Angels, he gave up one run on two hits in six innings.
___
This story has been corrected to show that Paxton's scoreless streak is a team record to open a season, not overall.
___
More AP baseball: http://apnews.com/tag/MLBbaseball