Manaea goes 8 innings, pitches A's to 6-2 win over Rangers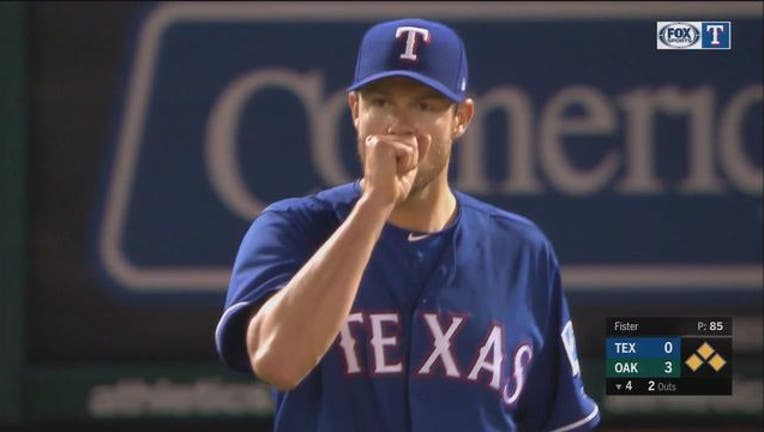 article
OAKLAND, Calif. (AP) - Even as Sean Manaea eased through a 1-2-3 eighth inning and retired his 10th consecutive batter, Oakland manager Bob Melvin had no intention on sending the young lefty back out for the ninth.
Not yet anyway.
Manaea didn't put up much of an argument, either. He was happy enough with a second straight strong outing, which made him the only Athletics starter with a victory this season.
Manaea pitched three-hit ball over eight innings as Oakland beat the Texas Rangers 6-2 on Wednesday night.
"This early in the year there is no way I'm going to let him go out there in the ninth inning," Melvin said. "There is a residual effect from that. He had only been up five, maybe six times in spring training, then seven times his first time out, eight his next. There was no way. He wanted to, but there was no way I was going to let him go back out."
Jed Lowrie had a two-run single in a four-run fourth. Matt Chapman scored two runs and Bruce Maxwell added an RBI double for the A's, who had lost four of five since winning on opening day.
Every Oakland starter had at least one hit or scored a run.
Manaea (1-1) hit Shin-Soo Choo with a pitch leading off the game but was dominant after that, allowing just one runner past first base and retiring 11 of his final 12 batters. The left-hander struck out four and walked one on 94 pitches while beating the Rangers for the third consecutive time.
"Obviously I wanted to finish the game, but talking to BoMel it kind of wasn't the right idea this early in the season," Manaea said. "My (velocity) was kind of low toward the later part of the game, but I respect his decision and hopefully I can finish out a game one time."
Manaea is the only A's starter to make it past the fifth inning this season, having done it in both outings. He yielded one run over 7 2/3 innings but took the loss against the Angels last Friday.
"Anytime you can get an outing like that it completely saves the bullpen," Melvin said. "I've often said the starting pitcher on that particular day gives a team the confidence and he's doing that for us."
Choo homered off reliever Yusmeiro Petit leading off the ninth.
The A's got to Doug Fister (1-1) for a run in the second and scored four more in the fourth after catcher Robinson Chirinos dropped a throw from first baseman Joey Gallo for an error.
Chapman singled leading off the inning before Fister plunked Chad Pinder with a pitch and walked Maxwell to load the bases. Gallo then fielded Boog Powell's grounder but his throw home was high and Chirinos dropped the ball as Chapman slid in.
After Marcus Semien's sacrifice fly drove in Pinder, Lowrie lined a 1-2 pitch to left field to make it 5-0 and chase Fister.
Oakland tacked on another run on the seventh when Matt Olson singled in Matt Joyce.
Fister allowed seven hits over 3 2/3 innings and had five strikeouts.
"I was putting them in good hitters' counts and not getting ahead of them," Fister said. "I've got to be better, period."
TRAINER'S ROOM
Rangers: With a left-hander starting for Oakland, 2B Rougned Odor was given the night off.
Athletics: Joyce (left ankle) was cleared quicker than anticipated and started in left field. He doubled in the first and then walked and scored in the seventh.
PINDER'S PLAY
The Rangers put the first two batters on base against Manaea in the fifth before Pinder helped his pitcher with a running catch on Jurickson Profar's twisting fly ball deep into the right-field corner for the first out. "Once he hit it I kind of put my head down and tried to beat it to the spot and it carried more than I thought," Pinder said. "I ended up having to make a little bit of an adjustment."
UP NEXT
Texas LHP Martin Perez is scheduled to come off the disabled list to start the series finale Thursday afternoon. Perez had surgery on his non-pitching elbow in December. He will oppose Oakland RHP Daniel Mengden (0-1, 7.94 ERA), winless in 12 career starts at the Coliseum.
___
More AP baseball: https://apnews.com/tag/MLBbaseball