Luka Doncic day-to-day with sprained ankle: report
DALLAS - Dallas Mavericks star Luka Doncic missed most of Thursday night's game against the Phoenix Suns after suffering a sprained left ankle, but the team is hopeful he will not miss much time, according to a new report.
ESPN's Adrian Wojnarowski says Doncic is expected to be day-to-day with a "mild sprain."
Doncic left in the first quarter of Thursday's game after the All-Star stepped on Mikal Bridges' foot and twisted his ankle.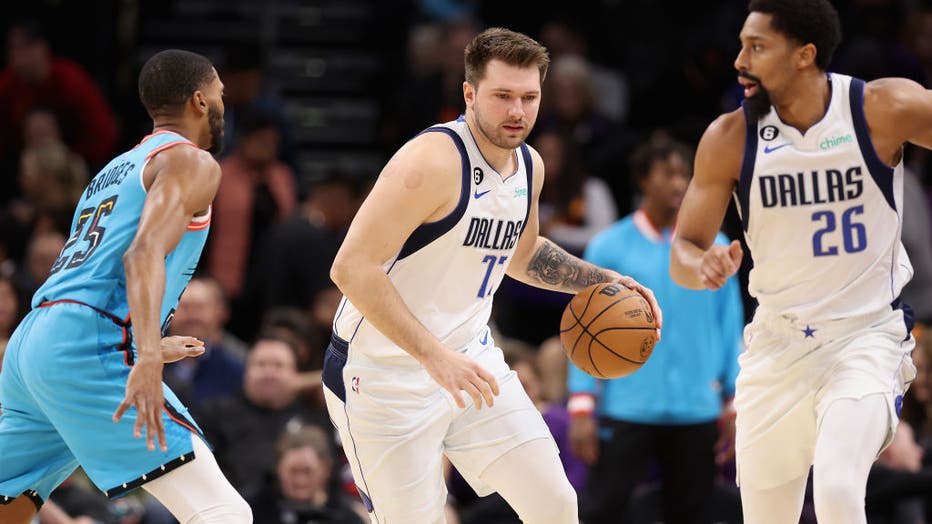 PHOENIX, ARIZONA - JANUARY 26: Luka Doncic #77 of the Dallas Mavericks handles the ball against Mikal Bridges #25 of the Phoenix Suns during the first half of the NBA game at Footprint Center on January 26, 2023 in Phoenix, Arizona. (Photo by Christi
The Mavericks ruled him out for the rest of the game and said X-rays of the ankle came back negative.
Luka Doncic to start NBA All-Star Game
"He looked good, looked fine," Mavericks coach Jason Kidd said after the game. "But we'll see how he feels as we go forward here. We'll have probably more information once we get to Utah."
The Mavericks play the Jazz in Utah on Saturday night.