Leaving home: No. 11 Texas won't be back for a month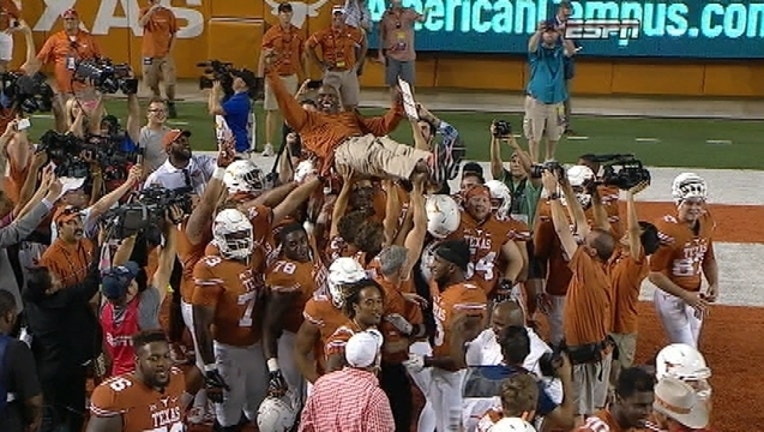 article
AUSTIN, Texas (AP) — Winning at home was fun while it lasted. The surprising Texas Longhorns are about to test their mettle on the road.
After opening the season with home wins over Notre Dame and UTEP, the No. 11 Longhorns won't play at Royal-Memorial Stadium again for a month with three road games and bye week coming up. The road swing starts Saturday at California (1-1) with games at Oklahoma State and against No. 14 Oklahoma in Dallas after that.
That means no sleeping in their own bed the night before kickoff, no short bus trips to the stadium and no home crowd clad in burnt orange cheering "Texas Fight!"
No sweat, says freshman quarterback Shane Buechele, who has been impressive in his first two starts with 524 yards passing and six touchdowns.
"Same thing, just somewhere different," Buechele said. "I'm just excited to go out there and play somewhere else and see what it's like."
Youthful enthusiasm abounds at Texas these days. It did last year, too, until the first road game after a surprising thumping of Oklahoma was a 24-0 loss at Iowa State, a defeat sophomore linebacker Malik Jefferson called one of the "lowest" points of his life.
Texas was an awful road team in 2015. The Longhorns went 1-4 on opponents' home field last season and didn't win until beating Baylor in the final game. They were outscored in the four losses 150-30.
"Guys weren't ready last year," Jefferson said. "A lot of guys were down last year because they couldn't move past the past. We're more focused."
It's not just the road environments that will be a challenge. Texas faces three top quarterbacks in its next three games, starting with California's Davis Webb.
Webb has already passed for nine touchdowns and more than 900 yards in two games and will be eyeing a Texas secondary that was solid last week against UTEP's backup quarterbacks, but gave up five touchdown passes to Notre Dame.
The Texas depth chart lists 13 freshmen or sophomores on the two-deep roster.
"It's going to be a big challenge for our secondary," Texas coach Charlie Strong said. "You're taking a young team into a hostile environment. We're going to have to play incredible defense. We can take the crowd out of it with good defense."
Add in the time zone wrinkle — California is two hours behind Texas and the game won't start until 7:30 p.m. on the West coast — and the Texas could be playing a game that ends well after midnight back home.
"We're going to be a little bit out of our element," Strong said. "We need to grow up quickly and grow up and play well."