Keselowski wins NASCAR playoff opener, gets 500th for Penske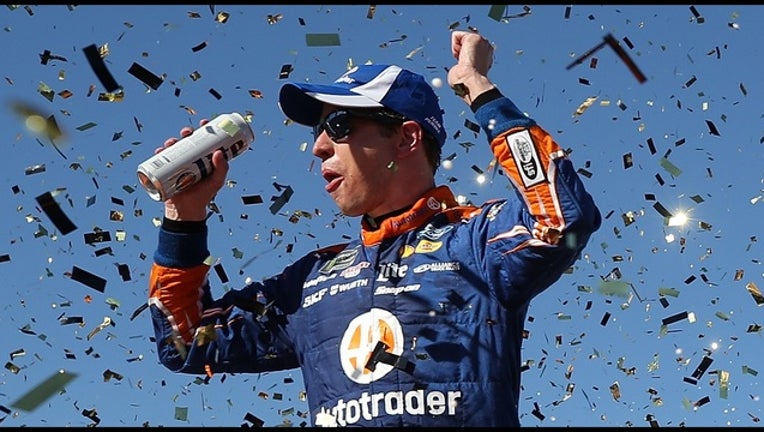 article
LAS VEGAS (AP) - Brad Keselowski nailed the final restart and roared away from the field in the scorching Vegas heat.
With another huge performance in his late-season surge, Keselowski finished up front again - and he's got NASCAR's Big Three drivers looking over their shoulders.
Keselowski raced to his third consecutive Cup series victory Sunday, opening the playoffs by persevering through a wreck-filled afternoon and taking charge of overtime.
He also secured team owner Roger Penske's 500th victory across all competitions with his resourceful performance amid 99-degree conditions and constant stop-and-start late drama of a race featuring 12 cautions and several wrecks.
"I didn't think it was ever going to end," Keselowski said after his 27th career victory and third in Las Vegas. "I was worried about running out of gas there at the end."
Keselowski had plenty of worries with just two laps to go while he sat in his stationary car and waited for the cleanup of Michael McDowell's wreck with Kurt Busch. But after the red-flag stop ended, nobody could keep up with Keselowski's Team Penske Ford.
The victory extended an extraordinary late-season run for Keselowski, who won at Darlington and the Brickyard in consecutive weeks before Vegas. Keselowski credited his pit crew's efficiency for the latest win in his improbable surge, which has added some intrigue to a NASCAR season largely dominated by the Big Three of Truex, Harvick and Kyle Busch.
"We have not been the best car the last three weeks," Keselowski said. "We put everything together when it counted, and we kind of stole it today. Same scenario the last two weeks. ... I feel like we stole the last three races. We're not complaining, but we still have a lot of work to do to go out there and win heads-up without those issues."
Penske was not in attendance for his landmark victory at Las Vegas Motor Speedway, instead watching from Sonoma at the IndyCar season finale. He formed Team Penske in 1966, and it has fielded 50 winning drivers across 14 race series during the ensuing 52 years.
The owner pumped his fist on the timing stand in Sonoma after Keselowski won.
"We did it, boss!" Keselowski shouted. "That's quite a number, right? It's really great to be a part of that, and to get the last one to get us there, that's pretty great."
Kyle Larson was second, and defending Cup series champion Martin Truex Jr. came in third. Keselowski's rivals are very aware of his surge against stiff odds.
"Brad clearly found the horseshoe," Truex said. "Three races in a row he's won, (and) he has not had the best car. ... He hasn't led the most laps in any of those races, and he showed up at the end with good pit stops and good short-run speed. I think clearly, it's pretty obvious how it worked out. He's hot right now. He's on a streak. That's the way it goes. We finished third with the best car."
Eight of the 16 playoff drivers had various problems during the race, which had six cautions in the final 60 laps alone. Four playoff drivers failed to finish - including co-leader Kevin Harvick, who wrecked with 120 laps to go when he blew his right front tire.
Kyle Busch finished seventh in Vegas even after clipping the wall and plowing through the infield grass with 35 laps to go.
Truex moved into the overall points lead over Busch and Keselowski, who leapfrogged Harvick.
More things to know from Sin City:
BLOWOUTS
Harvick's blown tire also wrecked pole-sitter Erik Jones, who couldn't react quickly enough and rear-ended Harvick. The 42-year-old former champ doesn't need a fantastic result from the first set of playoff races to advance, but he was still furious about his tire failure. "There was something wrong from the time we put the tires on," Harvick said. "It was like Russian roulette every time you put these (terrible) tires on and try to drive around the racetrack. One time it is tight, one time it is loose, one time they are blistered. We had a great car and then you put a set of tires on it and you can't hardly make it through the field."
WRECK IT
Jamie McMurray spun and wrecked playoff driver Chase Elliott on the 211th lap. Elliott said he plans to drive next week at Richmond despite injuring his shoulder.
SECOND HEAT
Las Vegas has a second race this season for the first time. The temperature reached only 58 degrees during its annual March race, but the drivers were sweating from the start this time. The desert sun made the 1 1/2-mile trackslicker than usual. Even the fans clearly didn't love the conditions: Although ticket sales went well, some bleachers looked half-empty while many fans fled the pounding heat and spent part of the race underneath in the shade.
WHO'S HOT
Joey Logano kept alive his hopes of a move into title contention after starting second, leading 46 laps and finishing fourth. He's fifth in the points standings, right behind Harvick and barely ahead of Kurt Busch.
WHO'S NOT
Keselowski has booked his place in the second playoff round, but four drivers will be eliminated from the race two weeks from now. Seven-time champion Jimmie Johnson is in the drop zone after taking damage in a late wreck and finishing 22nd in Vegas. Denny Hamlin is last among the playoff drivers after spinning across the infield with 21 laps to go - and he got no style points for basically stopping his wrecked car in his pit box.
UP NEXT
At Richmond Raceway on Saturday.
___
More AP auto racing: https://apnews.com/tag/apf-AutoRacing and https://twitter.com/AP_Sports