Kansas travels to Texas Tech in Big 12 showdown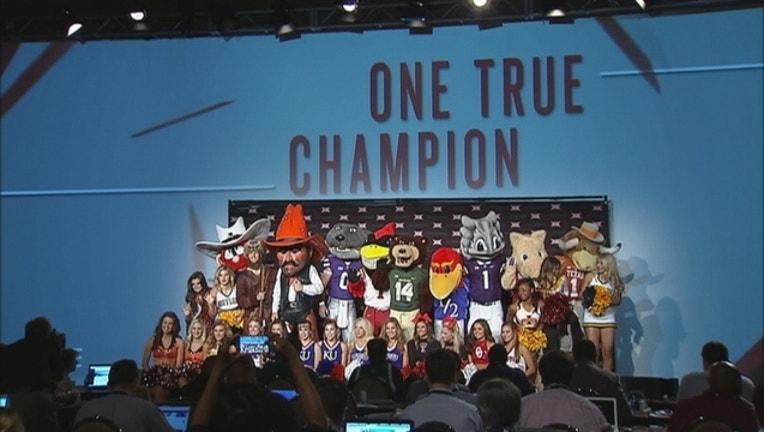 A look at the upcoming weekend around the Big 12:
GAME OF THE WEEKEND: Kansas at Texas Tech. This matchup could very well decide who wins the league - and in fact, Kansas can clinch a share of its 14th straight conference crown with a victory. The sixth-ranked Red Raiders won decisively in Lawrence earlier this season, but the eighth-ranked Jayhawks lead the league by one game. The bench was crucial for the Red Raiders in the first matchup at Kansas, scoring 42 of their 85 points.
LOOKING AHEAD TO SATURDAY: Reeling Oklahoma hosts Kansas State. The Sooners were blown out by the Jayhawks 104-74 on Monday. Baylor and TCU square off in Fort Worth, while injury-plagued Iowa State travels to West Virginia. Oklahoma State is at Texas, which is fighting for an NCAA Tournament berth.
PLAYER TO WATCH: Devonte Graham of Kansas. Graham is playing his best basketball as a senior, averaging career highs in points (17.6), assists (7.2) and rebounds (4.2) per game. Graham is also shooting 41.6 percent on 3s, and he and Oklahoma's Trae Young are the only players in the league with at least 200 assists.
INSIDE THE NUMBERS: The Jayhawks, led by Graham, lead the league with 286 3s. Kansas is averaging 10.2 3s per game, followed by Oklahoma at 9.7 ... West Virginia is first in conference with 14.2 offensive rebounds a game but just ninth with 24.1 defensive rebounds. ... Texas is the only team in the Big 12 with more turnovers than assists. ... Young's struggles of late have been well documented. But he is still averaging 28.3 points a game, which are 10 more than any other Big 12 player.
ON THE WOMEN'S SIDE: Baylor has clinched its eighth straight conference title. The third-ranked Lady Bears beat No. 6 Texas 93-87 on Monday to move to 16-0 in the league, three games ahead of the Longhorns. ... Baylor will be the top seed for the Big 12 tournament, which West Virginia won last year as the sixth seed. ... Oklahoma State was ranked 25th on Monday.
___
More AP college basketball: http://collegebasketball.ap.org and http://www.twitter.com/AP_Top25