Kansas tops West Virginia 81-70 to win Big 12 tourney title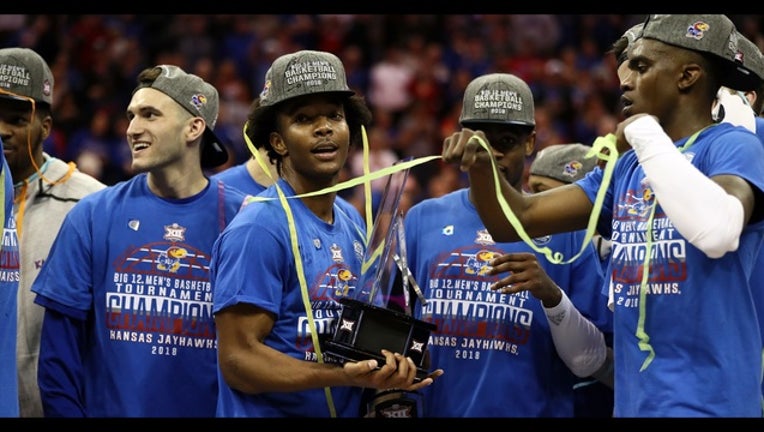 KANSAS CITY, Mo. (AP) - Devonte Graham piled up 18 points and 13 assists, Silvio De Sousa came up big in place of Udoka Azubuike and ninth-ranked Kansas proved its toughness down the stretch for an 81-70 victory over No. 18 West Virginia in the Big 12 Tournament title game Saturday night.
De Sousa had 16 points on 8 of 8 shooting while grabbing 10 rebounds, and Malik Newman added 20 points to cap a phenomenal tournament, lifting the Jayhawks (27-7) to their 11th tournament title and a likely No. 1 seed when the NCAA Tournament bracket is revealed Sunday.
It was the second time in three years they've beaten West Virginia (24-10) in the title game.
Svi Mykhailiuk also had 16 points for the Jayhawks, who scrapped their way through three games in three days without their 7-foot anchor. Azubuike hurt a ligament in his left knee in practice early in the week and spent the weekend on the bench, though he's expected to return next week.
Not that it mattered the way Graham and Newman were knocking down 3-pointers.
Daxter Miles Jr. finished with 25 points, and Jevon Carter had 17 points and nine assists for the Mountaineers, who have lost three straight Big 12 Tournament championship games.
They still have not won a postseason league tournament since the Big East in 2010.
The Mountaineers controlled most of the first half, picking and choosing when to employ their full-court press. And they caught a break when Mykhailiuk and Mitch Lightfoot picked up two fouls apiece, allowing big man Sagaba Konate to score nearly at-will in the paint.
Then the Mountaineers' big fella picked up his second foul and took a seat on the bench.
The Jayhawks roared back to briefly tie the game, and trailed 34-33 at the break after De Sousa threw down an alley-oop dunk in transition in the closing seconds of the half.
But one of the hallmarks of Kansas over the years, especially under Bill Self, has been tenacious half-court defense - and the Mountaineers shredded it early in the second half. They scored their first eight possessions, and Miles' layup gave them their biggest lead, 51-43, with 15:08 left.
From there, the game turned into a back-and-forth prizefight: Kansas scored 10 straight, West Virginia answered with eight in a row and the Jayhawks responded with 10 more.
That last run was part of their larger 17-3 charge to finally take control.
Graham capped it with a fadeaway baseline jumper over Carter and an open 3 from the wing, forcing West Virginia coach Bob Huggins to call timeout with his team trailing 73-66 with 3:49 to go.
West Virginia got it to 76-70 on Carter's two free throws moments later, but Miles missed a 3-pointer and Carter missed a circus-style layup, then turned the ball over with a minute left.
That allowed the Jayhawks to seal their latest Big 12 championship from the foul line.
BIG PICTURE
West Virginia will be happy to play someone other than Kansas in the NCAA Tournament. Not only have the Mountaineers struggled against the Jayhawks in Kansas City, they were swept by them in the regular season - blowing a big second-half lead during the game in Lawrence.
Kansas got a big lift from De Sousa, who joined the team after graduating from high school in December. The 6-foot-9 forward grew by leaps and bounds during his time at Sprint Center, making the Jayhawks an even scarier proposition in next week's NCAA Tournament.
UP NEXT
West Virginia and Kansas head home to rest before Selection Sunday. The Big 12 could get anywhere from five to nine teams into the NCAA Tournament, with the Jayhawks a likely No. 1 seed.
___
More AP college basketball: https://collegebasketball.ap.org and https://twitter.com/AP_top25