Is Mavs' Luka Dončić turning into Carmelo Anthony?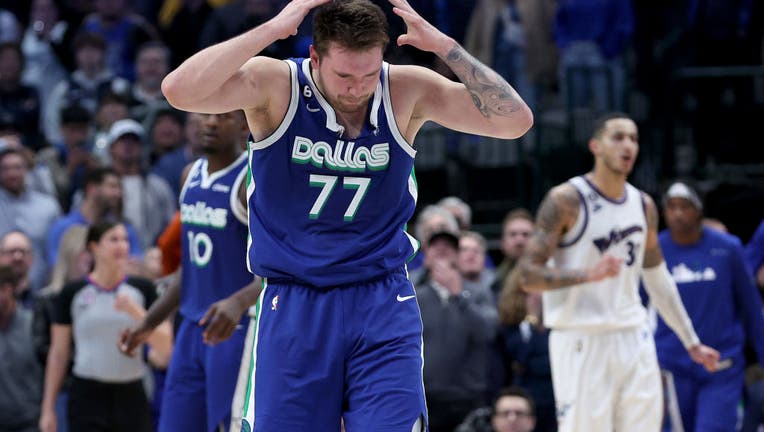 article
Is Dallas Mavericks superstar Luka Dončić mirroring Carmelo Anthony right in front of our eyes?
It's a no-brainer, according to Colin Cowherd.
He broke down the laundry list of the similarities that has led him to believe that the 24-year-old Dončić "is becoming a little Carmelo Anthony" on Monday's "The Herd."
"Carmelo Anthony — one year of college, comes into the league very young," Cowherd said. "Luka — European ball, no college here, comes into the league. They're immediately great scorers, and they have some really nice team success early. [They] don't get along with everybody, but they score in the NBA. That means you're worshiped. Their offensive games are very refined very early, very mature.
READ MORE: Mavs GM Nico Harrison optimistic Kyrie Irving will return, says 'Jason Kidd's our coach'
"But then after like four years in the league, you do realize that Carmelo and Luka are never in great shape, won't play any defense and are kind of stuck in their ways. Both get very prickly when you suggest [that] they should evolve their games a little. … And all of a sudden, they're hard to coach … and they can be moody. Teams and GMs try to find the perfect mix for Carmelo and Luka and they can't, and coaches get fired and the results are very poor."
Anthony, a 10-time NBA All-Star, last played for the Los Angeles Lakers during the 2021-22 campaign, averaging 13.3 points on 44.1% shooting, 4.2 rebounds and 1.0 assists per game in 69 games (three starts).
The 6-foot-7 Dončić is a four-time All-Star and has led the Mavs in scoring in every regular season (five) and postseason (three) since his arrival in 2018. He was second in the league in scoring this season, averaging 32.4 PPG.
The Mavs finished 38-44 and 11th in the Western Conference to miss the postseason despite Dallas' blockbuster midseason trade for All-Star guard Kyrie Irving. It was just two short months ago that Dallas was in fourth place in the West standings, but the Mavs went on a 7-18 run to end the season, which pushed them right out of the postseason picture.
Dončić mitigated trade rumors Sunday, saying, "I'm happy here," after sitting out of Dallas' season-ending 138-117 loss to the San Antonio Spurs.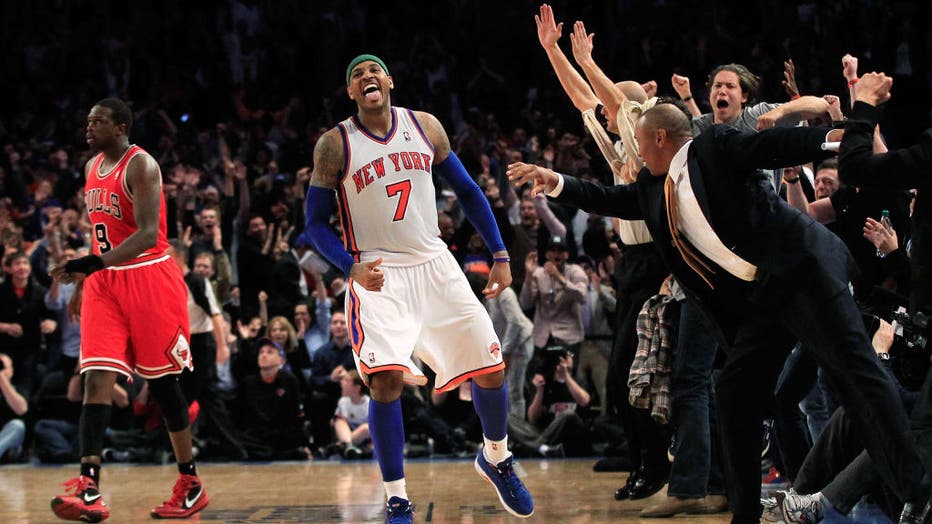 NEW YORK, NY - APRIL 08: Carmelo Anthony #7 of the New York Knicks celebrates his game winning three pointer against as Luol Deng #9 of the Chicago Bulls looks on at Madison Square Garden on April 8, 2012 in New York City. (Photo by Chris Trotman/Get
"I'm watching [things in Dallas] unravel," Cowherd added. "It's getting worse — not better — and everybody's blaming everybody but Luka. I saw that with Carmelo. … Carmelo's career started here (high), and then it just did this (went down) after a while because he wouldn't evolve.
"Luka's career is here, and doesn't it feel like we've plateaued? … They're called mirrors."
This article first appeared on FoxSports.com. READ MORE: https://www.foxsports.com/stories/nba/is-mavs-luka-doncic-turning-into-carmelo-anthony