Iowa State upsets No. 8 Texas Tech 70-52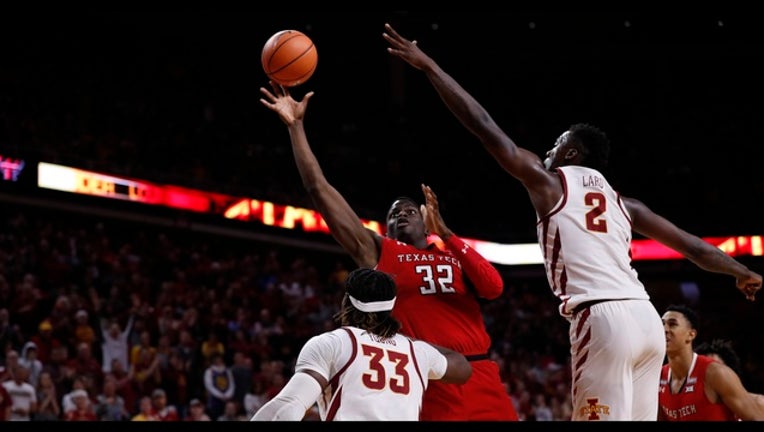 article
AMES, Iowa (AP) - Freshman Cameron Lard scored 18 points and Iowa State cruised past No. 8 Texas Tech 70-52 on Saturday, its first win over a ranked opponent this season.
Nick Weiler-Babb, Lindell Wigginton and Donovan Jackson each added 13 points for the Cyclones (11-7, 2-5 Big 12), who handed the Red Raiders (15-4, 4-3) their second straight loss to an unranked opponent on the road.
The Cyclones jumped ahead 31-18 late in the first half. That seemed to wake up the Red Raiders, who responded with a run to go up 35-34.
But Iowa State answered with a 13-1 burst capped by Wigginton's jumper that gave put the Cyclones ahead 47-36. Weiler-Babb's desperation 3 to beat the shot clock made it 57-40 with 7:26 left. He buried another clock-beating 3 on a turnaround to push the lead to 69-49.
Zhaire Smith had 10 points for Tech, whose leading scorer Keenan Evans was held to seven points on 2 of 12 shooting.
THE BIG PICTURE
Texas Tech: The Red Raiders were sluggish in the first half, and Evans didn't get his first basket until nearly 18 minutes had gone by.
Iowa State: The Cyclones more than made up for an embarrassing effort in Wednesday's 96-73 loss at No. 24 TCU. Lard was at times the best player on the floor, again showing he's an important building block for Iowa State's future.
POLL IMPLICATIONS
The Red Raiders will likely take a tumble o Monday. They also lost at Texas, 67-58, this week.
UP NEXT
Texas Tech hosts Oklahoma State on Tuesday.
Iowa State plays at Texas on Monday.