How to watch Dallas Cowboys vs. Washington Commanders - channel, stream, and more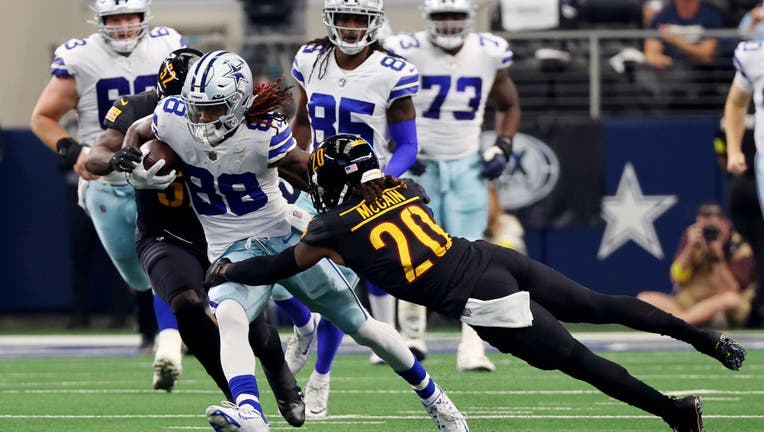 article
In the second half of the season, CeeDee Lamb has looked a lot like the No. 1 receiver needed by the Dallas Cowboys.
The third-year pro isn't afraid to admit it took time to adjust to the role after the offseason trade of Amari Cooper in a cost-cutting move.
Lamb's fifth 100-yard game in eight weeks in a 27-13 victory over shorthanded Tennessee leaves little question where the playoff-bound Cowboys will turn in the passing game as they try to advance deep in the postseason for the first time in 27 years.
"I've seen a lot of things as far as mentally just throughout a game, just understanding that if I'm going to make a play happen, I'm going to have to make that play," Lamb said. "I know my guys are going to make the play ... but when it comes to my opportunity, I have to step up."
Lamb tied his career high with 11 catches and had 100 yards against the Titans. The 2020 first-round pick is the third Dallas receiver to reach 100 receptions in a season with 102.
MORE: Dallas Cowboys Coverage on FOX 4
Dallas Cowboys vs. Washington Commanders
The Cowboys will look to sneak into an NFC East title with a win against the Commanders and an Eagles loss.
What: Dallas Cowboys (12-4) vs. Washington Commanders (7-8-1)
When: Sunday, January 8, 2023, at 3:25 p.m.
Where: FedEx Field in Landover, Maryland
How to watch: In Dallas, you can watch the game on FOX 4. If you're outside the DFW area, you can catch it on another FOX station. You can stream it on the NFL app and NFL Network. NFL rules prohibit FOX 4 from streaming the game so, as much as we'd LOVE to stream the games here, we can't. Sorry.