How to watch Dallas Cowboys vs. New York Giants - channel, stream, and more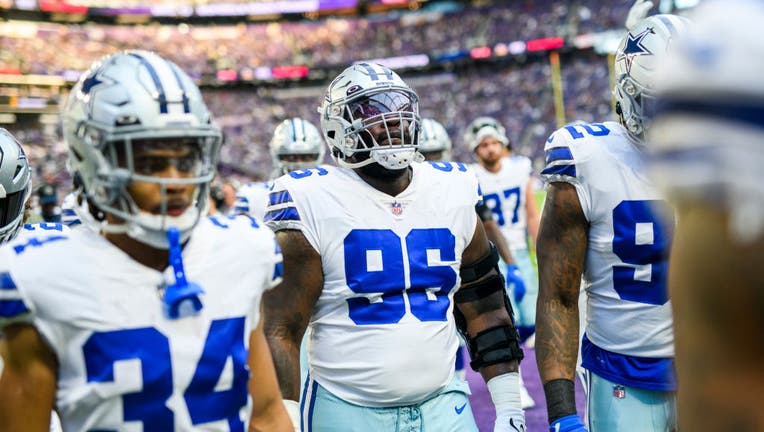 ARLINGTON, Texas (AP) - Dak Prescott and the Dallas Cowboys channeled the anger from a collapse one week into the biggest road rout in club history the next.
Now they're thinking about building on all the things that went right while the opponent tries to figure out what went wrong.
The New York Giants visit the Cowboys on Thanksgiving with the NFC East rivals sharing 7-3 records, two games behind division-leading Philadelphia.
Not much else is similar for this pair of playoff contenders, the Cowboys are healthy and appearing primed to get on a roll, the Giants sputtering and dealing with injuries.
Dallas blew a 14-point lead entering the fourth quarter for the first time in franchise history in an overtime loss at Green Bay before one of its most dominant performances in a long time in a 40-3 victory at Minnesota.
Prescott is finding a rhythm after missing five games with a fractured thumb on his throwing hand, surrounded by a mostly healthy roster with plenty of playmakers on defense, too.
"I think coach (Mike) McCarthy said it best," Prescott said. "Take a picture of what it felt like, of what it looked like when we were at our best. And when you're not, remind yourself or do the things that are necessary to get back to that."
MORE: Dallas Cowboys Coverage on FOX 4
Dallas Cowboys vs. New York Giants
The Cowboys will look to get a winning streak going again when they take on the Giants.
What: Dallas Cowboys (7-3) vs. New York Giants (7-3)
When: Sunday, October 30, 2022, at 3:30 p.m.
Where: AT&T Stadium
How to watch: In Dallas, you can watch the game on FOX 4. If you're outside the DFW area, you can catch it on all FOX stations throughout Texas. You can stream it on the NFL app and NFL Network. NFL rules prohibit FOX 4 from streaming the game so, as much as we'd LOVE to stream the games here, we can't. Sorry.