Hill tosses 2 2nd-half TDs, TCU pulls away from SMU 33-3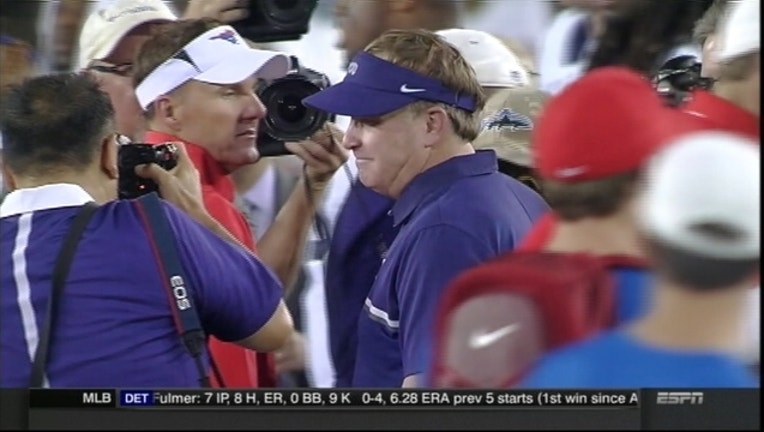 DALLAS (AP) — Kenny Hill threw for 452 yards and two second-half touchdowns, including a 75-yarder to John Diarse on the first play after halftime, and TCU pulled away from SMU 33-3 on Friday night.
Diarse's catch-and-run score on a quick slant came after he left the game in the second quarter following a hard hit from Darrion Millines that led to a targeting ejection for the SMU safety.
Millines delivered the hit in the end zone after Anthony Rhone's interception in front of him, leaving a staggered Diarse on two knees as athletic trainers and coach Gary Patterson came out to check on him.
Diarse came back later in the second quarter to catch a 23-yard pass on the drive to a field goal that put TCU ahead for good in a fifth straight victory over the Mustangs and the 15th win in the past 17 meetings between the crosstown rivals.
The junior had a career high in yards receiving for the second straight week, finishing with 139 on six catches.
SMU (2-2) played a touchdown-free first half against a high-scoring Big 12 team for the second time this season, trailing 6-3 at the half following a 6-6 halftime tie against No. 16 Baylor in Waco two weeks ago. The Bears went on to a 40-13 win.
The Horned Frogs (3-1) scored touchdowns on their first two possessions after halftime, the second on Hill's perfect fade pass to Jaelan Austin from the 2 for a 20-3 lead. Hill was 31 of 45 with an interception.
TCU kicked four field goals, two each from Brandon Hatfield and Ryan Graf, who just cleared the crossbar on a career-long 46-yarder.
THE TAKEAWAY
TCU: The Horned Frogs, who opened the season at No. 13, were unimpressive in all three nonconference games. After leading by just four points early in the fourth quarter of a 59-41 victory against lower-division South Dakota State in the opener, TCU trailed by 13 points in the fourth quarter of a double-overtime loss to Arkansas. Even with a 21-point home win over Iowa State in the Big 12 opener, the Frogs look vulnerable with tougher league foes awaiting.
SMU: The Mustangs don't have much to show for another strong first-half performance against a Big 12 team, instead seeing their losing streak against that conference reach 23 games dating to a victory over Kansas in the 2000 opener. But SMU figures to be much more competitive in the American Athletic Conference a year after going 1-7 in league play and giving up 51 points per game in the losses.
UP NEXT
TCU: The Horned Frogs return to Big 12 play against No. 25 Oklahoma at home next Saturday. TCU entered the weekend as the only 1-0 team in conference play.
SMU: The Mustangs open American Athletic Conference play at Temple next Saturday, the first of consecutive league games on the road.