Hernandez's strong outing lifts Mariners past Rangers, 2-1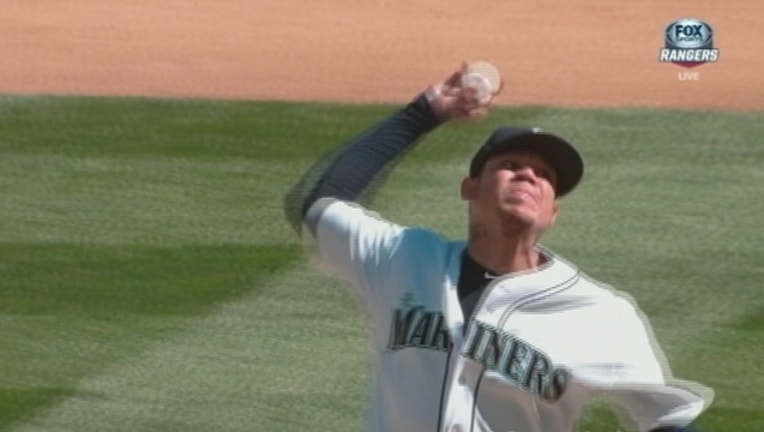 article
SEATTLE (AP) - With a new approach, Felix Hernandez is back to his old self.
Hernandez pitched 7 1/3 strong innings and Mitch Haniger settled for a tiebreaking RBI single instead of an apparent home run to lead the Seattle Mariners in a 2-1 victory over the Texas Rangers on Friday night.
"I like the new-look Felix. I'll take the 7 1/3 and keeping them right there," Mariners manager Scott Servais said. "Very efficient with his pitches. He got a few strikeouts tonight, but that's not what was driving him. It was get us back in the dugout and keep them off the board."
Hernandez (1-1) allowed one run and six hits, striking out three and walking none. Marc Rzepczynski retired the last two batters in the eighth and Edwin Diaz pitched the ninth, stranding the tying run at third for his second save.
Hernandez, the Mariners' long-time ace, has not walked a batter in 18 1/3 innings over his three starts.
"It means my mechanics are real good, that I'm throwing a lot of strikes," said Hernandez, who relied more on his fastball. "That's good for me. Last year, I was walking a lot of people and getting in trouble."
Haniger appeared to break the game open in the seventh, but his apparent three-run homer was overturned after an umpire review.
With the score tied at 1, Seattle's Jarrod Dyson singled to open the inning, stole second and moved to third on Guillermo Heredia's bunt single. Haniger followed with a drive that appeared to clear the left-field wall for a three-run homer, before bouncing back into the field of play.
After an umpire review of more than two minutes, the call was overturned, giving Haniger a single off Jose Leclerc (0-1), scoring Dyson to put Seattle up 2-1.
"Anytime we come down with a victory, that's what we're out there for," said Haniger, who has hit safely in eight consecutive games. "It was good got get the job done."
Rangers manager Jeff Bannister agreed with the overturned call.
"I think it was handled properly," he said. "It looked like it hit the top of the wall. As we looked at it, it looked like it stayed in the ballpark."
Nelson Cruz put the Mariners up 1-0 with two outs in the fourth, lining a 3-2 pitch over the wall in center for his first homer of the season and 800th career RBI.
Seattle then loaded the bases on two singles and a walk, but starter Martin Perez escaped by striking out Mike Zunino.
Texas, which had managed just one hit through the first five innings, tied it in the sixth. Jurickson Profar singled to open the inning, advanced on a bunt single by Carlos Gomez and moved to third when Shin-Soo Choo bounced into a double play. Nomar Mazara followed with an RBI single up the middle.
Perez allowed a walk and single to open the sixth, but Leclerc relieved and struck out Taylor Motter, Danny Valencia and Zunino.
"I think he had nine, three-ball counts," Bannister said of Perez. "Couldn't quite find the range, but when he found the range, he was able to throw enough strikes to get outs. They didn't swing at the changeup as much as he likes."
The Rangers failed to hit a home run for the first time in 2017.
TRAINER'S ROOM
Rangers: RHP Matt Bush, bothered by a sore shoulder, is expected to throw a bullpen session Saturday.
Mariners: SS Jean Segura, on the 10-day DL (strained right hamstring), is improving. "He's feeling better. He has not gotten out on the field or anything like that," manager Scott Servais said. "He's doing the strengthening exercises and stuff, I have not seen him run or got any update on that today."
UPON FURTHER REVIEW
After a leadoff single in the seventh, Dyson stole second, narrowly beating the throw from catcher Jonathan Lucroy. Texas challenged, but the call was upheld after a review of about 1:08.
MARINERS MOVES
RHP Tony Zych was activated off the 10-day DL and returned Wednesday from his rehab assignment at Triple A Tacoma and LHP Dillon Overton was optioned down. Zych, who had biceps tendon transfer surgery in October, made one rehab appearance at Tacoma. "Tony's healthy. He's excited to get back," Servais said. "Looks great, ball's coming out of his hand really good." Overton allowed three runs on three hits in 1 1/3 innings in two relief appearances with Seattle, but probably will start at Tacoma, according to Servais. ... LHP Paul Fry, who made one appearance with Tacoma before being designated for assignment, was traded to Baltimore in exchange for the Orioles' International Signing Slot No. 105. Fry was 13-14 with a 2.89 ERA in 151 games in five minor league seasons, mostly in relief.
UP NEXT
Rangers: RHP Andrew Cashner, who opened the season on the 10-day DL (right biceps soreness) is likely to be activated and start Saturday. "We feel like he's healthy, we feel like he's ready," manager Jeff Banister said.
Mariners: RHP James Paxton (1-0, 0.00 ERA) has not allowed a run in 13 innings in his first two starts. He has struck out 13 and walked three.