Glasnow limits Rangers to 2 infield singles in Rays' 3-0 win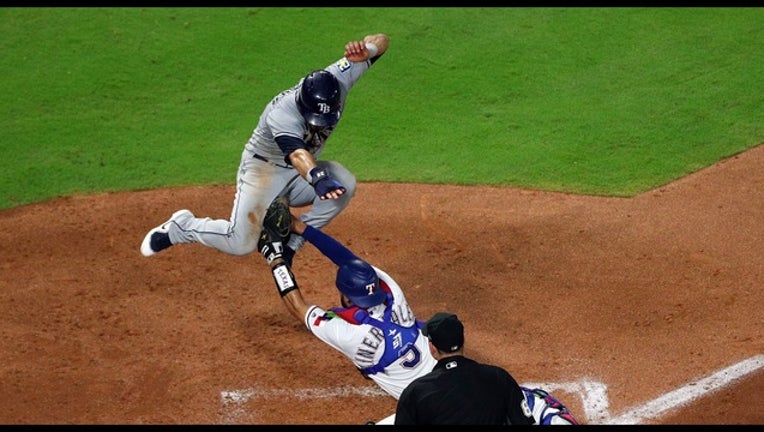 article
ARLINGTON, Texas (AP) - Tyler Glasnow finally has a win to go with the label of the pitcher Tampa Bay got in the trade for former ace Chris Archer.
Glasnow allowed two infield singles in six innings for the hard-throwing right-hander's first American League win, 3-0 over the Texas Rangers on Monday night.
"Let's just hope I get a bunch more," said Glasnow, who was winless in eight starts for the Rays, including three straight losses coming into Texas. "A win is irrelevant I'd say, but it's good to get the first win for sure."
Ji-Man Choi connected for his 10th homer , a solo shot, and drove in two runs to help the Rays improve to a major league-best 21-5 since Aug. 19. Tampa Bay pulled to 6 1/2 games behind idle Oakland for the second American League wild-card spot.
Isiah Kiner-Falefa barely beat out a chopper to shortstop for the first Texas hit with two outs in the fifth. Nomar Mazara reached in the sixth on a high bouncer in front of the mound that was first ruled an error by Glasnow.
"It's a hit, obviously," Rays manager Kevin Cash said. "If it got down to the wire, you'd probably want to say that it would be nicer if it was a hard-hit ball. But look, if we're on the other side of that, we'd take any kind of a hit."
Adam Kolarek, Jose Alvarado and Sergio Romo pitched a hitless inning apiece to wrap up the second two-hit shutout of the Rangers in a week. Eight Los Angeles Angels pitchers pulled the trick on Texas last Tuesday. Romo got his 22nd save in 29 chances.
It was the fourth big league win in 26 starts over two seasons for Glasnow (2-6). The 25-year-old, who came from Pittsburgh at the trading deadline, struck out six, walked two and hit a batter while hitting 99 mph with his fastball twice.
"That's a power right-handed arm," said Texas manager Jeff Banister, who was around Glasnow before coming to the Rangers from the Pirates for the 2015 season. "He threw just enough balls out of the strike zone and enough in at the knees, 97, 98, 99, with the swing-and-miss breaking ball made it uncomfortable for our guys."
Leading 2-0 with two on in the sixth, Glasnow finished his outing by getting Adrian Beltre on a flyout. Glasgow got some help the batter before allowing his first hit when center fielder Kevin Kiermaier made a leaping catch on a liner by Ronald Guzman.
ANOTHER TOUGH-LUCK LOSS
Adrian Sampson (0-2) lost his second straight start following one relief appearance since the last-place Rangers called him up from the minors. The right-hander allowed six hits and two runs in 5 2/3 innings.
Sampson was the loser in last week's two-hitter. He gave up two hits and one run in five innings in the Angels' 1-0 win.
"I just have my other pitchers working right now," Sampson said. "I've always been a fastball guy. I've been able to throw my other pitches for strikes when I have to and it's keeping them off balance. It's been good for the first two starts."
TRIPLE-A CHANGE FOR RANGERS
Round Rock is ending an eight-year run as the Triple-A affiliate of the Rangers. Nashville and San Antonio, which is moving up from Double-A next year, are the leading candidates to replace Round Rock. The team in suburban Austin, owned in part by Hall of Famer Nolan Ryan, is expected to become Houston's Triple-A team. Ryan is working as a consultant for the Astros, whose president is son Reid Ryan.
TRAINER'S ROOM
Rangers: LF Joey Gallo was scratched from the lineup about three hours before the game because of a sore right little toe. Manager Jeff Banister said Gallo recently fouled a ball off that toe. Willie Calhoun started in left field and batted sixth, where Gallo was slotted.
UP NEXT
Rays LHP Blake Snell (19-5, 2.03 ERA) tries to become the first 20-game winner in the majors this season in the second game of a three-game series. David Price had a club-record 20 wins when he was the AL Cy Young winner in 2012. RHP Yovani Gallardo (8-5, 6.67) goes for Texas.
___
More AP MLB: https://apnews.com/tag/MLB and https://twitter.com/AP_Sports