Former Rangers pitcher Esteban Loaiza arrested on drug charges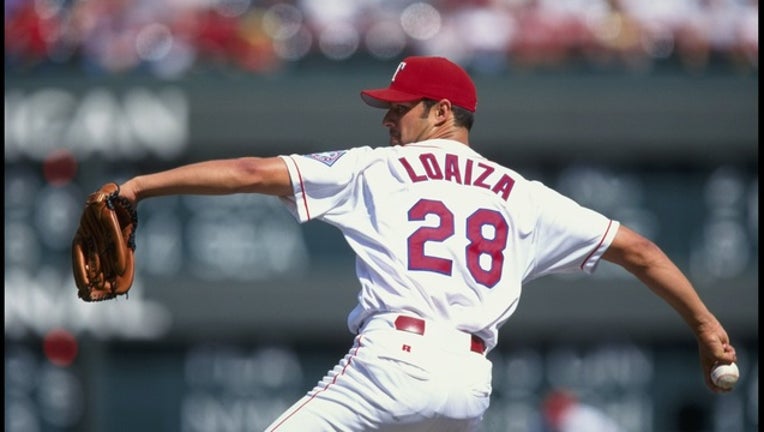 article
SAN DIEGO (AP) - Former All-Star pitcher Esteban Loaiza has been arrested in California on suspicion of trafficking drugs.
The 46-year-old former Major League Baseball player was booked Friday on charges involving the possession, transport and sale of 20 kilograms (44 pounds) of suspected cocaine worth an estimated $500,000, according to the San Diego Sheriff's Department. He is being held in lieu of $200,000 bail.
It was not immediately known if Loaiza has hired a lawyer. He could not be reached for comment.
The packages containing a white powder are still being tested but are believed to be cocaine, though other drugs could be involved as well, said San Diego Sheriff's Lt. Jason Vickery.
The arrest was part of an ongoing drug probe.
Officers stopped Loaiza for a minor traffic infraction Friday after he left a home he started renting recently in the Pacific coast community of Imperial Beach, along the U.S.-Mexico border. Authorities had the vehicle under surveillance on suspicion it was used for smuggling drugs.
When they searched the vehicle, they found a sophisticated compartment used to conceal contraband, authorities said. That led them to obtain a search warrant for Loaiza's rental home, where they found the packages of drugs, according to investigators.
The 46-year-old played for numerous teams between 1995 and 2008, starting with the Pittsburgh Pirates and concluding with his second stint with the Chicago White Sox. He had a 21-9 record with the Chicago White Sox in 2003 and started in the All-Star Game that year.
Loaiza, who was born in Tijuana, Mexico, was briefly married to the late singer Jenni Rivera, who died in a plane crash in 2012.
___
This story has been clarified to show that the packages of drugs are still being tested and are suspected to contain cocaine but could also involve other drugs.