Fister solid in final spring tuneup for Rangers vs Reds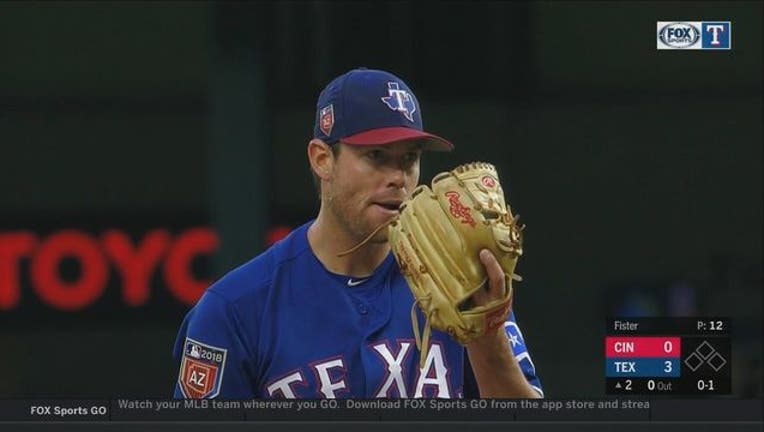 ARLINGTON, Texas (AP) - Doug Fister was solid in a brief tuneup for the regular season and the Rangers, back home in Texas two days after breaking camp in Arizona, beat the Cincinnati Reds 6-5 in an exhibition game Monday night.
Nomar Mazara and Rougned Odor each hit a long two-run homer off Reds starter Tyler Mahle. Delino DeShields, batting leadoff again, had an infield single and a bunt single for the Rangers, who were 0-10-1 in their last 11 spring training games in Arizona.
Fister struck out two while allowing a hit and a run over two innings.
Adam Duval homered off hard-throwing Texas reliever Matt Bush, and Scooter Gennett's two hits for the Reds included a three-run triple.
Fister was unsigned last season until May and didn't make his first major league start until June 25 in Boston's 75th game. He is set to start the second game of this season, making his Rangers debut Friday at home against the World Series champion Houston Astros.
THIRD UP FOR REDS
Mahle allowed six runs and 10 hits without a strikeout in four innings. That likely won't change the 23-year-old right-hander's status as the expected starter for the Reds in their third game of the season. In 14 2/3 innings over five previous spring training games against major league teams, he struck out 15 and had a 3.68 ERA.
ANOTHER NEW STARTER
Matt Moore, another offseason addition to the Rangers' rotation, was credited with the win despite allowing Gennett's bases-loaded triple. All three of his outs came on strikeouts, but Moore gave up three hits and walked a batter while throwing 34 pitches against seven hitters. The Chicago Cubs had five runs and eight hits against him in two innings last Wednesday.
HOJO RECOVERING
Rangers manager Jeff Banister said he exchanged some texts with minor league coach Howard Johnson, and described some of them as "pretty lighthearted." Johnson, who played 14 major league seasons, is resting at home in Arizona after sustaining several fractures in his cheekbone when he was hit by a line drive in the dugout Saturday. "Our thoughts are with HoJo and his family," Banister said. "Pretty upsetting thing to watch."
UP NEXT
Weather permitting, the final spring game for both the Reds and Rangers on Tuesday afternoon. There was a 90 percent chance of thunderstorms starting around noon and through the afternoon. Sal Romano is scheduled to start for the Reds against Mike Minor, yet another newcomer to the Texas rotation.
___
More MLB baseball: https://apnews.com/tags/MLBbaseball