Even after reeling, Rangers exit break as AL's best, Yu back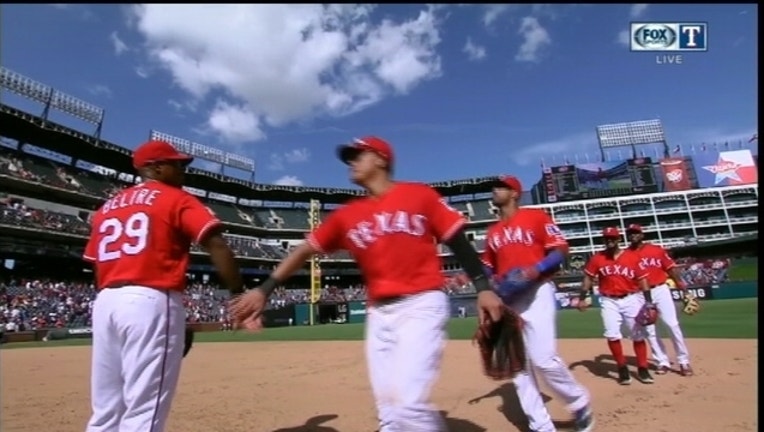 article
ARLINGTON, Texas (AP) — The Texas Rangers went into the All-Star break reeling, with nine losses their last 12 games and three-fifths of their starting rotation still on the disabled list.
Their last game was a 10-run loss at home to the team with the American League's worst record.
"We went through a stretch where we didn't play good as a team," third baseman Adrian Beltre said. "We understand we're going to go through highs and lows and I assume this is our low."
As bad as that stretch was — that 15-5 loss to Minnesota was the fifth time in nine games they allowed at least 10 runs — the Rangers go into Wrigley Field this weekend still with the AL's best record (54-36) and a 5 1/2-game division lead over the Houston Astros. That is the largest AL West lead Texas has ever had coming out of the midsummer break, but it had been as big as 10 games in late June.
"We have the right team to get in the postseason, and after getting in the postseason, we have enough talent and experience to keep moving on," shortstop Elvis Andrus said.
Right-hander Yu Darvish is scheduled to return from the disabled list and rejoin the rotation Saturday for the second of three games against the Chicago Cubs. With All-Star lefty Cole Hamels set for the series finale, it will be only the fourth time this season Texas' top aces pitch in back-to-back games.
Here are some things that went right before the break and others second-year manager Jeff Banister and the Rangers have to watch over the final 72 games when trying to win another AL West title:
SURPRISE ALL-STAR: Ian Desmond was a career shortstop his seven seasons with Washington, but turned down a deal to stay with the Nationals. He was unsigned until after the start of spring training, when he went to Texas and switched to left field to replace injured slugger Josh Hamilton. By mid-May, Desmond was the everyday center fielder and this week was the only Texas position player at the All-Star game.
"No doubt, he's been our best player," Beltre said.
"We found a center fielder ... one of the premier center fielders in the American League as far as you put the whole package together," Banister said. "He was a National League shortstop last year. That in itself is just phenomenal."
Desmond is hitting .322 with 15 home runs and 55 RBIs.
HURTING HURLERS: Darvish last pitched for the Rangers on June 8, only his third start for them since missing 2015 because of Tommy John surgery. He then went back on the DL with shoulder discomfort.
Colby Lewis (strained lat muscle) and Derek Holland (shoulder inflammation) both headed to the DL on the same day in late June.
Lewis (6-1, 3.21 ERA) is on the 60-day DL and can't return until at least late August, having made only one shortened start since his near perfect game June 16 at Oakland. Holland (5-5, 5.20) started playing catch again in the last week.
ON THE ROAD AGAIN: The Rangers are in a span of playing 19 of 23 games on the road, making them the first MLB team since the 2004 Tampa Bay Rays with four home games or fewer in a span of 28 games or more in the regular season. Texas plays its next nine games on the road. Before four home games against Minnesota going into the All-Star break, the Rangers had played 10 in a row away from Arlington.
CLOSING IT DOWN: Sam Dyson has 16 saves in two months since taking over as the Rangers' closer, including an MLB-best 10 saves in June. The right-hander got some needed rest, with only three appearances in 11 days before the break. Shawn Tolleson had 35 saves in 2015, and 11 more this season, when he his four blown chances included consecutive appearances in mid-May.
ONE GOAL: Beltre's sole goal in his 19th major league season is to finally win the World Series.
"I don't have a lot of time to basically be comfortable with just getting to the playoffs," said Beltre, the 37-year-old third baseman signed through 2018. "That's not enough for me. I'm here to push this thing to win the World Series."