Evans leads No. 14 Texas Tech to 70-63 win over SC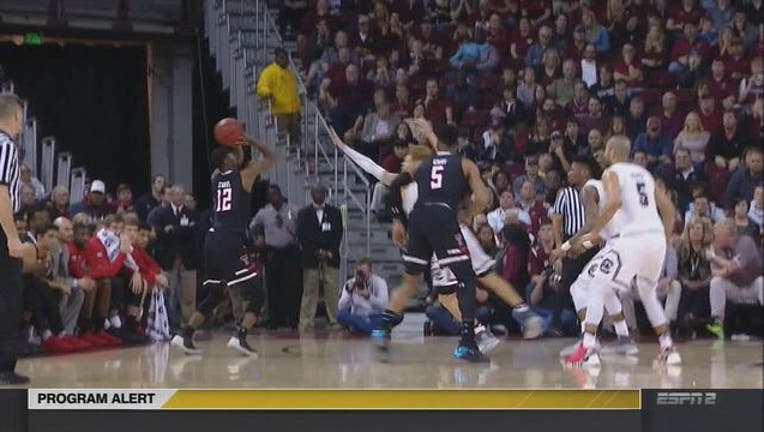 article
COLUMBIA, S.C. (AP) - As soon as Keenan Evans saw his go-ahead 3-pointer go through the net, the Texas Tech senior had a message for the Red Raiders.
"OK, we're here," Evans told them. "Let's finish this game."
Thanks to Evans, No. 14 Texas Tech did. Evans scored 31 points and Texas Tech rallied from five points down with 6 minutes left to defeat South Carolina 70-63 in the Big 12/SEC Challenge on Saturday.
After the Gamecocks (13-8) built a 58-53 lead, Evans scored eight of his team's next nine points to move in front. His 3-pointer from left of the foul line put the Red Raiders (17-4) up for good, 62-61, with 2:12 left.
"Evans was coming at us every play because he's not going to allow his team to lose," South Carolina coach Frank Martin said.
Evans closed things out with a three-point play with 46 seconds left to secure the win in the teams' first meeting since December 1976.
Texas Tech outscored South Carolina 17-5 over the final six minutes.
Evans had four 3-pointers and made all 13 of his foul shots. Zhaire Smith scored 11 points, the only other Texas Tech player in double figures.
Evans felt the Red Raiders had gone passive early in the second half as South Carolina wiped out an eight-point deficit to take the lead. He took it upon himself to up his game down the stretch. "Being aggressive is what I needed to do," he said.
Evans was nearly unstoppable in the second half. He made five of seven shots, three of them 3-pointers, and hit all eight foul shots.
"They locked in and we lost our mind," South Carolina's Chris Silva said.
The Gamecocks appeared to be on the verge of rallying against another Top 25 opponent. They came from 14 points down to top then 18th-ranked Kentucky 76-68 on Jan. 16, then were 11 points down at No. 20 Florida before their 77-72 win Wednesday night.
This time, though, South Carolina's rally came up short, as it missed six of its final seven field-goal tries.
Silva led the Gamecocks with 16 points before fouling out in the final minute.
BIG PICTURE
Texas Tech: The Red Raiders went into a massive shooting funk with about five minutes left in the opening half. They went 6 for 20 during a 20-minute stretch that saw them squander an eight-point lead and trail 58-53 with 6:20 left. Texas Tech came in sixth in Big 12 Conference shooting at 47.1 percent a game.
South Carolina: The Gamecocks have had a knack for coming out on top in ugly games, but aggressive play cost South Carolina in this one. Frank Booker was called for an intentional foul with the Gamecocks holding a lead, and two starters, forward Silva and point guard Wesley Myers, fouled out. Texas Tech made 23 of its 28 foul shots.
LOUD CROWD
Red Raiders coach Chris Beard gushed about the loud atmosphere at South Carolina, particularly in the second half when Zhaire Smith missed two foul shots with less than 7 minutes left that had the crowd of 14,142 roaring. When told it was part of a promotion that gave fans a free chicken sandwich, Beard chuckled, then looked around for any Texas Tech administrators. "Can we get in on that?" he joked.
UP NEXT
Texas Tech goes home to play Texas on Wednesday night.
South Carolina finishes a two-game homestand against Mississippi State on Wednesday night.
___
More AP college basketball coverage: www.collegebasketball.ap.org and www.twitter.com/AP_Top25