Emelogu, Agau combine for 44 as SMU holds off UConn 80-73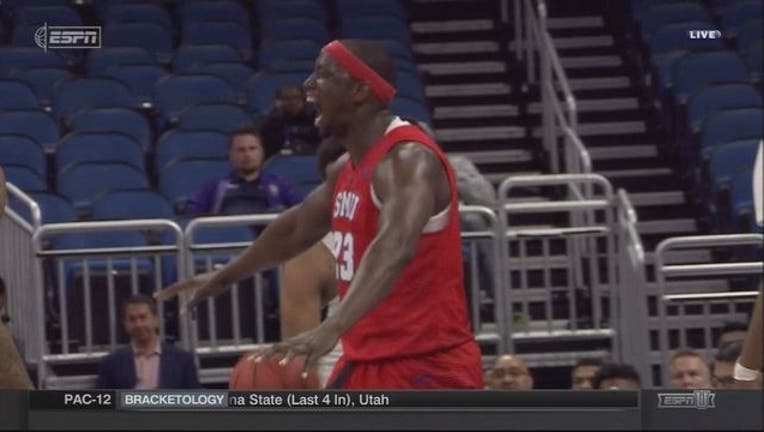 ORLANDO, Fla. (AP) -- Ben Emelogu scored 23 points and Akoy Agau added 21 to lift Southern Methodist to an 80-73 win over the University of Connecticut in the first round of the American Athletic Conference tournament on Thursday.
 
Jahmal McMurray scored 19 points for the Mustangs (17-15), who withstood three big runs by UConn in the second half to advance to Friday's quarterfinal game against No. 1 seed Cincinnati.
 
Christian Vital led UConn with 24 points, 19 in the second half when the Huskies (14-18) cut a 19-point halftime deficit to just four with under a minute to go. Antwoine Anderson added 19 for UConn and Terry Larrier had 12.
 
Emelogou and McMurray hit three straight 3-pointers that helped SMU thwart a 10-0 UConn burst early in the second half that had cut the 19-point halftime deficit to just nine with 16:38 left in the game.  
 
After UConn trimmed the gap to 12, Agau had a dunk, a layup and two free throws to give SMU a 68-49 with 6:06 left in the game.
 
UConn still wasn't done. The Huskies full-court pressure fueled a 20-5 run that made it 73-69 with 41.6 seconds to play on a 3-pointer from Anderson.
 
However, the Mustangs made seven of eight free throws in the final 37 seconds to seal the win.  
 
Agau was too big for UConn defenders to handle around the basket in the first half. The Mustangs senior was a perfect 3-for-3 from the field and hit all four free throw attempts for 10 points. All three of his rebounds came at the offensive end and he even had two assists.
 
That helped open up the perimeter for McMurray and the rest of SMU's shooters, who hit seven 3-pointers in the half and shot 51.7 percent from the field while building a 42-23 lead.
 
BIG PICTURE:
 
SMU: The Mustangs coped well with the added defensive pressure UConn applied in the second half and they'll need it Friday against No. 1 seed Cincinnati. The Bearcats were second in the country in points allowed and field goal percentage defense. SMU will need another stellar shooting performance from McMurray and Emelogu to keep up with Bearcats.
 
UConn: An up-and-down season ended on a down note for the Huskies, who never really got rolling this season. UConn didn't win consecutive games after a three-game win streak in mid-January. They were 4-11 in their last 15 games. Kevin Ollie has lot of rebuilding to do after his second straight losing season.