Elliott gets 10th straight win as Flames beat Stars 3-1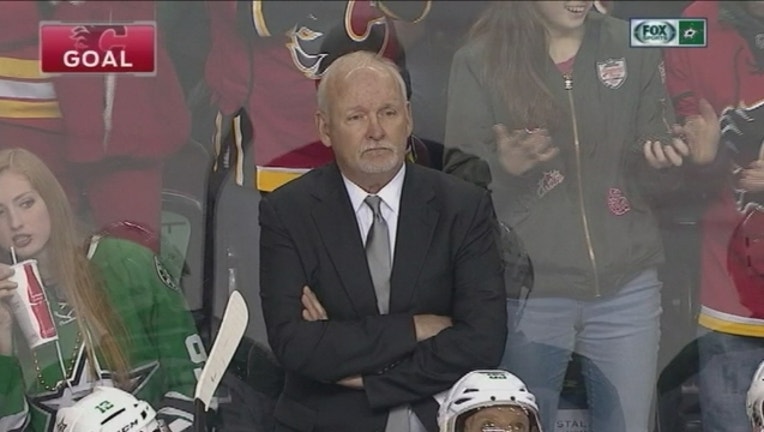 CALGARY, Alberta (AP) - Brian Elliott was a long way from being healthy but you couldn't tell from the way he played against the Dallas Stars.
Elliott, back after missing a game due to the flu, stopped 24 shots for his 10th straight win, Mark Giordano had a goal and two assists, and the Calgary Flames beat the Stars 3-1 Friday night.
Elliott, who was at home two nights earlier when a loss to Boston snapped Calgary's 10-game winning streak, declared himself good enough to play against Dallas and he was nearly perfect.
"You're not in a normal routine of eating and drinking and getting all the nutrients you usually get in, but I wanted to get back in there," Elliott said. "It felt good to get another win."
The wins have been frequent lately as Elliott is 14-1-1 in his last 16 starts with a 1.87 goals-against average and a .936 save percentage.
"It wasn't easy, but the guys made it a lot easier on me," he said. "When you get up three goals it's pretty nice as a goalie to sit back there and have a little bit of a cushion."
Matthew Tkachuk and Michael Frolik also scored to help Calgary - 12-1-1 in its last 14 - jump past Edmonton into third place in the Pacific Division.
Elliott's busiest period was the second when Dallas outshot Calgary 13-10 but gave up two goals to fall behind 3-0.
"Big saves at big times. He looked really sharp," Giordano said. "You could tell he was battling through. He wasn't feeling 100 percent but he looked 100 percent."
Vying for his third shutout in four games, Elliott was finally beaten with 6:41 left in the third when TJ Brodie mishandled the puck in front of his net and Brett Ritchie whipped it past the surprised goaltender.
Kari Lehtonen finished with 21 saves for Dallas, which finished a 1-3-0 road trip.
Noticeably absent for the Stars was captain Jamie Benn (upper body), who was hurt Thursday in Vancouver. Benn has totaled seven goals and seven assists in his last seven games in Calgary.
"You take your top player out of the lineup and obviously it hurts," the Stars' Jason Spezza said.
Patrick Sharp was moved into Benn's spot on the Stars' top line with Spezza and Tyler Seguin.
"They are a good team, they play well together," Dallas defenseman Dan Hamhuis said about Calgary. "They play their system well and wait for the other team to make mistakes and we made enough of them tonight to allow them to get goals."
The Flames opened the scoring with 3:53 left in the first as Frolik took a pass from Mikael Backlund and whipped a shot over Lehtonen's glove.
Tkachuk made it 2-0 at 5:20 of the second. After a stretch of prolonged pressure in the Stars' end, Tkachuk neatly steered Giordano's pass behind Lehtonen for his 13th goal.
Three minutes later, Calgary scored again on a heads-up play by Tkachuk. Having knocked the puck out of the air with a high stick seconds earlier, the rookie followed the puck into the Stars zone but didn't touch it as play would have been blown dead.
As soon as Dallas' Adam Cracknell tried to play the puck, Tkachuk promptly stripped it from him, knocking it back to Giordano, who flung a harmless-looking shot from just inside the blue line that deflected in off Hamhuis' glove.
Tkachuk is tied for third on the team in scoring with 46 points.
"I just want to be part of a team that can make it to the playoffs," the 19-year-old said. "Ultimately the goal is to win. Everybody is doing everything they can to make the playoffs."
NOTES: Flames D Michael Stone (shoulder) returned to the lineup after missing three games. Calgary has won all nine games he's played in since being acquired from Arizona. That bumped veteran Dennis Wideman out of the lineup. ... Backlund played his 451st game, passing Hakan Loob for the most by a European player in team history.
UP NEXT
Stars: At New Jersey on Sunday in the opener of a five-game trip.
Flames: Host Los Angeles on Sunday night in the finale of a four-game homestand.