Doocy: 4 thoughts from a crazy Friday at Cowboys camp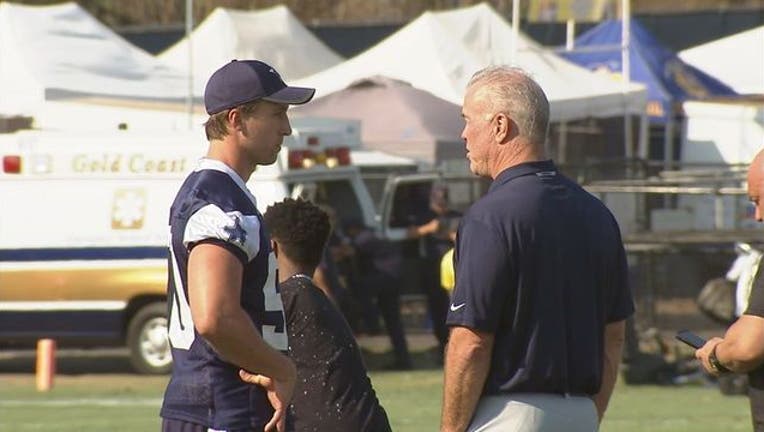 After digesting a crazy Friday at Cowboys camp... four thoughts.
Get it? FOX 4. Four thoughts. Whatever. Here we go.
1. Every time I hear Dak Prescott speak with the media, I'm more impressed. His comments on the anthem issue were thoughtful and (I thought) reasonable. He doesn't deserve some of the criticism he's getting on social media, calling him a "sell-out" and worse. Dak has dealt with things in his life that I can't possibly relate to, and neither can you. His opinions are informed by his life experiences just like yours and mine.
2. Every time President Trump thanks Jerry Jones for his anthem stance (as POTUS did on Twitter Friday) I'll bet it makes Jones more and more uncomfortable.
Jerry admitted Wednesday that the President's involvement in this issue puts owners in a tough spot. I think Jerry is starting to feel like he's being used as a political pawn. And he's right. I'd feel bad for him, but I think Jerry is doing the same thing to his players.
3. I never got to know Dez Bryant when he was here. But I always admired his passion. His authenticity. There was never a calculated disingenuousness about him (see Terrell Owens). But Friday's Dez Bryant Twitter s— storm was another example of that passion getting away from him. Dez proved correct those in the organization who wanted him gone. And he gave Sean Lee another opportunity to show how a leader responds to a "crisis."
4. Take a quick look at my Twitter feed from yesterday. It's indicative of why this anthem issue will never really be solved. Neither side wants to acknowledge that the other has a point. I've said it a dozen times. I wish the players would stand. Protesting causes pain to military families. Whether it should or not isn't the point. It does. And (equally important) I wish those who criticize the protesters would try for ONE SINGLE SOLITARY SECOND to understand why those who protest feel there is a need to. Kinda hoping we can just cover some football Saturday.