Doncic scores 11 straight, Mavs rally past Rockets, 107-104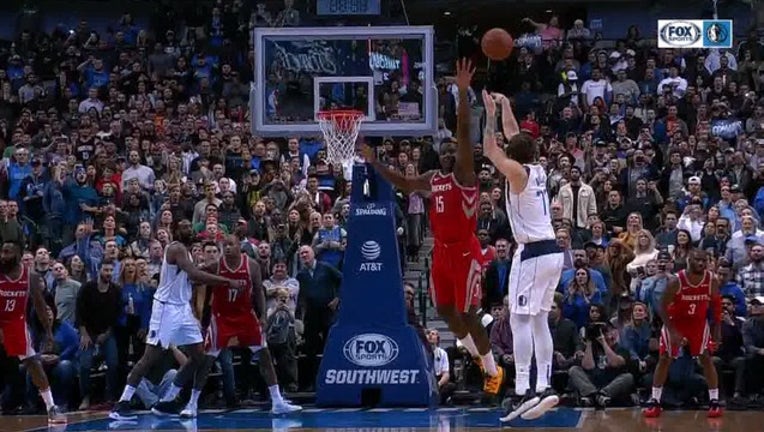 DALLAS (AP) - Luka Doncic shrugged off a rough shooting night with 11 straight points to erase an eight-point deficit late in the fourth quarter and the Dallas Mavericks went on to their ninth consecutive home victory, 107-104 over the Houston Rockets on Saturday.
Doncic was 3 of 13 before hitting back-to-back 3-pointers to get Dallas within two. After Chris Paul missed two free throws, Doncic hit a floater in the lane for a tie, then followed an air-ball 3 from James Harden with another from long range for a 105-102 lead. It was 26th lead change.
The Slovenian rookie had 21 points along with Wesley Matthews, who missed two free throws with a chance to put the game away in the final seconds. Eric Gordon missed a potential tying 3-pointer for Houston at the buzzer.
Harden overcame early foul trouble to finish with 35 points, and Paul had 23. Both finished with eight assists, but the Rockets couldn't hold a lead less than two weeks after losing to the Mavericks by 20 points at home.
Doncic's flurry helped Dallas overcome a nearly six-minute scoring drought in the fourth quarter as the Mavericks extended their longest home winnings streak since winning nine straight in 2011, the year they won their only championship.
The 19-year-old ended up 7 of 17 from the field with seven rebounds. DeAndre Jordan had a double-double at halftime and finished with 12 points - all in the first half - and 20 rebounds.
Paul hit a 3-pointer for the 25th lead change at 94-92. It looked like it would be the last one as the Rockets took their biggest lead at eight. Then Doncic took over.
Harden already had 10 points when he picked up his third foul after a pump fake from Doncic with 4:17 left in the first quarter. But he didn't foul again until midway through the fourth, finishing 11 of 22, including 6 of 16 from 3. But Harden missed all four shots from long range in the fourth quarter.
Dallas rookie second-round pick Jalen Brunson made his second start for the Mavericks with Dennis Smith Jr. out because of a sprained right wrist. The two-time national champion at Villanova had a career-high 14 points on 7-of-9 shooting.
TIP-INS
Rockets: Clint Capela had 12 points and 13 rebounds. ... The Rockets had just four other assists besides the 16 combined from Harden and Paul.
Mavericks: F Maxi Kleber was out with a left big toe sprain. ... Smith sat for the second straight game and third time in seven games because of the wrist issue. ... Dorian Finney-Smith had 14 points along with Harrison Barnes.
UP NEXT
Rockets: Host Portland on Tuesday night.
Mavericks: Host Orlando on Monday night.
___
For more AP NBA: https://apnews.com/NBA and https://twitter.com/AP_Sports