DeMarcus Ware signs 1-day contract to retire as a Dallas Cowboys player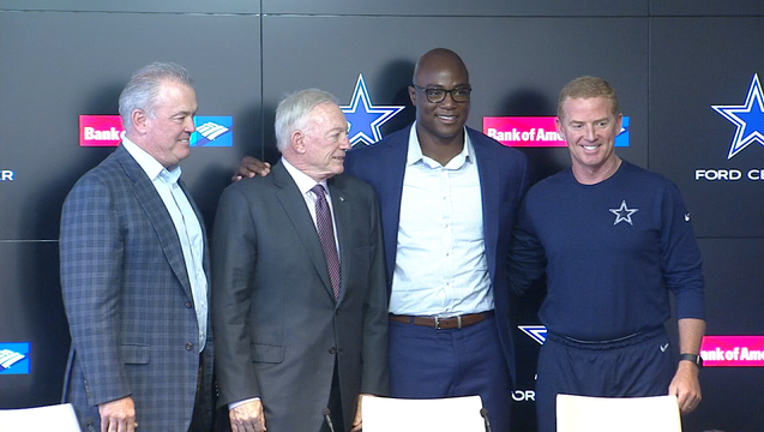 One of the greatest players in Dallas Cowboys history returned to the team in order to retire as a Cowboy.
DeMarcus Ware spent nine seasons with the Cowboys and went to seven straight Pro Bowls. Even though he spent most of his NFL career in Dallas, Ware left after Dallas opted not to re-sign him in 2014 and won a Super Bowl as member of the Denver Broncos.
Ware announced his retirement a few weeks ago, but with media assembled for a pre-draft news conference on Monday, Jerry and Stephen Jones joined Jason Garrett in a surprise announcement that Ware had signed a one day deal with Dallas.
Ware will soon turn 35-years-old and said he considered continuing his career, but opted not to.
"I sat back and contemplated to myself and said 'Do I really want to put the pads back on?' Because I feel like this game is about passion. You can always have the passion for the game, but your body -- having great health after football was more important to me when I started thinking about my little 6-year-old son that's here now and my little 9-year-old daughter," Ware said.
The Cowboys drafted Ware in 2005 and there was chatter that then-coach Bill Parcells wanted other players and had to be talked into drafting the defenseman.
FOX4's Mike Doocy said it seems likely Ware will join the team's Ring of Honor. Ware will also be a strong candidate to join the Pro Football Hall of Fame five years from now.