Players around NFL say Damar Hamlin's injury was not Tee Higgins' fault
CINCINNATI - Teammates and other NFL players offered their support Wednesday for Cincinnati Bengals receiver Tee Higgins, saying he did nothing wrong on the play that caused Buffalo Bills safety Damar Hamlin to go into cardiac arrest.
The 24-year-old Hamlin's heart stopped after tackling Higgins in a horrifying scene that led to the suspension of Monday night's game. Higgins led with his right shoulder, which hit the defensive back in the chest. Hamlin then wrapped his arms around Higgins' shoulders and helmet to drag him down. The play appeared routine, but Hamlin got to his feet and then collapsed backward.
RELATED: NFL still considers scheduling options, Week 18 unchanged
Medical personnel were able to restart his heart on the field. Hamlin remains in intensive care at a Cincinnati hospital. His condition has improved slightly, the team said.
"There's nothing you can do about that hit," quarterback Joe Burrow said Wednesday after the Bengals practiced for the first time since the incident. "That hit happens on every play of every single game. That's the scary part about it."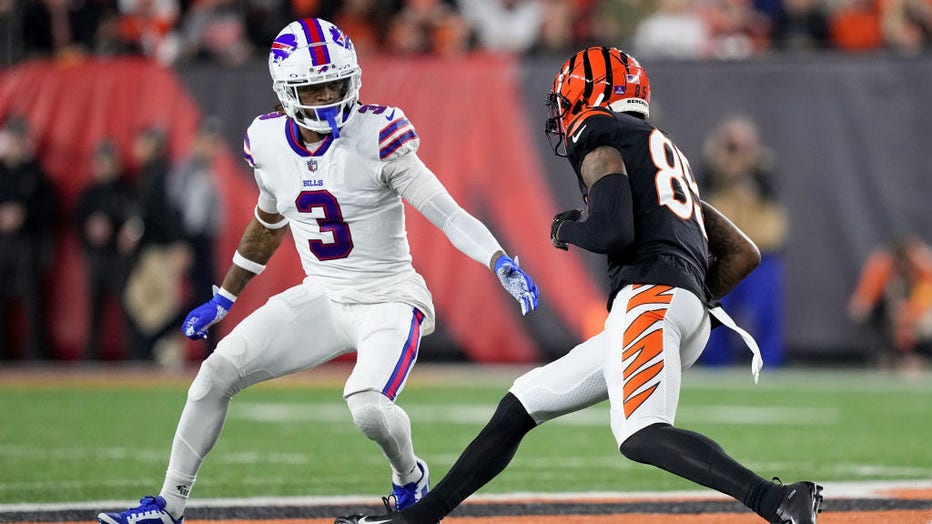 Tee Higgins #85 of the Cincinnati Bengals runs with the ball while being chased by Damar Hamlin #3 of the Buffalo Bills in the first quarter at Paycor Stadium on Jan. 2, 2023, in Cincinnati, Ohio. (Photo by Dylan Buell/Getty Images)
Dallas Cowboys linebacker Micah Parsons pushed back at former NFL player Bart Scott, who suggested on ESPN that Higgins was partially at fault for lowering his head and "throwing his body" into Hamlin's chest after catching a 13-yard pass.
"(A)re we serious?!!? why do we let some people speak on tv?!," Parsons tweeted in response to Scott's comments. "This was a freak incident but putting fault on another player is wild!"
Bengals receiver Tyler Boyd was more direct, tweeting in response to Scott: "straight bozo."
Bengals defensive tackle D.J. Reader said Hamlin and Higgins were simply "out there playing at full speed."
"It's just what happens sometimes, and it's just such a freak accident," Reader said. "You can't take your foot off the gas as a defender or an offensive player out there. If you're playing lightly, you're going to take your risk of getting hurt. It's the only way to play this game. You got to play 100 miles an hour, and that's how you go about it."
RELATED: Blue for Damar Hamlin: Tributes pour in for injured Buffalo Bills player
Chicago Bears center Sam Mustipher said extreme violence is part of the deal for NFL players.
"Football is a game where you want to impose your will on another man," Mustipher said. "And I'm sure you know (Higgins) thought, 'I'm lowering my shoulder, knocking it forward, finishing a run after a catch.' And that happens. You know, I hope his mental is good, he's doing all right. You know, there is a lot of emotion and passion in this game. Yeah, I can't imagine what he is feeling right now."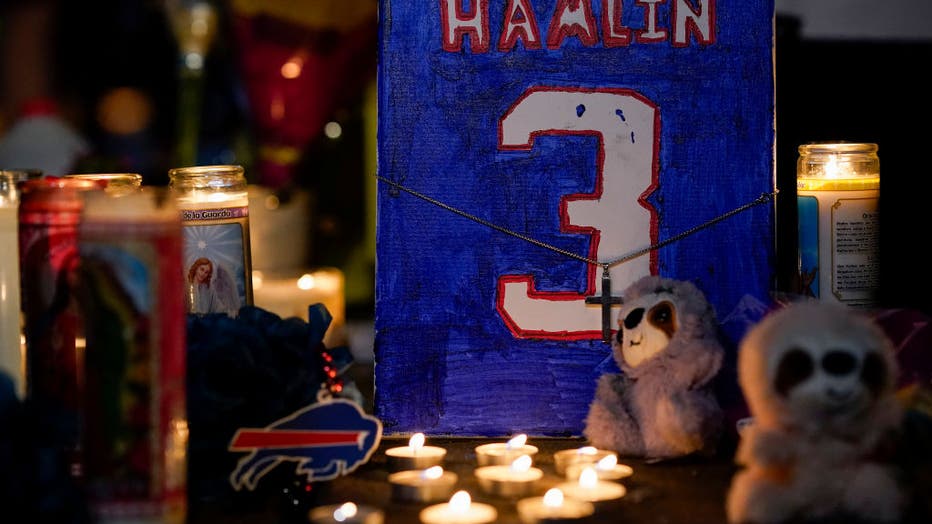 A detail as fans hold a candlelight vigil for Buffalo Bills safety Damar Hamlin at the University of Cincinnati Medical Center on Jan. 3, 2023, in Cincinnati, Ohio. (Photo by Jeff Dean/Getty Images)
Outside the University of Cincinnati Medical Center, Hamlin family spokesman Jordon Rooney called for "rallying around like people like Tee Higgins. You know, like he needs support."
Burrow said Higgins, who wasn't made available to reporters Wednesday, is handling the situation as best he can.
"Tee's doing well. He's pretty shaken up, just like all of us," Burrow said. "We've never seen anything like that, and unfortunate as it is, that's part of the game and something that you hope never happens, but as we saw on Monday night, can and will happen."
Bengals coach Zac Taylor said only that "my communication with Higgins is that he's doing OK."
RELATED: Damar Hamlin's recovery is moving in 'a positive direction,' family rep says