Reports: Dallas Mavericks trade for Kyrie Irving
DALLAS - The Dallas Mavericks have reportedly agreed to a trade to get Kyrie Irving from the Brooklyn Nets.
According to multiple reports, the Mavs are sending Spencer Dinwiddie, Dorian Finney-Smith, a 2029 first-round and multiple second-round picks to the Nets for Irving.
The Mavericks are currently 28-26 and the No. 6 seed in the Western Conference.
Irving is averaging 27.1 points, 5.3 assists and 5.1 rebounds this season. Doncic is averaging 33.4 points, 8.9 rebounds and 8.2 assists. They instantly become one of the NBA's top duos, and figure to make Dallas even a stronger contender in a Western Conference that has no shortage of championship-capable teams.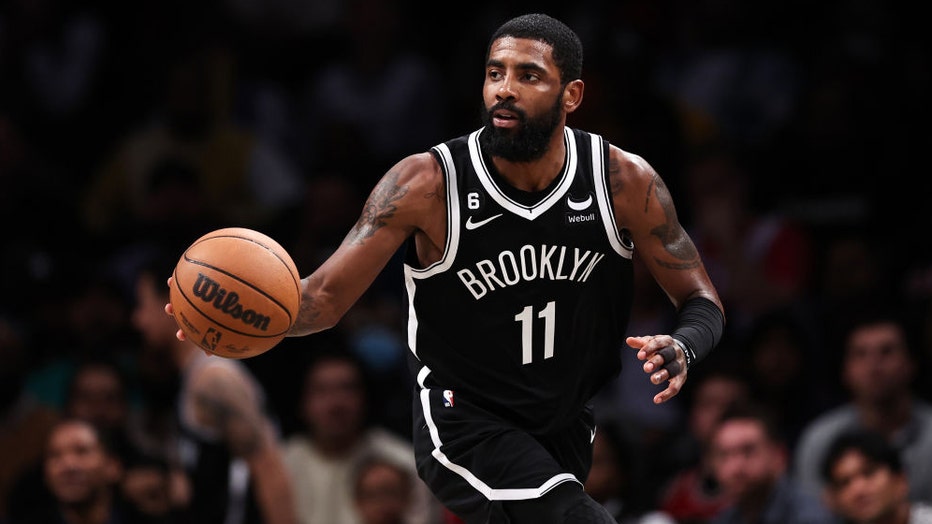 Kyrie Irving #11 of the Brooklyn Nets brings the ball up the court during the fourth quarter of the game against the Chicago Bulls at Barclays Center on November 01, 2022 in New York City. (Photo by Dustin Satloff/Getty Images)
MORE: Dallas Mavericks Coverage
Irving is, for now, scheduled to become a free agent after the season. The Los Angeles Lakers were believed to have been one of a few teams interested in Irving — a notion that could have reunited Irving with LeBron James, with whom he won a title with in Cleveland in 2016.
"This is a rental – kind of a dating period right now. There's three scenarios. They do sign him to a long-term extension. They can go up to five years on him. Or if he does decide he doesn't want to be here anymore, they can get full maximum cap space for him to go shopping that way. Or if he says I want to go to the Lakers and the Lakers can't sign him with cap space, we can work a side trade and sign him that way," said Brian Dameris, a Mavs broadcaster.
The trade does again pair Irving with Dallas general manager Nico Harrison, who was a Nike executive before taking over the Mavericks in 2021. Irving had a relationship with Nike for the entirety of his NBA career until earlier this season, when the sneaker giant dropped him — and canceled the planned release of his next signature shoe just before it dropped — as part of the massive fallout from Irving posting a link to an antisemitic film on his Twitter account.
That was one of many drama-filled sagas that marked Irving's time with the Nets. He wouldn't get vaccinated against COVID-19 and, because of New York City workplace rules, had to miss most of Brooklyn's home games last season. He also took two leaves of absence during the 2020-21 season.
He has also expressed no shortage of controversial opinions during his career — including repeated questioning whether the Earth was round before eventually apologizing to science teachers.
Irving is expected to arrive in Dallas on Monday for a physical exam. He could make his Mavs debut Wednesday against the Clippers.
The Associated Press contributed to this report