Dallas Cowboys may go to Oxnard without Zeke Elliott, who is reportedly planning trip out of country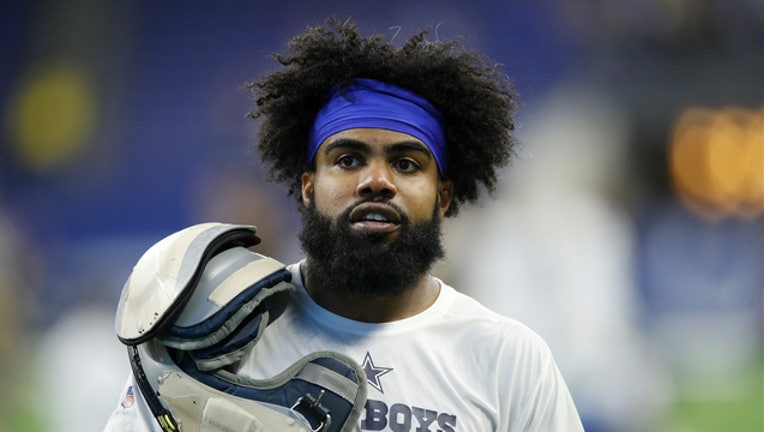 article
DALLAS - The Dallas Cowboys may head to training camp later this week without star running back Ezekiel Elliott.
Training camp starts on Saturday in Oxnard, Calif., but it's been widely reported that Zeke may not be there in a holdout over contract talks.
Zeke wants a contract extension and he has two years left on his existing rookie deal. But he has reportedly told people close to him that he could hold out without a new deal.
To emphasize his points, he is currently believed to be making plans for a trip out of the country, according to a report from Pro Football Talk.
"Running back Ezekiel Elliott may or may not be there," Mike Florio wrote Sunday.
A Cowboys beat writer said on FOX4's Sports Sunday he thinks this speculation won't amount to anything.
"I would be surprised if he's not there. Just because of what we've seen since he's been with the Cowboys. That hasn't been like him. He really hasn't been a guy who's really gone out there and talked about his contract. When we've asked him about it he seems like he wants to change the subject. But I can see it from his side. If I was him, I'd think about it too," said Jon Machota.
Many analysts are pointing to the situation with the Las Angeles Rams and franchise running back Todd Gurley, who signed a record extension. There are now concerns about his ability to play with a knee condition.
So some think it's not in the team's best interest to dish out more money for Elliott at this stage of his contract.
This is all happening amid possible legal trouble for Zeke. Kyle Johnson, the Las Vegas security guard that he pushed in a video recorded on May 19 has decided to file a criminal complaint.
The Las Vegas Police Department is still investigating the case.