Dallas Cowboys strength and conditioning coordinator Markus Paul hospitalized
FRISCO, Texas - The Dallas Cowboys canceled practice and media availability after Strength and Conditioning Coordinator Markus Paul had a medical emergency at The Star early Tuesday.
Frisco PD/Fire officials said first responders were called about 7:30 a.m. to The Star and Paul was transported to an area hospital for treatment.
The Cowboys said Tuesday afternoon that Paul was in the "process of undergoing further medical tests" and additional information would be released later.
By all accounts, Paul is beloved by the players and staff and this has had an emotional impact.
Cowboys players and staff attended an already scheduled 8 a.m. team meeting and were informed that practice for the day was called off.
The exact nature of that medical issue has not yet been revealed, although the team says it's not COVID-related.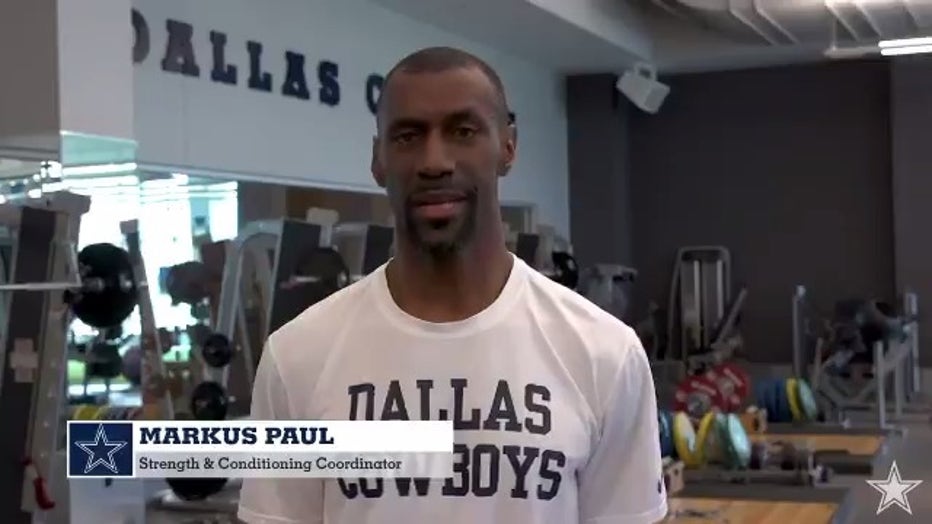 Screengrab via dallascowboys.com
Emergency workers rushed to The Star. Reports say the scene was emotional as coworkers saw Paul being attended to. He was taken to the hospital.
The team released a statement, saying: "The organization extends its prayers and support to the Paul family, and asks for friends and followers of Markus, his family and the team to keep them in their thoughts and prayers."
The NFL family has reached out with well-wishes for the 54-year-old and those close to him.
"Prayers are with his family, and so many friends of mine had intimate relationships with Markus and what he's meant to them and just a wonderful person," said Hall of Famer quarterback Troy Aikman. "This is a tough situation, as we know. It's tough at any time, but to have practices canceled just tells you the severity of everything and what he has meant to everyone within that organization."
Paul joined the Cowboys staff in 2018. He played at Syracuse University in the 1980s and was drafted by the Chicago Bears in 1989.
Dallas is scheduled to play Washington on Thanksgiving. The Cowboys are coming off a win at Minnesota that gave them a chance to play for first place in the NFC East despite a 3-7 record. Washington also is 3-7.