Dak Prescott leaves Cowboys' training camp practice with muscle strain in shoulder
OXNARD, California - At Dallas Cowboys training camp in Oxnard, the Cowboys finally practiced in pads, but quarterback Dak Prescott was forced to leave Wednesday's workout earlier than expected.
Prescott was light on his feet as the first padded practice began, appearing ready to go.
He got some work in early in the practice, before spending a moment with Cowboys trainer Jim Mauer, and he then took a break from team drills. He watched from the side with a football under his arm.
Then, about 40 minutes before the end of practice Prescott jogged off the field and his practice ended early.
After practice, the Cowboys released a statement that he left practice with right shoulder soreness, and after undergoing an MRI, it was found he has a muscle strain in his right shoulder, which is his throwing arm.
FOX 4's Mike Doocy talked to Prescott and asked him to describe how he was feeling.
"Just a little, little shoulder pain, a little shoulder soreness, I should say, and tightness. I felt it a little bit yesterday, came out today, was going to work through it and just felt I should be smart. I've got a long time to go. Get a day of rest or so and just get back at it. I've never taken this much time off, obviously, from the game of football either dealing with the ankle injury. So, I think just getting back into it, getting back into to camp full swing, not taking a rep off, whether it be individuals, whether it be team reps, I think that all played a part in it," he said.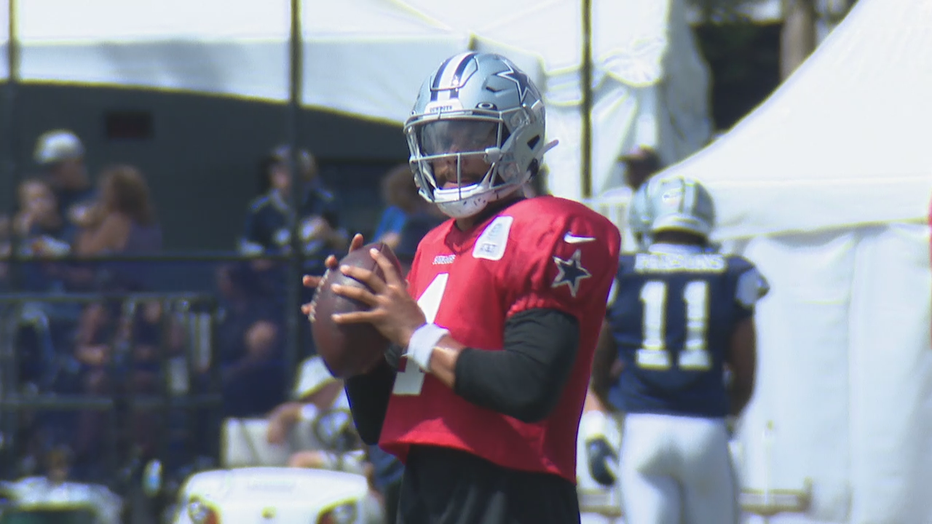 They discussed mental health. Prescott revealed a few months ago that he had battled depression and anxiety following the death of his brother by suicide. He spoke out, got help and got an overwhelming amount of support from friends and fans.
With that in mind, Doocy asked him about gymnast Simone Biles, who made headlines by pulling out of the Olympic events citing mental health concerns.
"That's her decision. Obviously she was feeling something that she didn't necessarily feel comfortable performing. She's doing a very dangerous event and very dangerous sport. You're in the air flipping and doing all these things. If you don't feel comfortable doing that or if your body's not in the right place or mind's not in the right place, you could be seriously injured. So I understand where she's coming from and I don't think it's up to me or anybody else to judge that," he said.
Doocy also asked him about the comments he made last week that created a lot of buzz. He has refused to say whether he has been vaccinated against COVID-19 and cited HIPPA regulations. If he had to do it over again, would he have changed the way he handled that question?
"Not necessarily. I mean, I didn't go to school to be a doctor so I'm not really upset with the comment being wrong or saying that I think I just meant by that. Obviously, that's medical information I don't necessarily have to disclose. And so, I'm not upset with anything I said. I mean, I said what I said, and I'm going to stand by that. And it's not necessarily just for me, but it's to protect teammates and to protect other people out there that may not want to share that information," Prescott replied.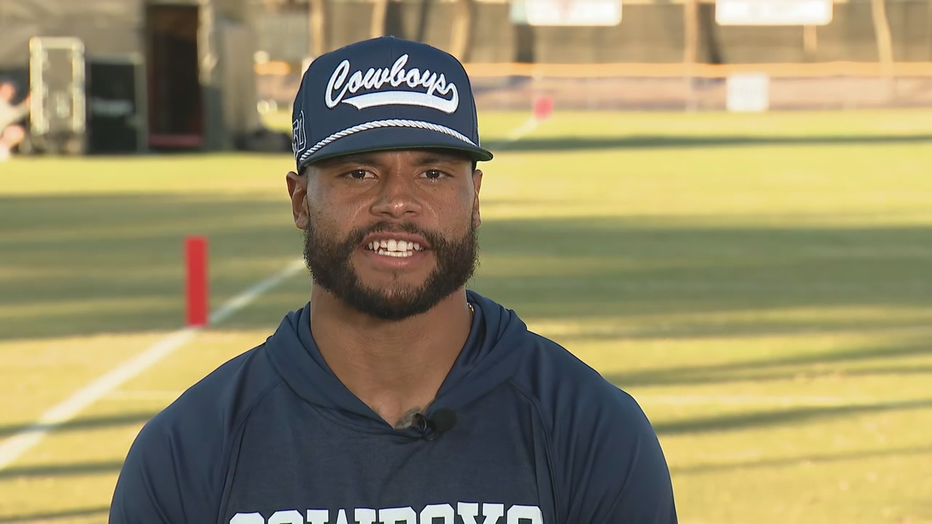 Doocy asked Jerry Jones if he was surprised Prescott didn't want to reveal that information. His answer was something to the effect of Dak is doing everything he needs to do to win football games, if you know what I mean. And he's leading our team in this regard. 
"Do you think you know what he was saying there?" Doocy asked Prescott.
"I think everybody knows what he's saying," Prescott said.
"So, you're saying it, but you're not going to say it basically is what you're telling me," Doocy asked.
"I'm saying I think that's medical information that guess everybody's up to their opinion if they want to put out there," Prescott replied.
Prescott did a round of interviews in spite of the minor injury.
Even though it's not thought to be serious, it's doubtful that he'll practice Thursday or for the rest of the week.