Cowboys surprisingly cut kicker Dan Bailey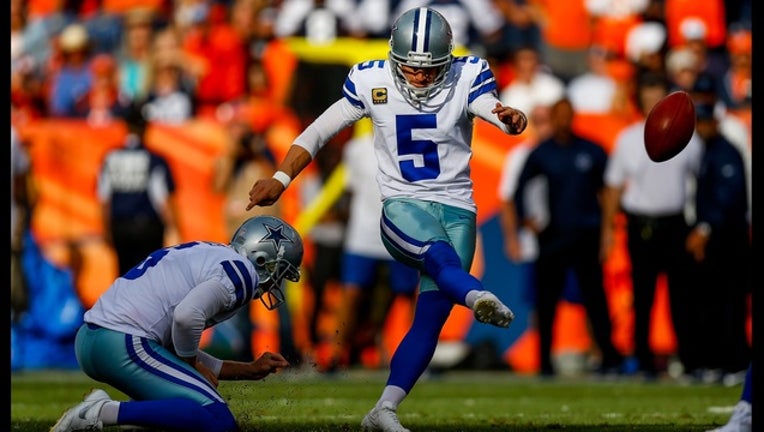 NFL rules required teams to trim their rosters to 53 players by 3 p.m. on Saturday, and there was one rather surprising name on the Dallas Cowboys' list of players released -- kicker Dan Bailey.
Bailey owns the club record for field goals in a career (186) and is third on the team's all-time scoring list, behind Emmitt Smith and fellow kicker Rafael Septien.
The second-most accurate kicker in NFL history, Bailey connected on at least 93 percent of his kicks in three of his first five seasons in Dallas. He saw his success rate plummet in 2017 after suffering a groin injury against the San Francisco 49ers, finishing the season at a career-low 75 percent. 
Taking Bailey's spot is sixth-year Nebraska product Brett Maher, who converted on a 57-yard field goal in the preseason finale in Houston. Bailey's career long is 56 yards. 
Maher has never kicked in a regular season game and signed with the Cowboys in April after bouncing around the CFL.
There move could have been purely a financial one. By releasing Bailey, the Cowboys save $3.4 million against the salary cap.
Here is the full list of roster moves:
Waived
WR Dres Anderson (Utah)
K Dan Bailey (Oklahoma State)
G Kyle Bosch (West Virginia)
T Jake Campos (Iowa State)
WR K.D. Cannon (Baylor)
WR Darren Carrington (Utah)
RB Jordan Chunn (Troy)
LS Scott Daly (Notre Dame)
T Matt Diaz (Wagner)
DE Kony Ealy (Missouri)
G/T Chaz Green  (Florida)
RB Darius Jackson (Eastern Michigan)
S Jeron Johnson (Boise State)
LB Tre'von Johnson (Weber State)
CB Kam Kelly (San Diego State)
LB Joel Lanning (Iowa State)
DE Austin Larkin (Purdue)
WR Lance Lenoir  Jr. (Western Illinois)
G Damien Mama (Southern California)
WR Mekale McKay (Cincinnati)
DT Lewis Neal (Louisiana State)
C Jacob Ohnesorge (South Dakota State)
CB Donovan Olumba (Portland State)
LB Eric Pinkins (San Diego State)
LB Kyle Queiro (Northwestern)
DT Caraun Reid (Princeton)
S Dominick Sanders (Georgia)
RB Bo Scarbrough (Alabama)
DE Charles Tapper (Oklahoma)
CB Duke Thomas (Texas)
WR Deonte Thompson (Florida)
DT Jihad Ward (Illinois)
TE David Wells (San Diego State)
CB Marquez White (Florida State)
Waived/Injured:
S Marqueston Huff (Wyoming)
RB Trey Williams (Texas A&M)

The club also traded CB Charvarius Ward (Middle Tennessee State) to Kansas City for G Parker Ehinger (Cincinnati) on Friday.